French wine, Southern-inspired cuisine and a brush of art gave these party guests a taste of the unexpected.
Nothing helps people bond quite like sharing good food, fine wine and a chance to indulge in their creative sides.
Just ask the guests who attended "A Parisian Night Meets Charleston" at the Appling home of retired veterans Cynthia Stein and her husband, Troy Rader.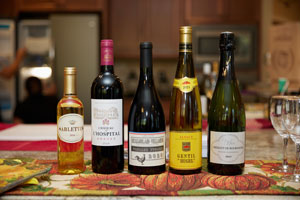 The party, where French wine culture merged with upscale Southern-inspired cuisine, was the pilot project for Cynthia's new business, Hope Enterprises: Life Interactive. As an experience coordinator, she puts together immersive activities to help people enrich their lives and broaden their horizons.
"Being in the military, I have traveled a lot in my life," said Cynthia. "In Europe, you can hop on a train and have an immersive experience in a different country in a day or two. I wanted to bring that same concept here."
For the inaugural venture, she collaborated with sommelier and certified specialist of wine Hailey Etzel, who owns Etzel Consulting, and local artist Anne Luckey of ArtsAnneCrafts.
While Hailey educated the guests about the particulars of pairing food and wine, her husband Brian manned the grill to prepare food for the five-course meal. Anne led a hands-on art project in which each guest painted a Charleston-inspired, laser-cut wood ornament.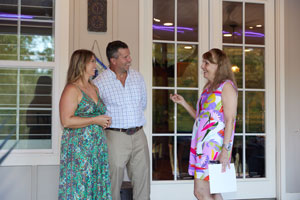 'What's Next?'
As dinner jazz music played in the background, the guests mingled together in the house, outside on the patio and by the pool. The leisurely pace of the party allowed everyone to get to know each other as they savored the food and wine.
"Wine and food can complement or contrast with each other," said Hailey. "They both have so many different properties. They fill in the gaps with each other and enhance each other."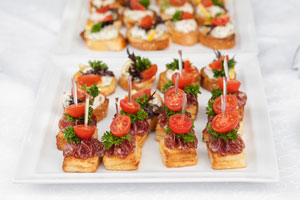 The first two courses were served inside. Featuring brie in puff pastry with blackberry preserves, the amuse bouche was paired with the bubbly Cave de Bissey Cremant de Bourgogne.
"The amuse bouche is a palate teaser to awaken the senses," Hailey said. "We paired the rich, creamy, buttery brie with a dry, acidic bubbly. Life is too short to eat mediocre food."
For the appetizer, Brian grilled Cajun shrimp in the fully equipped outdoor kitchen and served it over maple sweet potato hash with bacon and pecans. Hailey paired the appetizer with a contrasting 2021 Hugel Gentil Alsace.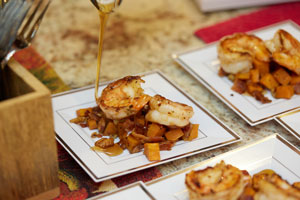 "The food was amazing, and it's fun to learn how to pair it with wine," said guest Jannene Olson, who attended culinary school with her husband, Craig. "We have a lot of parties and people over for dinner at our house. People love food, but a lot of people feel like they can't cook or don't have the time to cook."
Cari and Anthony Osborne, who have lived in the area for two years, agreed.
"I feel like we've done a lot different things here," Cari said. "So, what's next? It's nice that we don't have to travel to do something like this."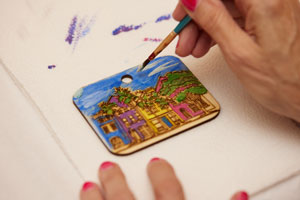 Outside Their Comfort Zone
Following the appetizer, the guests settled down at one of two tables to paint an ornament that featured a scene from the Battery or Rainbow Row in Charleston.
"If you can color in a coloring book, then you can paint the ornaments," said Anne. "There is no wrong way."
Concentrating on the task at hand, no one shied away from the art portion of the evening.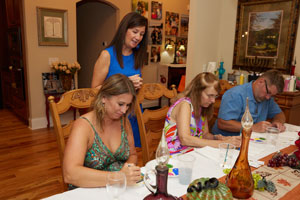 "If I had told my husband we were going to do an art project tonight, he would have stayed home," Jannene says.
Instead, he appreciated the novel activity.
"When we entertain, we play a lot of games," Craig said. "I like the art component of the party."
Another guest, Kaitlyn McGinnis, said she usually doesn't "do art" unless her son makes her.
However, the group enjoyed revisiting their younger days.
"We've had the chance to develop some other talents or explore ones we haven't used for a while," said Anthony. "I haven't painted since high school, so that was fun."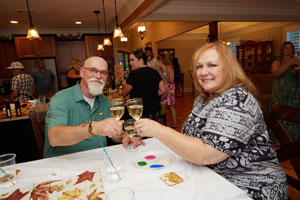 With paintbrush in hand, John-Michael Brady admitted, "I'm out of my comfort zone a little bit." However, he added, "I'm in an environment where I feel comfortable."
Anne tied a bow on the finished products, and Cynthia and Troy hung their ornaments on a small lighted tree in their living room.
Complement and Contrast
After putting the finishing touches on their ornaments, the guests took their salad plates outside under a full moon in the night sky.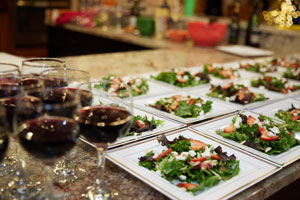 Paired with a 2020 Clair Chante Beaujolais Villages, the salad included a spring mix, strawberries, chèvre, almonds and raspberry vinaigrette.
While the food and wine flavors contrasted with each other in the amuse bouche and appetizer, the flavors in the salad and wine complemented each other.
"All of the flavors in the wine are sweeter than the flavors in the salad," said Hailey.
For the main course, Brian treated the guests to grilled ribeye over whipped potatoes, haricot verts and compound butter. A 2018 Chateau L'Hospital, Graves, Bordeaux, accompanied the entrée, and Hailey stressed one of her favorite tips for pairing food and wine – serve "cab with a slab."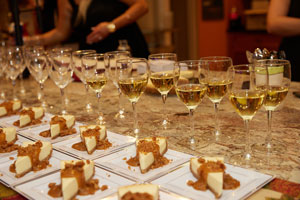 "This wine is a big, bold red with lots of dark fruit flavors," she said.
Dessert featured New York cheesecake with Fruitland Augusta peach vodka compote and brown sugar bacon streusel, and it was paired with a 2016 Sablette Sauternes.
For the party, Hailey selected wines that typically would not be found on a restaurant menu.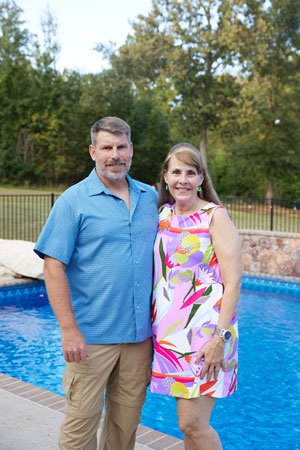 "I love teaching people about wine," she said. "I want them to know that it doesn't take a lot of money or knowledge to elevate the food and wine experience. Wine is a glass of a certain place during a certain time."
The Etzels love the memories that wine evokes.
"We remember things based on the wine we were drinking at the time," said Brian.
Touching All the Senses
To Cynthia, creating memories is a large part of her business concept.
"You have to give people something to walk away with and talk about," Troy said.
That's just what Cynthia had in mind.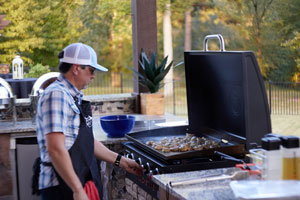 "I wanted people to leave feeling like, 'Wow! That was amazing. All of my senses were touched,'" she said.
Mission accomplished.
By Leigh Howard