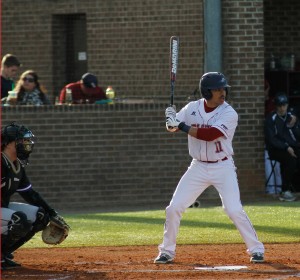 A former Evans High School baseball star is selected by the San Diego Padres in the 29th round of the Major League Baseball First-Year Player Draft.
Evans native Tyler Moore burned up the base paths during his three-year baseball career at the University of South Carolina-Aiken. Now he is on a path to pursue his lifelong dream of playing in the major leagues. The San Diego Padres drafted him in the 29th round of the 2015 Major League Baseball First-Year Player Draft in June.
"Once I got drafted, everything started going really fast," says Moore, who was the 867th overall pick.
Two days after he was drafted, he flew to Arizona to play Rookie League baseball through September 1. He says he didn't care which team drafted him, but the Padres showed the most interest in him. "They called me a lot, and I had two workouts with them," he says.
The 5-foot-8-inch Moore, who calls his arm and his speed his greatest strengths, played in the outfield for the Pacers. However, he says the Padres want to put him at second base.
"I'll try my best to play second base. I played that position on a few travel teams when I was growing up, and I played shortstop in high school," he says.
Moore played baseball and basketball at Evans High School. In his senior year, he was the baseball team MVP and won the basketball team's award for the best defensive player. His classmates also selected him as Most Athletic and Homecoming King.
At USC-Aiken, Moore started 41 games as a junior and had a .362 batting average. He had 16 stolen bases, the second-highest number on the team, and four outfield assists. He also drove in 32 runs, scored 48 times and tallied 10 extra-base hits. In his sophomore season, he hit a school-record 10 triples while batting .377. He led the team with 24 steals and posted 84 hits in 52 games. As a freshman, he batted .384, had nine multi-hit games and stole 13 bases.
Moore was the second Pacer picked in the draft this season after four were selected a year ago. He is grateful for the chance to play on the next level.
"It means a lot to be able to pursue my dream and play professional ball. Some people don't get the opportunity to play after college," he says.