A new mobile app created by a Martinez business helps law enforcement officers document details in use-of-force incidents.
Columbia County recently became the first in the nation to deploy Thin Blue Defend, a mobile law enforcement app, for its entire sheriff's department. The app guides law enforcement officers through the process of documenting critical details in use-of-force incidents to aid them in their defense for anticipated investigations and civil and criminal litigation.
Seven Eight Technologies of Martinez developed the app, and CEO J. Douglas Parker, a 30-year Georgia Bureau of Investigations veteran and author of A Killher Plan, believes it will be a game changer for law enforcement. The company worked closely with Columbia County Sheriff Clay Whittle to develop and test the app, which is the only one of its kind.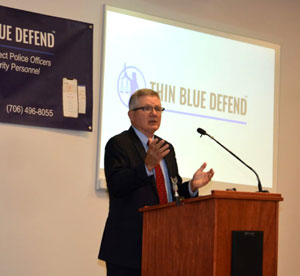 Thin Blue Defend is installed on an officer's personal mobile phone and provides a series of prompts to encourage comprehensive documentation of use-of-force details. They include officers' perceptions of an incident as it occurred, their cognitive process of events (what the officer was thinking at each step, why they made certain decisions), locations of key elements, their equipment, weather, lighting, dialogue, activities leading up to incident and more.
Other features include audio and photo input for easy documentation following a stressful situation. All data is encrypted, password protected and stored in the cloud in secured servers to deter unauthorized access. Officers can give their attorney instant access to the data, making it subject to attorney-client privilege. However, the law enforcement agency does not have access to the information.
Currently, law enforcement agencies nationwide use a two-page questionnaire to report use-of-force incidents. However, the questionnaire fails to adequately guide officers in capturing critical details.