Pet, feed and befriend the amiable goats that hang out on top of sod-covered buildings at a popular roadside attraction in north Georgia.
It only stands to reason that one of the G.O.A.T.s (for the uninitiated, that's "greatest of all time), of quirky Georgia travel and tourism is populated by – you guessed it – goats. These friendly kids meander from barnyard to rooftop at a roadside attraction in Tiger, Georgia named – naturally – Goats on the Roof.
"Several tourism boards have ranked us as the second-most visited destination in Georgia," says Russ Phillips, who owns the business with his wife, April. "More than a million people have visited us."
The couple purchased the business, which started in June 2007, from a friend in April 2015.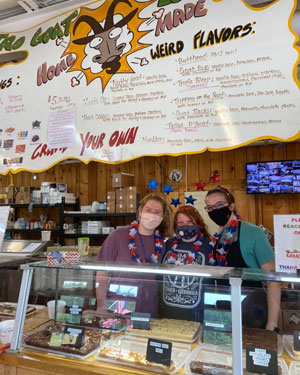 "My wife says I lost my marbles," says Russ, who originally was an accountant. "We just closed our eyes and took the plunge."
Follow the Food
While April initially may have questioned her husband's judgment, she quickly fell in love with the goats. Their 14 "kids" are her babies, and she buys a new one every year. The goats include one Boer goat, four miniature Nubian goats and nine Nigerian Dwarf goats.
They wander from rooftop to rooftop between the general store and the Rock and Old-Time Candy Store, which is new this year, on a steel bridge that connects the two buildings.
"The goats can come and go as they please. They have free roam from their fenced-in area with a barn to the rooftops. They have a ramp they can walk up and down," Russ says. "They just follow the food."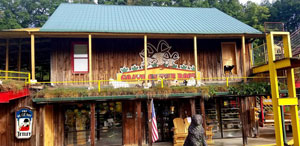 It's hard to know who enjoys feeding time more – the visitors or the goats. Visitors can buy goat food by the bag or in a souvenir bucket. They can feed the goats by hand, with a hand crank or by pedaling a bicycle attached to a contraption that sends a cup full of food up to the goats.
Humans won't go hungry at Goats on the Roof, either. The attraction offers award-winning nitro ice cream, including new flavors this year; sweets such as homemade fudge, buckeyes, Oreo balls, chocolate-covered bacon and cookies; popcorn and fresh boiled peanuts. The Rock and Old-Time Candy Store also satisfies a sweet tooth with a wide selection of nostalgic candy.
Goats on the Roof also added a new food truck, Game Time by Coach Joe, in May.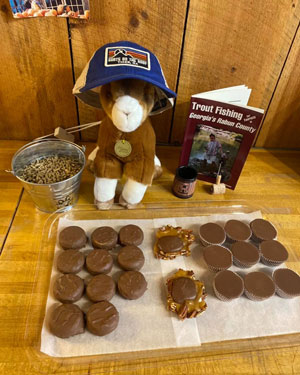 Regular Stop
Gifts and souvenirs, along with the sweet treats, are available at the general store, and visitors can buy gems, rocks and specialty stones from all around the world at the Rock and Old-Time Candy Store. The attraction also includes a playground and a gem mining sluice for miners who like to earn their treasures.
"Gem mining is a lot like gold mining," Russ says.
Goats on the Roof is open year-round, but the days of operation vary from season to season. Currently, the business is open 10 a.m. to 6 p.m. Wednesday through Monday until the end of December. Admission is free.
The business is open 10 a.m. to 5:30 p.m. the rest of the year, operating Friday, Saturday and Sunday from January through the first half of March and Thursday through Monday from the last half of March until the end of May.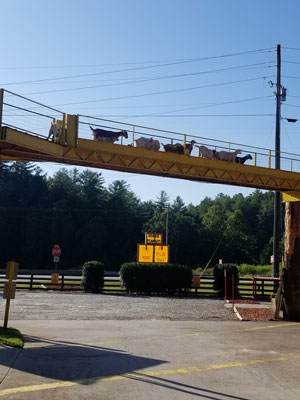 Russ says many of their visitors are repeat guests. "We get a lot of people that travel to Tennessee, and they tell us that we're one of their regular stops on the way," he says. "We also get people who travel the other direction from Tennessee to Florida."
The concept of putting goats on the roof began in the United States in the 1970s at Al Johnson's Swedish Restaurant & Butik in Sister Bay, Wisconsin, Russ says. Before that, he adds, personnel at Goats on Roof Old Country Market in Coombs, British Columbia, Canada, put the animals atop their building after the Norwegian immigrants "borrowed" some goats to "mow" the sod-covered roof, a common feature of hillside homes in Norway, to provide entertainment for passing cars. The goats never left, and the people kept coming – just like in Tiger.
"I enjoy seeing people's reactions to the goats," says Russ. "I enjoy the good time they have, and I enjoy working in a family business atmosphere."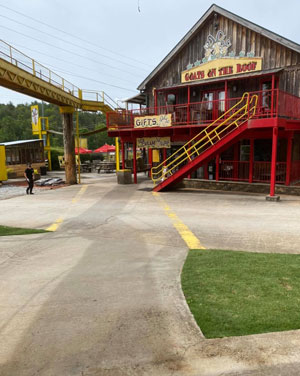 A Tiger in the Tank
To see the other area attractions, energetic visitors can put a tiger in their tank to explore the mountain region. It won't disappoint. Film buffs can catch a first-run show under the stars at Tiger Drive-In movie theater. The drive-in is one of only 349 left in the world out of more than 5,500 at one time. The theater originally operated from 1954 until it closed in the mid-1980s, but it reopened in 2004.
Combining elements of yesteryear with modern amenities, the drive-in features all-grass terraces, FM broadcasts, outdoor speakers, Pandora pre-show music and Wi-Fi. Movie-goers are welcome to bring a picnic or order food from the TDI Grill. The property is pet friendly, and it has a playground for kids.
Gates open at 6:30 p.m., and the first movie starts at 9 p.m. The theater operates on a first-come, first-serve basis. Online ticket purchases do not guarantee a spot. Admission is $10 for adults 12 and older, $5 for children ages 4 to 11 and free for children under age 3.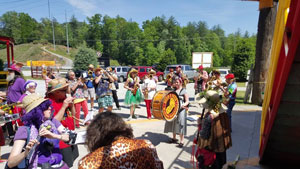 Visitors in search of food and drink in Tiger will find local eateries, farm-to-table restaurants and cafés that offer fine dining, comfort food, BBQ and international cuisine. Wine lovers can visit the family-owned, award-winning Tiger Mountain and Stonewall Creek vineyards.
Tiger Mountain guests – families or small groups of friends – who come to pick up bottles of wine can stroll through the vineyards or enjoy wine flights on its Red Barn Café patio. At Stonewall Creek, visitors can sample wine by the glass, bottle or flight on the covered, outdoor patio or the indoor tasting room.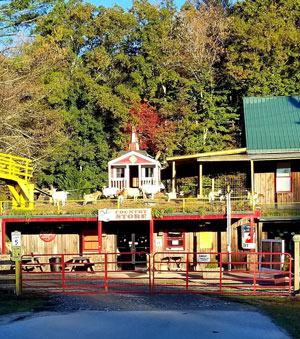 In nearby Clayton, Georgia, the award-winning Moonrise Distillery offer tours, tastings or both. The distillery creates whiskey with methods that date back to the early 1850s, and visitors can sample 12 different products.
On Sundays (and the occasional Saturday) from 2 p.m. to 5 p.m., Moonrise offers live music. The events are free, and visitors can bring a picnic basket or munch on pre-packaged snack foods.
Outdoor enthusiasts will find plenty to do in Tiger and the surrounding area as well. Visitors can go boating, camping, picnicking, swimming and fishing at Lake Burton. The smaller Lake Rabun offers fishing, water skiing, jet skiing and tubing as well as afternoon and cocktail cruises.
Rabun County is home to many waterfalls and hiking trails as well. The southern terminus of the Appalachian Trail is located at nearby Springer Mountain.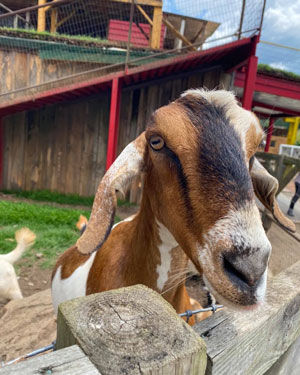 Accommodations include resorts, cabins, boutique hotels, budget motels and Airbnbs. Regardless of the sleeping arrangements that overnight guests prefer, however, they can agree that they need to get their goat fix.
"They are just goofy animals," says Russ. "They're constantly playing. They're very active. They love to have fun."
For more information, visit goats-on-the-roof.com, tigerdrivein.com, tigerwine.com, stonewallcreek.com, moonrisedistillery.com or explorerabun.com.
By Morgan Davis