Finding themselves trapped in Peru because of the coronavirus pandemic, a group of Augusta University students discovered the power of people, prayer and perseverance.
When Augusta University physicians assistant student Erin Hill arrived in Peru February 29 to do a four-week OB-GYN clinical rotation, her biggest concern was that her limited Spanish would inhibit her communications with her patients.
She had no idea that two weeks later she, along with 16 other students and a faculty member from four Southeastern universities, would be scrambling to find a way home.
Erin was one of seven AU students who was trapped in Cusco, Peru after the Peruvian government closed all borders – land, air and sea –at 11:59 p.m. March 16 in response to the coronavirus pandemic. Declaring a state of emergency, the government mandated a two-week quarantine for the entire country because of the pandemic and gave international travelers only 24 hours to leave.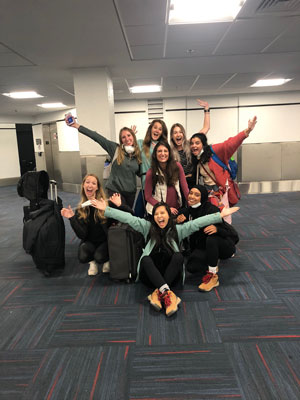 'Emotional Roller Coaster'
Although a rotation for the students was canceled on March 13, the gravity of their situation didn't sink in until two days later.
"Another tourist asked us how we were going to get home since American Airlines had canceled its flights," says Erin. "That was the first time we panicked."
However, they quickly turned their panic into action. They returned to their dorm, which was located above a clinic where they worked, and started trying to book tickets (to no avail) on the first available flights out of Peru on March 19 and 20.
On March 16, they packed their bags in less than 30 minutes and drove to the U.S. Consulate, only to find the doors locked. A sign on the door had a telephone number to call, but the number turned out to be incorrect.
In a 24-hour span, they found themselves in an alarming – and rapidly changing – situation. After Plan A – booking a fight – wasn't yielding results, they turned to Plan B. Erin and her fellow students started posting about their predicament on Facebook and contacting their congressional representatives.
"There were no flights out of Peru and existing flights are being cancelled by the minute," Erin posted on March 16.
Their parents, AU officials and officials from the other universities that had other students from their group stranded in Peru – Georgia, South Alabama and Lenoir-Rhyne in North Carolina – started contacting their congressional representatives as well.
"We were really humbled by the response we got," says Erin.
They later learned that March 21 was the last day that Peru would help citizens from other nations get home. The students were trying to book a flight to anywhere in the United States, and on Monday, March 23, they got an email about the next flight out of Cusco. Their hopes were dashed the following day, however, when they learned that all flights had been grounded.
"It was a very emotional roller coaster thinking we were going to get out, but couldn't," Erin says.
At midnight on March 25, they got another email that told them to be at the Cusco airport at 8:30 a.m. ("Good thing we were up!" Erin posted on Facebook.) At that point, she says, anyone who had made travel plans before March 21 still could get out of the country.
Fortunately, there was no false hope in this email. The group flew into Miami on March 25, and they flew from Miami to Atlanta the following day. Despite the ups and downs the students endured, they never abandoned hope throughout their ordeal.
"Faith played a major role in how we made it through this situation," Erin says. "We had to rely on the fact that we were not in charge of when we were going to get home, and we greatly appreciated everyone who prayed for us."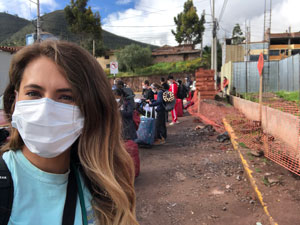 'There for Each Other'
The students had gone to Peru to do the OB-GYN rotation, Erin says, because the country has a high rate of cervical cancer. Initially, they worked in hospitals, local clinics and remote areas to do PAP smears for surgical screenings.
For the last two-and-a-half weeks of their stay, however, they were quarantined in their dorm, where they slept in bunkbeds, and lived under martial law. They could go out only to get groceries or medical care.
As the days wore on, they started to wonder how long their resources would last, particularly after they ran out of Peruvian currency. Fortunately, however, the one grocery store where they were allowed to shop accepted credit cards. One of Erin's fellow students also spoke Spanish fluently, so she was able to communicate with Peruvian officials when they had to leave their dorm for necessities.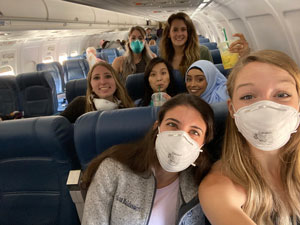 "We were there for each other. When one person broke down, the others stepped up," says Erin. "We were very lucky to have each other. We formed great relationships with each other. AU checked with us daily. Our families were checking with us."
Erin says the scariest parts of their predicament were not being able to leave and the uncertainty of knowing when the ordeal would end. "That was nothing any of us had ever experienced," she says.
"It was a humbling experience. It made us a lot more grateful for what we have at home," Erin says. "People I hadn't spoken to since elementary school were reaching out to their representatives. It's amazing what you can accomplish when everyone comes together. It was interesting to see the power your voices can have."
By Leigh Howard