Breathing the seacoast air of charming Beaufort, South Carolina
When it comes to the mechanically cooled contemporary South, this may be close to blasphemy. But here goes: I do not like central air. Indoor breezes are indoor breezes, if you ask me. You might be in a mall, at the movies or driving around in your car.
But if you want to catch the seasonal thickness of a summer evening, you might find yourself rolling through South Carolina with the windows down. Your destination is the Lowcountry, where saltiness and farminess mix in the air, to a town that was laid out to breathe this elixir in, not freeze-dry it. You're headed for Beaufort, the kind of place where you can prop open the door to your motel and breathe in a summer night.
Once known as the "Newport of the South" because of the mansions built here by wealthy planters, Beaufort, just 130 miles southeast of Augusta, is still full of carefully preserved pre-Civil War houses outfitted with two-story, colonnaded porches and Southeast frontages that make the best of the available winds.
And although it's about halfway between Charleston and Savannah, when you visit you feel like you are in a separate, seaside dominion with its own, sometimes lavish, local atmosphere.
Everywhere you turn there are live oaks, dangling shreds of Spanish moss and inlets edged with soft-looking marsh grass that changes from a light green to gold as summer moves toward fall.
Small boats promenade up and down the intracoastal waterway, and you can sometimes see groups of bottle-nosed dolphins close in to shore as they use the tidal eddies to try and outwit schools of fish. It often feels like there are as many herons as human inhabitants.
Beaufort is a friendly place where people like to use each other's name as often as they can. ("Roger, is it March when soft shell crabs get on local menus?" "Well, Peter, I think that's right.")
It is also semi-official headquarters for South Carolina's Sea Islands, which include well-known destinations like Hilton Head, Parris Island — with its Marine Corps basic training center — and hundreds of barely-charted Gilligan-sized places. There's Lady's Island, Cat Island, Cane Island, Coosaw Island, Distant Island and Spring Island, to just name a few.
Eighteen miles out, at the end of Highway 21, you'll come to Fripp Island, a full-scale resort. A couple of Sea Island bridges east of Beaufort on U.S. 21 is Hunting Island State Park with its white-sand beach, pine and palmetto forest and storybook-quality, 19th century lighthouse. Normally, you can climb to the top of the lighthouse to get a view, but, in these abnormal times, it is closed.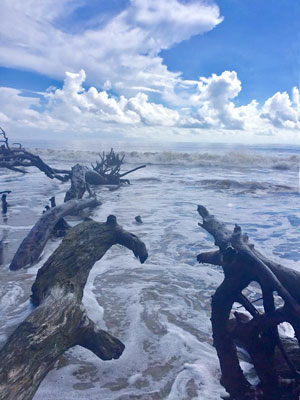 Because of beach erosion, Hunting Island offers the surprising spectacle of trees seeming to grow right up to the edge of the surf. There's also a secluded family park, nature trails, nature center, fishing pier, visitor center, campground and cabins. A portion of the pier is open now, but no fishing or crabbing currently is allowed.
A good way to see the town from out on the water is to take one of the brief Beaufort River cruises that sail from Beaufort's Waterfront Park on a fairly regular schedule. You'll see plenty of salt marshes and wading birds and, if you're lucky, Atlantic Bottle-nosed dolphins sometimes swim around not too far from the boat.
The Gullah Connection
Here and there, you can discover Gullah communities that are made up, in part, of the descendants of slaves that were brought here from Africa's west coast, and that are infused with a distinctive African-American culture and dialect.
Gullah settlements on St. Helena Island like Wallace, Capers or Coffin Point tend not to show up on signs, so you may not know you're nearby unless you ask or, perhaps, unless you hear Sea Island words and phrases mixed into speech. For instance, a Gullah speaker might ask, "Hah onnah da do?" instead of "How are you doing?" or "How are you?"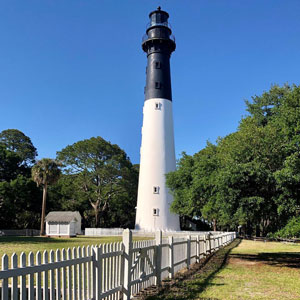 Because Beaufort was the first southern city captured by Union forces and the area was the only major chunk of the South occupied throughout the Civil War, slaves here were among the first in America freed after the Emancipation Proclamation in 1862. Philadelphia missionaries set up the nation's first school for freed slaves — the Penn Normal School on St. Helena. During the early 1960s, Dr. Martin Luther King Jr. and his staff were said to have drawn up plans for the March On Washington at the Penn Center.
Full of Character
I liked Beaufort the minute I saw that it was surrounded with fried chicken restaurants and small-scale roadside diners. Although well-heeled retirees have discovered the area and created a housing and retail boom, there's still plenty of laid-back charm to go around.
The region's staple crops used to be indigo and cotton, but now they're melons, strawberries, green peppers and dark-red, extraordinary tomatoes. Some of these are picked early and trucked out of state, but a few are allowed to ripen and you can look them over and squeeze them (just to see if they're real).
Historic Downtown
Beaufort's a good place to walk around — the entire downtown is designated a national historical district. Because there are so many historic houses and inns packed side by side, you don't need to point to a spot on a map and try to find it. Cotton and indigo money puffed Beaufort's buildings with plantation-style pride, and on streets like Craven Street, you are surrounded with rooflines and balconies that are exotic and a little exaggerated.
There's a park along the waterfront that ends in a promenade paved with "tabby" — an ancient Sea Island mixture of oyster shells, lime, sand and water. Thomas Fuller House at 1211 Bay Street (otherwise known as "Tabby Manse") was built from the same stuff back in the late 18th century, and with its double portico, stands as a prototype for many breeze-catching Beaufort homes. Its almost spindly columns give it a rare airiness, and the terra cotta-like front staircase seems to spread out in welcome.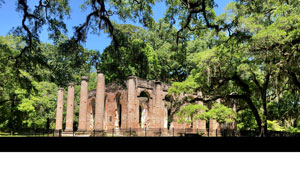 Nearby Milton Maxey House ("Secession House") at 1113 Craven Street was constructed a bit later, in 1813. Its Greek Revival upper floors were plunked on top of a Spanish-style foundation with arches the color of sea coral and intricate ironwork in-between.
South Carolina's ordinance of secession from the Union was first drafted here and graffiti scrawls by Union soldiers are still discernible on its basement walls. Because Union occupied Beaufort so early in the Civil War, most of the town's big houses became luxury quarters for Union officers or troop bivouacs, and ended up surviving the war pretty much intact.
Not far, in Beaufort's eastern portion, is the Old Point section, which includes several blocks of privately-owned pre- and post-Civil War mansions, all lovingly restored. The area is best viewed with a professional guide, either walking, by horse-drawn carriage or by bus. One historic mansion, Tidalholm, is also known as The Big Chill house, because most of that film was shot there, as was Pat Conroy's The Great Santini. Conroy's Prince of Tides was also filmed in Beaufort, and as were nearly 20 other movies including many parts of Forrest Gump.
Bay Street is Beaufort's Main Street, with many intriguing small shops where you can find a pot just about right for preparing Frogmore Stew (also called Lowcountry Boil) — a cauldron full of shrimp, sausage, ears of corn and Old Bay seasoning that is dumped out on a paper-covered picnic table and eaten with cocktail sauce and saltines on the side.
What you want? I want to try some of that stew, please. I want to walk in the morning under a ragged canopy of oaks and listen to cicada tuning up for the heat of the day. I want to breathe in Sea Island air and bite into tomatoes that are as red inside as they are on the skin. I want to stay in Beaufort.
By Peter Mandel