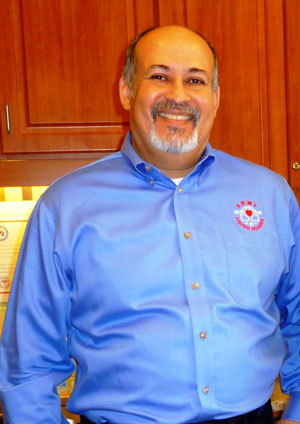 Fort Gordon Fisher House Manager
Number of years in position: 19
Family: Wife, Suvimol; a stepson, and a granddaughter
Why I'm Passionate About What I Do: I enjoy being able to continue serving our military — especially helping out when it is needed the most such as during a medical crisis of a military loved one.
Community Groups and Charities I Love to Support: First is the U.S.O. because it was the first organization that supported my Army National Guard Unit when it was activated in the war on terrorism in February 2003. Second is the American Red Cross. Its disaster teams helped my National Guard unit in humanitarian missions after hurricanes Hugo and Andrew. I also support groups like the American Legion, American Legion Riders, Veterans of Foreign Wars, Disabled American Veterans, Fisher House, Association of the United States Army and wounded warrior organizations. They ensure that veterans and their families get support and assistance and are not forgotton.
Biggest Career or Life Obstacle I've Overcome and How: The loss of loved-ones. On my mother's side, there were 11 brothers and sisters. On my father's side, there were 14 brothers and sisters. After joining the military, I was unable to be part of their lives and connect with them as I did when I was younger. Later, I found that the true meaning of life is the love of family and friends. Their love helped me overcome and deal with the loss of family.
Accomplishment I'm Most Proud Of: Spending nine years in the U.S. Army and more than 10 years with the Georgia Army National Guard as part of the best Armed Forces in the world 
Favorite Christmas Carols: "Rudolph, the Red-Nosed Reindeer," "Little Drummer Boy"
Favorite TV Shows: "Person of Interest," "Blindspot," "Supernatural," "CSI" shows, "Lucifer," "The Strain"
Favorite Movie: Orignal Superman movie with Christopher Reeve
Favorite Sports Team: NY Yankees – but I have to give it up for the Cubs this year.
Favorite Comfort Food: This is a hard one for me since I like a variety of dishes from several different countries, but Spanish and Thai food are my favorites. If I have to choose just one, then it would be pasteles, a Spanish dish.
Favorite Apps: Local News App, Accu-Weather and Facebook
Last Book Read: The Return: A Field Manual for Life after Combat by David J. Danelo
Something That Has Changed My Life: My father's death from cancer in 2001. We were fortunate to have him with us for an additional five years after he was given less than six months to live when he was diagnosed. It gave me and my brothers an appreciation of life and death and prepared us for the loss of our mother later in life. 
Best Thing I Ever Learned: Listen and try not to prejudge
Favorite Hobbies: Viewing new movies, flying small remote control helicopters
Best Christmas Present I Got as a Kid: A Big Wheel
Secret Aspiration: I'll keep it a secret. 
Reality Show I Would Totally Win: "The Price is Right" 
Something People Would Be Surprised to Know About Me: I learned how to ride a bicycle by riding the edge of a flat two-story roof top in my youth. It's not something I would recommend doing, though.
What person do you think we should know? If you'd like to suggest someone we should meet, email editor@columbiacountymag.com and tell us why.