Being in the right place at the right time (along with considerable talent) has given an Evans photographer the good fortune of building a successful career on the links and behind the lens.
There's nothing that Evans resident Paul Lester enjoys more than making a good golf shot. Sure, it's nice to do it with a club in hand. But with a camera? Even better.
For 50 years, Lester has photographed the world's best golfers at tournaments, pro-ams, charity events and after-hours parties. He always has been happy to share his work with the subjects of his photographs. He also has compiled some of his favorite shots from years past in a book, Beyond the Fairway, so the rest of us can get a glimpse inside his world as well.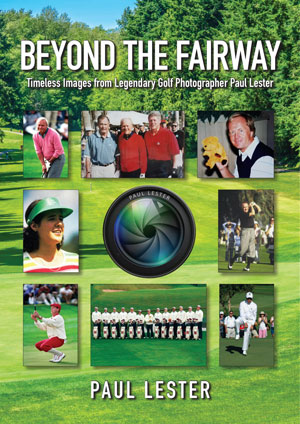 "I wanted it to be a book of older photos. I didn't want any from nowadays," Lester says. "The old photos are the ones I like. I could never get those pictures again. The access I had then, nobody has now."
With a little help from some of his longtime friends, he put the book together in about four months. CBS sportscaster Jim Nantz, who has anchored the network's Masters Tournament coverage since 1989, wrote the forward for the book.
"He has a gift to make every member of his universe feel important, to bring kindness and joy to everyone he touches. . .. He was born with an enormous talent," Nantz writes. "Through his prism, he has captured many of the most candid and glorious snapshots you'll ever see."
Barbara Nicklaus wrote the introduction. "Paul's approach is a mixture of art and documentary. Every time he picks up a camera, he discovers something new," she writes.
In fact, a comment she made about one of his pictures was the motivating force behind the book.
In 1988, Lester snapped a photo of Jack Nicklaus and Ben Hogan together as Nicklaus was coming off the course at the Centennial of Golf Pro-Am in New York City. "I took that picture, and I kept it for quite a while," Lester says.
About 30 years later, he sent two 8×10 prints to the Nicklauses, and Barbara Nicklaus commented that she never had seen the photo – a rare shot of the two golf icons together.
"I thought, 'If they really like this photo, I have a lot of these kinds of photos,'" Lester says.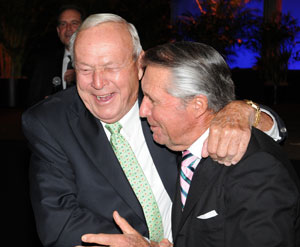 Inside the Ropes
His career started in 1970 when, three years out of high school, he went to a prep football game on a November Friday night in Woodland Hills, California. The football coach needed someone to take film footage and asked him to cover the game.
There was just one catch – and it wasn't on the football field. It was above it. Lester had to climb up a 50-foot pole at midfield to get footage of the entire game. Perched in a metal basket at the top of the pole, he got to work for the sum of $75.
He must have done a good job because he became the go-to cameraman for the high school team, shooting 8-milimeter film. This was how he honed his craft, learning to shoot and frame a shot and compose a picture.
His father, Buddy Lester, a standup comedian and actor whose film credits included the original Ocean's 11, helped him make connections. An avid golfer, the elder Lester played in many celebrity charity events and encouraged his son to photograph the outings.
At that time Lester was focused on the camera. As a 20-year-old with big dreams, his ambition was to work as a cameraman in the entertainment industry. Instead, though, his first job in "show business" was as a construction worker at Universal Studios. Not exactly what he had in mind.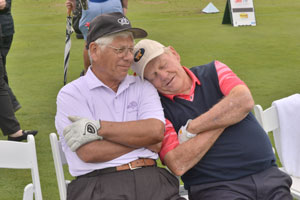 Taking photos at charity golf events, Lester thought there might be a better way to make a living. At the fundraisers, he photographed foursomes, which included a celebrity and his playing partners, on the tee. He charged each golfer $5 for a 5×7 print and mailed it to them.
"I always liked golf. My dad liked golf a lot," says Lester. "He told me to bring my camera to tournaments. I was lucky to know people who needed helpers and took over when people couldn't do it anymore. I just learned as I went."
He soon found himself photographing many events in Southern California. He also got a referral to work for Golf Illustrated magazine to take pictures of pro players at the events, earning $10 a roll.
Al Geiberger, the first professional to shoot a 59 in competition, befriended and encouraged Lester when the magazine sent him on assignment to do a story about the golfer.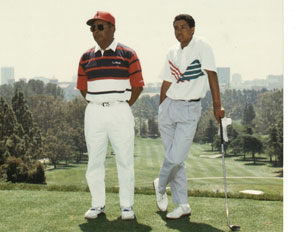 In the late 1970s and early 1980s, Lester started photographing PGA Tour events for Stan Wood, the former University of Southern California golf coach who had started his own public relations firm for the pro tour. He also started shooting for the LPGA, and he has fond memories of photographing the likes of Nancy Lopez, Patty Sheehan and Pat Bradley.
"The LPGA is where most of us got our start," says Lester, who still shoots LPGA events. "It was the best tour in the 1970s. The LPGA players will give you a lot more emotion. They were fantastic. They looked fantastic. They dressed fantastic."
However, when he started shooting the made-for-television Skins Game events in the mid-1980s, he met many key people and sponsors in the industry. An unofficial money event on the PGA Tour from 1983 to 2008, the Skins Game took place in November or December each year after the official PGA Tour season ended.
"The top players in the world were there, and they were at the best places with the best competition," says Lester.
He started spending a lot of time inside the ropes, and often he was the only golf photographer at banquets for the top pros and celebrities. At the nighttime events, he met the golfers' wives and children, and he often sent them photos.
"I tried to be friends with them first," says Lester. "I approached it as a friendly thing rather than as a journalistic photographer. I was part of the show. We were part of the circus that came to town for that week."
Secret to Success
That friendly approach has been fruitful, and Lester says people have told him he has the right personality to be a photographer.
"You need to know when to talk and when not to talk. You need to know when to listen," Lester says. "I always laid back a little. I have to shoot what I see. I became more than just a photographer to these guys. I would talk about personal things to develop a personal relationship."
He enjoys being in the thick of the tournament action in the daytime, and he loves working at pro-ams and charity events because he can set up shots and yell out to players to "give me something."
"I like it when they're laughing," says Lester. "It shows that they're good human beings."
Hall of Fame golfer Amy Alcott and Johnny Bench, Hall of Fame baseball catcher, struck a pose for him – hats on backward, of course – during a break at a Dinah Shore Winners Circle Tournament. Bench got down in his catcher's crouch, and Alcott stood behind him like a home plate umpire.
At a Skins Game, Fred Funk needed no prompting. Lester got a shot of him paying up on a bet that Annika Sorenstam couldn't outdrive him. After she drove her ball past his on the fifth hole, Funk unzipped his golf bag and slipped into a pink-flowered skirt.
A photo of John Daly, with cigarette and beer in hand at the opening party of his first Skins Game in 1991, is one of his favorites. "It's a classic," Lester says. "It's vintage John Daly."
In another shot, Nicklaus is resting his head on Lee Trevino's shoulder. "I knew that they knew that I was there," says Lester.
Riviera Country Club is one of his favorite places to shoot because he knows the venue so well, and he also enjoys photographing the Ryder Cup.
"The emotion is just nonstop," Lester says. "It's a whole different deal because it's not an individual thing. The thing is huge – the press, the parties. It is very special."
He tries to take photos quickly, and oftentimes he knows the shot he wants beforehand.
"I could get the pictures that no one else can do," he says. "Anyone in that book would do anything I asked them to do. I knew I could shoot it and light it very well, but I had the relationships."
From the daytime golf to the nighttime events, it's not unusual for him to work 10-hour days.
"I do a lot of corporate, charity and celebrity events. I enjoy them all. I'd better be pumped up and excited for every job," says Lester, who divides his time between Evans and Los Angeles. "The people that you're doing it for, that might be the only event they do a year."
He shot his first Masters in 1995. He missed the following tournament, but he has been a regular since 1997. During the Masters, Lester typically shoots private parties, where tour players and celebrities often make appearances, in the evenings. "I probably do four houses a night," he says.
Being in position helps him get the image he wants.
"The secret is being ready. In golf, it's all luck," says Lester. "Are you at the right spot? Can you get the right angle? When you're a still photographer, all you can hope for is that you're there. The challenge is getting in the correct spot without getting in trouble."
It's also tricky to get a shot that's different from everyone else's.
"When looking through the lens and the shot is over, a lot of people pull the camera down," says the 71-year-old Lester. "I try and leave it up as much as I can because you never know what the reaction will be. Don't take your eyes off of the lens thinking that it's over because you're going to miss the shot."
50 Years and Counting
Even though Lester got his start filming high school football games and occasionally shoots other sports, he has specialized in golf.
"The people that I know are in golf," he says. "If I shot everything, I wouldn't have the relationships that I have with the golf community."
In his half-century career, he has traveled the world recording key moments and images in golf. His work has been featured in Golf Digest, Sports Illustrated and ESPN, the Magazine.
"I've been so lucky to cover golf for 50 years," Lester says.
We're lucky he has covered golf so well for so long, too. The book is available at Amazon, Barnes & Noble and beyondthefairway.square.site. To purchase any of Lester's photos, visit paullester.zenfolio.com and click on Portfolio.
By Betsy Gilliland