The second largest city in the western North Carolina mountains has a first-rate playlist of things to do.
Cideries, wineries and breweries. Stunning waterfalls, white squirrels and countless trails to explore. An iconic general store, a performing arts playhouse and an accolade-winning B&B. Local wisdom shared through mountain lore, beer adventurers and a S.A.G.E. All of these things and more beckon travelers to Hendersonville, North Carolina and nearby Mills River.
"The different tourism businesses 'cross pollinate' to support each other," says Beth Carden, the Henderson County Tourism Development Authority executive director. "And there are so many self-guided activities that people can do any time."
Head to Main Street
Hendersonville first came to prominence as an escape for Charleston residents from Lowcountry summers, and any exploration of the community, nestled in the Blue Ridge Mountains, should begin downtown. Streetscapes feature wide, pedestrian friendly sidewalks with flowers and trees in brick planters, benches and gazebos. Many of the 20-plus independent restaurants along Main Street offer outdoor seating as well.
Visitors can attend shows and concerts at Flat Rock Playhouse, officially designated as the State Theatre of North Carolina, or shop at the must-see Mast General Store with its original tin ceiling in the circa 1905 building. Inventory includes clothing, footwear, outdoor and travel gear, housewares, gift items, classic toys, gourmet country foods and more than 500 old-fashioned candies.
"Our most popular candy is vanilla bullseye," says S.A.G.E. (Service Ambassador for Guest Experiences) Travis Spencer.
The Hendersonville store is one of nine Mast locations, including the bellwether that opened in Valley Crucis, North Carolina in 1883 with everything from "cradles to caskets," in the Carolinas and Tennessee.
Additional downtown attractions include art galleries, Henderson County Heritage Museum and McFarlan Bake Shop, which opened in 1930 and is one of the few remaining "made from scratch" bakeries in America.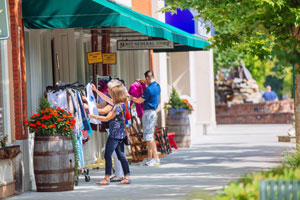 Area dining options range from the casual HenDough, specializing in chicken and doughnuts, in Hendersonville to the upscale, award-winning Season's at Highland Lake Inn, featuring seasonal menus based on produce from its organic gardens, in nearby Flat Rock.
Hit the Trails
Henderson County, North Carolina's top apple-producing county and the seventh largest in the nation, also is home to almost 30 tourism trails including its Orchard and Cheers! trails. As the apple of the eye of the hard cider industry, the Cheers! Trail includes three cideries, which all use locally sourced apples, two wineries and six breweries.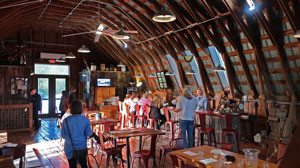 The award-winning, Virginia-based Bold Rock Hard Cider, the largest craft cidery in the United States, opened its second production facility and tasting room in Mills River in 2015. Dog and kid friendly, Bold Rock includes a cider garden, outdoor music venue and food truck that serves barbecue and other Southern staples. The taproom offers hard cider tastings as well as pints, flights and local craft beer. Complimentary tours are available Saturdays and Sundays at 1, 3 and 5 p.m.
Flat Rock Ciderworks, the area's first cidery, began operations in 2014 with its flagship ciders Wicked Peel and Blackberry Gold. Two years later the cidery opened a tasting room in downtown Hendersonville. "We take the product all the way from the orchard to the bottle, keg or can," says co-owner Jim Sparks. "It's all local. We want to promote the local agriculture in our community."
Appalachian Ridge Artisan Ciders, located in a renovated 1940s-era barn surrounded by an apple orchard, produces dry, European-style cider. "You can taste cider in a grocery store, but when you taste it here, in the middle of an orchard, it gives you more of an experience," says owner Alan Ward.
For those who prefer fermented grape juice to fermented apple juice, Saint Paul Mountain Vineyards makes wines from 14 varieties of grapes. Also owned by Ward, the winery is located on farm acreage that has been in his family for more than nine generations. The tasting room includes indoor and outdoor seating with views of the vineyards.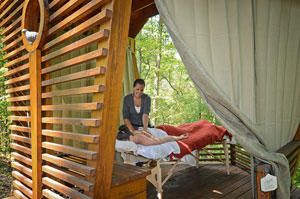 The family-owned, award-winning Burntshirt Vineyards crafts its wines from fruit grown in its two vineyards. The vineyard's name comes from mountain lore that says farmers of yesteryear tossed their shirts into the fire for good luck – and a bountiful crop – when they burned their fields to clear the land for planting. A visit to Burntshirt includes tastings, tours, live music, covered patios, a food truck, a fire pit and corn hole.
Breweries include Sierra Nevada, a California-based enterprise that opened a Mills River location in 2014 to increase brewing capacity and to provide fresh beer more quickly to fans east of the Mississippi River. Various tours led by guides, aka beer adventurers, are offered seven days a week, and reservations can be made online at sierranevada.com.
The family friendly Sierra Nevada also includes a taproom, restaurant, gift shop, amphitheater, indoor music venue, oversized fire pit, corn hole, bocce ball, children's playground, hiking trails, gardens and kayak pull-offs into the French Broad River. No wonder it's affectionately nicknamed "Malt Disney."
Outdoor lovers can explore DuPont State Recreational Forest. With 90 miles of trails, the forest is home to spectacular waterfalls including Hooker Falls, where a scene from Last of the Mohicans was filmed. Farther upstream, hikers will find Triple Falls, featured in The Hunger Games, and High Falls.
Five miles from downtown Hendersonville, Jump Off Rock climbs to an elevation of 3,100 feet and offers panoramic views of the Blue Ridge and Great Smoky mountains. The rock gets its name from a Native American legend that says an Indian maiden threw herself off the rock after learning the warrior she loved was killed in battle. On a clear day, four states – North Carolina, South Carolina, Georgia and Tennessee – are visible from the granite rock.
At ground level, you might spot a white squirrel in Henderson County. They're not albinos, though – they have dark eyes.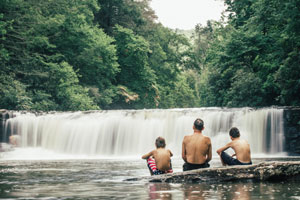 Home on Tiffany Hill
It's impossible to see and do everything in one day, so overnight accommodations are essential. One of the best places to set up home base is Bed & Breakfast on Tiffany Hill in the rolling countryside of Mills River. The B&B, owned and operated by Selena Einwechter since it opened 10 years ago, became a Select Registry property in 2011. Tiffany Hill was the first B&B to become part of the Southern Living Hotel Collection, and in April 2018 Southern Living named it the South's Best Inn, based on an online reader survey.
"At Tiffany Hill," Selena says, "we celebrate something every day."
Breakfast at Tiffany Hill is a party unto itself. The three-course meals, served at a table that is set to perfection, always end with dessert. However, it's hardly a formal affair. Some guests come to the table in their pajamas, and Selena is happy to help them plan their daily itinerary.
Because she has thought of everything to satisfy her guests' every whim, some people may be reluctant to leave the property at all. And Selena doesn't indulge their desires in typical fashion. Why take a formal tour of the beautiful 6-acre grounds, for instance, when you can explore them on a scavenger hunt? Where else would you get a massage other than the human birdhouse? Feeling a little chilly at the Thursdays on the Porch music series? A basket full of blankets – or a soothing glass of wine – will warm you right up.
When it's time to check out (sadly, that day will come), the fond farewell will put your grandparents' goodbyes to shame. Spoiler alert: Selena helps guests bring in their luggage, but she doesn't help them take it out. In fact, she asks that travelers don't even let her see them take their suitcases to their cars. That's how much she hates to see her guests leave. As for the rest of the sendoff, well, you'll just have to find out for yourself.
By Betsy Gilliland