Local sailors can enhance their summer fun each week with a little friendly competition 
Augusta Sailing Club is full of traditions, and an annual summertime favorite is the Wednesday Night Fun Race. This year the informal races will be held May 31 – July 26, with the exception of July 5.
"It's low key. We don't even keep score. People just show up and put their boat in the water and join in," says Martinez resident Dick Mayne, who has been sailing since 1958 and is a longtime member of the club. 
Participating sailboats range from 14-foot Sunfishes and 16-foot MCs to 20-foot Seaboats and 28-foot E scows. The 400-yard races get underway about 6:30 p.m., and depending on the wind, the Sailing Club will run three or four races. Dictated by the weather, the number of boats typically range from four or five to 10 to 15.
"There's no limit on the number of boats that can race at once," says Mayne. "If we have a lot of boats, we just move the starting line to make the race longer."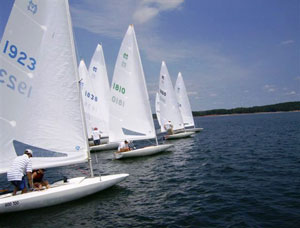 People do not have to belong to the Sailing Club, which was incorporated as a nonprofit organization in 1953 to promote sailing, to participate in the races. However, Mayne recommends that nonmembers contact the club in advance if they would like to join the fun. "Otherwise, the gate is locked, and they won't be able to get in," he says. 
Volunteers serve dinner after the races. The cost of the dinners, which could include hot dogs, hamburgers or lasagna, generally range from $5 – $7.
"We just want everyone to come out and enjoy sailing and have a good time," Mayne says.
Visitors can contact the facility at (706) 305-7357 or manager@augustasailingclub.org. For more information, visit augustasailingclub.org.