Medical services are in demand at FaithCare Clinic – and so is the need for more volunteer physicians. 
Most churches are relatively quiet on a typical Tuesday evening. At Wesley United Methodist Church in Evans, however, every other Tuesday night is full of energy and activity. 
On those nights, the education building is converted into a healthcare facility where 30 to 40 people volunteer their services to provide free medical care at the FaithCare Clinic from 6 p.m. to 9 p.m.
The clinic, which was the brainchild of former WUMC pastor Glenn Ethridge, provides patients with acute minor illness and ongoing primary medical care, professional counseling and some prescription drug assistance. 
Patients must meet three criteria to be eligible for treatment at the clinic. They must be Columbia County residents, have no health insurance and be below 200 percent of the federal poverty level.
"This is one of the wealthiest counties in the state, but we have a significant amount of individuals in our county that don't have access to medical care," says Lewis Bandy, a retired medical administrator and the clinic's administrator.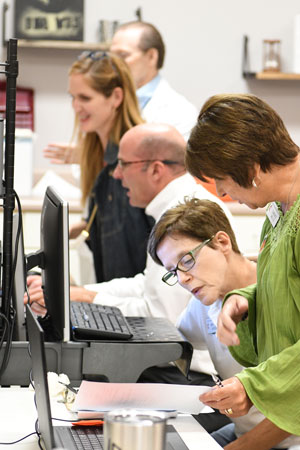 Nowhere Else to Turn
FaithCare originally operated at Evans Surgery Center when it was founded in 2002, but it moved to the WUMC education building about 3.5 years ago. The clinic includes a check-in area, waiting room, interview room, nurses' station, electronic record keeping and a pharmacy assistance program. Sunday school rooms are converted into exam rooms.
FaithCare is part of the Greater Augusta Healthcare Network, which was established in 2007 to address the need for quality, affordable healthcare in the area.
The network includes four hospitals, seven community clinics, the east Central Health District and eight community service providers. Of the seven clinics, FaithCare is the only one in Columbia County.
On a recent Tuesday evening, 35 volunteers took care of 25 patients at the clinic. The volunteers included four physicians, four nurses, a counselor, a dietitian, 17 administrative personnel and eight students.
Of the patients, 15 visited the clinic for medical appointments, five visited the pharmacy, four came for counseling and one received a dietary consultation.
In addition, says Bandy, "Doctors Hospital provides routine lab and x-ray services for free."
The clinic sees patients by appointment only, and they are treated most commonly for high blood pressure, diabetes, respiratory ailments, obesity and smoking. The clinic also offers free flu shots, which are funded through a mission of the church.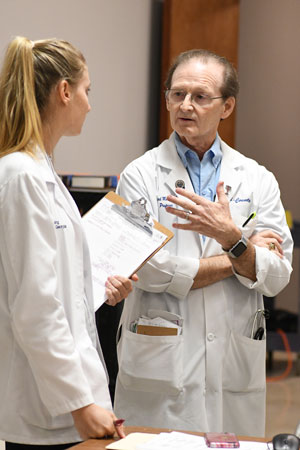 "Wesley has always been very community-oriented," says volunteer Ross Meschke, a pharmaceutical drug representative and WUMC member. "Many of the patients are among the working poor or are single women who have lost their health insurance because of divorce. Most of our patients have jobs, and most of our need is chronic."
Natalie, an Evans resident, was at the clinic for pharmaceutical services, which she receives once a month. She first came to FaithCare when she had a broken leg in June 2017.
"When you walk in the door, it doesn't matter who you are or where you come from. The love of God is shown when you walk in the door, and they get you what you need," Natalie says. "My life has changed drastically by coming here and seeing these people and seeing the smiles, the love and the outpouring of hope and prayers we're given."
James, an Appling farmer who has no insurance, has received medical care for knee and back pain from the clinic for two or three years. He also has been referred to Project Access to take part in a sleep study.
Project Access is a Richmond County Medical Society outreach program that provides healthcare for uninsured, low- to moderate-income residents of Richmond and Columbia counties. FaithCare refers patients to this program for specialty care.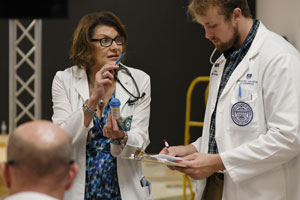 "They help me a lot," James says of the clinic volunteers. "I don't know what I would do without the clinic. It would be real rough."
Patients usually hear about FaithCare by word-of-mouth, but currently the clinic is not accepting new patients because of the shortage of volunteer physicians. Bandy says it is particularly difficult to find behavioral health caregivers. "A lot of patients are in need to talk to somebody," he says.
However, Paul Schantz, a retired VA chaplain, has filled that void by volunteering at the clinic. "You come in here, and you see hurting people who have nowhere to turn. I try to be a positive presence for them and offer encouragement to them," he says.
Through its pharmacy assistance program, FaithCare provides its patients with no- or low-cost prescription drugs. However, the clinic does not prescribe narcotics or controlled substances.
Meschke helps arrange for the provision of sample drugs from major drug companies and helps patients understand the free or reduced-cost programs the drug companies offer. He also trains volunteers to fill out the necessary paperwork. Meschke, along with Dr. Laura Mulloy and retired RN Joe Kendall, have been with the clinic since its beginnings.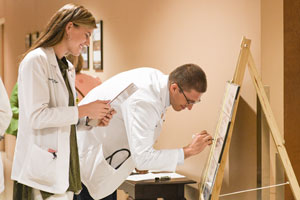 Training Future Physicians
The patients are not the only reason the FaithCare doctors volunteer at the clinic, however. The opportunity to mentor medical students is a big draw for them as well.
"The clinic is good for the community, but it's also good for training our future physicians," says Mulloy, a professor and the chief of the Division of Nephrology at Augusta University. "It helps first-year students feel comfortable in their skin in a white coat."
The medical students talk to the patients in the interview room about their history and present their findings to the physicians.
"Being able to interact with real patients is better than interviewing someone who is acting," says Julianne Gillis, a Medical College of Georgia at Augusta University student volunteer coordinator. "We also have to present to the doctors, so they really help us get experience that we'll have to use throughout residency."
Her fellow MCG student clinic coordinator, David Reehl, finds other benefits from volunteering at the clinic.
"It's good exposure to faith-based medicine to an under-served population in the community," he says. "We learn how to integrate faith and spiritual healing into our practice."
The student coordinators also make sure patients at the clinic are seen in a timely manner, which is an indispensable part of the services.
"I love taking care of the patients, and I love having students here. Teaching is my first love. I wouldn't be in medicine if I couldn't teach," says Mulloy, who has served as FaithCare's medical director for about nine years. "And it's valuable for the students to give back and do community service early in their careers. Ninety percent of what we do is listening to people and talking."
The doctors benefit from listening to the students as well. "Talking to them is refreshing," says Dr. Nathan Brandon, an anesthesiologist and pain physician. "They ask questions and keep my brain awake."
Brandon also finds that the variety of medical needs at the clinic gives him a break from the routine of his practice.
"I like it when the patients say, 'thank you,'" says Brandon, who has volunteered at the clinic for six years. "I get to know these people."
After the last patient leaves, Mulloy presents a case study to the students.
"I like to teach. I come up with a clinical vignette. I usually pick something I've seen during the day," says Mulloy. "The students can ask questions. There's not a lot of pressure. They're not getting a grade. We're just here to help them learn."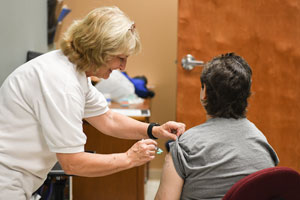 Physicians Needed
Since it was founded in 2002, FaithCare Clinic, a free, appointment-only clinic that provides primary medical care to uninsured Columbia County residents, has treated about 700 patients. The clinic, which operates from 6 p.m. to 9 p.m. every other Tuesday at Wesley United Methodist Church, currently serves 70 to 90 active patients, but it is not taking new patients at this time.
The clinic staff draws from a pool of about 45 volunteers, but only four of them are physicians – Dr. Laura Mulloy, a professor and the chief of the Division of Nephrology at Augusta University; Dr. Karen Phelps, a family practice physician at Eisenhower Army Medical Center; Dr. Richard Melcher, a retired internal medicine physician; and Dr. Nathan Brandon, an anesthesiologist and pain physician.
However, they would love to have some company. 
"We're not asking doctors to come every other Tuesday for the rest of their lives," says Mulloy, who also serves as the clinic's medical director. "If a doctor could volunteer three or four times a year, that would be a gift. They could work for two hours a night, or agree to see five patients. It's a public service to the community. As health care providers, that's part of the reason we're here. They can come one or two times and see if they like it."
In the past, the clinic has had eight to 10 volunteer physicians. However, some no longer volunteer because they have moved away or their practices have changed. The FaithCare doctors also have found that other physicians are hesitant to volunteer because of concerns about liability or being overwhelmed with patients.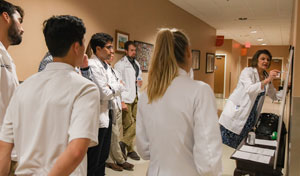 However, the doctors are covered for malpractice by the Georgia Volunteer Health Care Program through the state Department of Public Health. FaithCare physicians are not under contract, and the appointment-only nature of the ministry prevents them from having to see more patients than they can handle in an evening. The volunteers even get a free meal prepared by WUMC members.
In July, FaithCare had to cancel one clinic because there were not enough physicians available. And if more doctors volunteered, then the clinic could expand its reach to serve more patients.
"Come visit and see what we do," Brandon says. "Once they see what we do, they wouldn't be worried about malpractice."
For more information, email the clinic administrator, Lewis Bandy, at lew.bandy@gmail.com.
By Leigh Howard