The Rotary Club of Columbia County supports the community in a variety of ways, but it primarily focuses on literacy projects. And one of the main ways the organization supports these endeavors is with its Giant Community Yard Sale each spring.
This year's eighth annual yard sale will be held from 7 a.m. to noon Saturday, May 5 at the Columbia County fairgrounds. Bargain hunters can find items such as furniture, plants, Tupperware, arts and crafts, books, toys and baby clothes at more than 200 booths. 
"We sell the space, and we allow people to have their own yard sales," says James Waldron, a Rotary Club of Columbia County board member. "Imagine having 220 yard sales in your neighborhood at one time."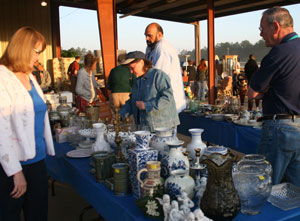 The Rotary Club rents 10-foot-by-10-foot or 20-foot-by-20-foot spaces to vendors at indoor, outdoor or patio locations, and attendees might find more than household goods.
"One year we had a man cooking ribs. I didn't know anybody ate ribs for breakfast, but he had a long line at his booth," says Waldron.
About 2,000 to 3,000 people typically attend the yard sale. Local charities also will be on hand to accept donations from vendors that don't want to take home any items they don't sell. 
Shoppers are asked to make a donation for parking, and these proceeds will be used to support literacy projects such as Communities in School, the Greater Augusta Partnership for Literacy and the Dolly Parton Imagination Library. Proceeds also will provide funding to purchase books for the SAIL school, sponsor an international student at Augusta University and support a local Boy Scout troop.
"It's a great project," says Waldron. "We don't do it to promote Rotary. It's an avenue for us to expand our youth charities."