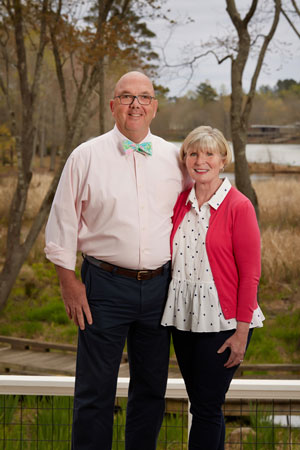 This cheerful River Island home of empty nesters is full of folk art and family treasures
When Evans residents Nancy Crawford and her husband, Dan Lee, decided to build a new home, the empty nesters, who have four children between them, wanted to "downsize, but not downgrade."
The avid walkers were drawn to River Island for its tranquil, traffic-free walking paths through the neighborhood and along the Savannah River. "It's the best walk in the area," Nancy says. "All we see are birds."
They also wanted a design that would let them "feather their nest" according to their lifestyle. For instance, their previous home in Northwood, where they raised their "yours, mine and ours" blended family, had five bedrooms – all on the second story. "We wanted a master bedroom downstairs," says Nancy. 
The couple started doing their research, and they came across an open floor plan that matched their needs. "I found these house plans online and fell in love with them," says Dan. "I didn't know how much house plans cost, but I found out that if you use a Southern Living builder, you get the plans at half price."
He contacted Jamie Reynierson of J. Reynierson Homes Inc., the exclusive Southern Living custom builder in the area, and told him what they wanted in a home. "Jamie said, 'I have wanted to build that house for three years,'" says Dan.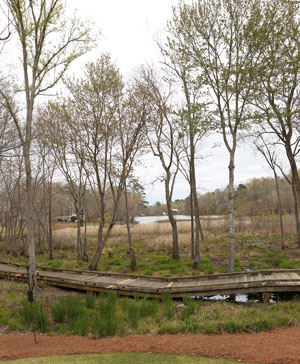 Early Birds & 'Girly' Birds
While the house was under construction, Nancy and Dan visited the waterfront site almost every day. The couple made several tweaks to the plans before moving into their home in April 2017. "Jamie said, 'If you don't change the footprint of the house, we can do anything you want," says Nancy.
For instance, the Carolina room – their favorite spot in the house – was supposed to be a screened-in porch, but they enclosed the space to have more heated and cooled territory.
Thanks to the suggestion of one of their vendors, the couple made a slight change to the front door as well. According to the original house plans, the door opened from the direction that would have led straight into the powder room. By reversing sides, however, guests are guided into the great room.
"Everybody had really good ideas along the way," says Nancy. "We just had to listen to them. I told all of the subcontractors, 'Don't let me make a mistake.'"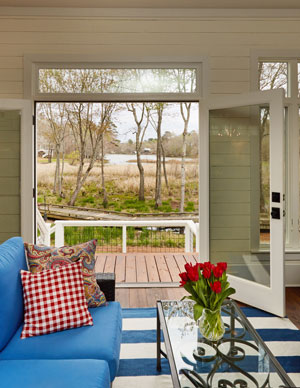 The original plans also called for French doors, which became windows instead, in the great room. Along the back of the house, which overlooks Jones Creek, the original plan called for more French doors that became windows. "I knew I wanted lots of windows," Nancy says.
Using every bit of the space in the house, they also tucked a niche of reclaimed wood shelfing on the side of the great room fireplace. 
"Everyone who walks in this house says, 'It's unique,'" says Dan. "You don't know what that really means." 
With the home's open floor plan, the great room connects with the Carolina room. "We have these two living spaces side by side, so our task when building this house was for them to not look matchy-matchy," says Nancy.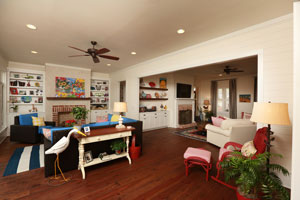 While the two rooms share traits such as shiplap walls, fireplaces and folk art accents, subtle differences give them distinct personalities. The great room includes cabinetry topped with reclaimed wood shelving, a reclaimed brick fireplace, ceiling fan, cart coffee table, cream-colored couch, brightly colored French Country rug and buffalo check curtains.
A large colorful acrylic painting on wood of a crow – one of several pieces of artwork in the house by Georgia artist Cornbread Anderson – hangs on a wall. "I have several of his pieces. I wish I had more," says Nancy. "I love a nice, bright piece of folk art, and if I can support a Georgia artist, I do."
A John Perry painting of apple pickers on wood also hangs on a wall in the great room. "He carved the wood and then painted it," says Dan.
The Carolina room features cabinetry with built-in bookcases and a perfect view of the rising sun over Jones Creek.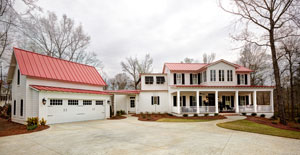 "Every morning we can watch the sunrise over the clubhouse," says Dan, a pulmonologist at Eisenhower Army Medical Center. "You need sunglasses in here at nine o'clock in the morning." 
That's just the way they like it. "I'm an early riser. Every morning I watch the sunrise, and it's absolutely beautiful," Nancy says.
The Carolina room décor includes a red wicker rocker and matching footstool by a wrought iron floor lamp with birds perched on branches in one corner of the room. A black wrought iron chair with woodpeckers in the back occupies another corner, and a vase of fresh flowers sits on a glass-topped, gray wrought iron coffee table by the wicker couch with bright blue cushions.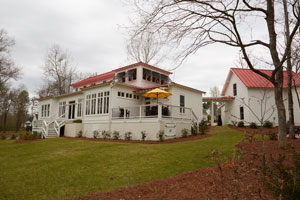 Edith the Egret, a life-sized metal bird with a fish in her mouth – a housewarming gift from their two older daughters – stands next to the console table behind the couch. A pair of binoculars hangs on the wall. "We keep binoculars by the door so we can look out at the birds," says Dan. 
The reclaimed wood mantel on the Carolina room fireplace matches the great room shelving, and a colorful acrylic on canvas, "Sunflowers and Poppies" by Brooke Baxter Howie, rests on the mantel. The fireplace, also made of reclaimed brick, features a crushed oyster shell tabby surround. 
"The builders put up wet stucco and threw the rocks at it," says Nancy. "They let me place one rock." And yes, she can point out that particular pebble. 
The shelving in the great and Carolina rooms holds the couple's treasures, ranging from framed family photos to more folk art. Another Cornbread Anderson painting of a mother guinea hen and her babies sits on a top shelf in the great room, while his painting of a raccoon resides in the Carolina room.
"You buy stuff that makes you happy. Then when you put it in your home, it makes you happy every time you look at it," says Nancy.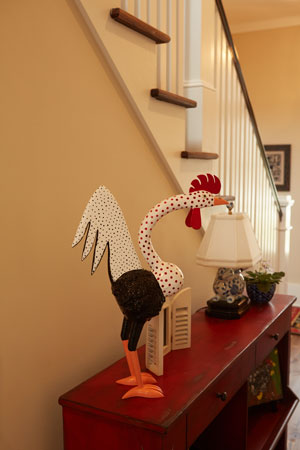 A handprint ceramic platter from their daughter, Molly, a Medical College of Georgia student, and three of her classmates, who call Nancy and Dan "their substitute parents," has sentimental value. The handprints look like fish, and each girl's name is under her print. Of course, one of the med students even worked a DNA image into her fishtail. 
When the couple moved in, they already had all the furniture in the house except the upholstered pieces in the great room and the Carolina room. "We finally got the home that suits our style and furnishings," says Nancy. "A lot of our furniture could be used in different rooms."
While the furnishings are versatile, the construction includes consistent features such as paneled doors and 8-inch pine flooring throughout the house. "The entire house is hardwood. There is no carpet, no vinyl and no tile," says Dan. 
They also have found that taking care of the floors is easy, simply sanding away a gouge or scratch.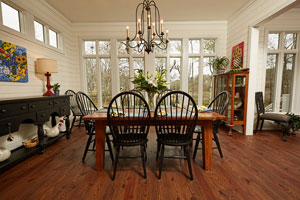 "I love the knots. I like the way it doesn't look uniform," says Nancy. "The flooring has all kinds of imperfections in it, and that is fine with me."
With Flying Colors
While the house is teeming with vibrant colors, Nancy says, "Black, white and gray are my neutral colors."
Nowhere is that more evident than in the kitchen. The large island was painted red and distressed with black paint. Nancy keeps a small herb garden on the white quartz countertop by the farmhouse sink, and decorative tin adds interest to a pair of cabinet doors underneath the countertop. Pendant lights hang above the island, and a quartet of black barn light wall sconces sits up high on the walls.
The kitchen also features a two-story ceiling, shiplap walls, stainless steel appliances, leathered granite perimeter cabinets and glass-front doors on the top cabinets. A distressed red barn door leads to the pantry.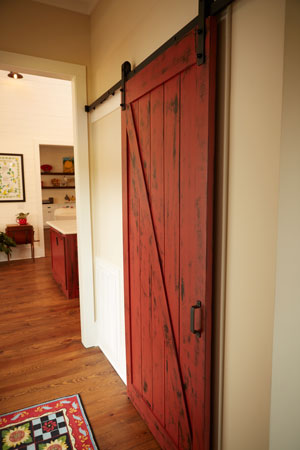 An old butter churn, which belonged to Nancy's mother, sits against a kitchen wall beneath a framed tea towel that friends brought them from Italy. "Something doesn't have to be fancy for me to love it," says Nancy.
"It has to hit her just right though," adds Dan.
The dining room features a wood table with Windsor chairs. "Every little nick and scratch I see in the table is somebody having a good time at a meal," Nancy says. "There is factory distressing and then there's personal distressing."
Like the great room, Carolina room and kitchen, the dining room also has shiplap walls. "We tried to put it where it would have the most impact," Nancy says.
A pair of decorative hens – that's Henrietta on the left and Henri on the right – is perched on the bottom shelf of the black sideboard in the dining room. "We have lots of chickens. Many of them have names," says Nancy. "It can't be just any chicken though. It has to look folky enough."
The master bedroom features a wrought iron forest canopy bed, magnolia bloom lamps on the bedside tables, a black wooden chair with a pair of rabbits carved in the back and a houndstooth-patterned chair and footstool. Quilts that Dan's grandmother made are draped on the back of a small church pew.
The adjoining master bath includes hardwood flooring, a stand-alone tub and two vanities with off-center sinks to allow room for larger drawers. The walk-in shower features tile flooring in a basket weave pattern.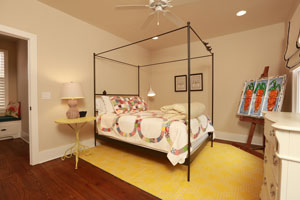 Places to Perch
Their style extends into the guest bedrooms upstairs. One room includes a wood canopy bed, a quilt rack holding quilts that Nancy's grandmother made and a rabbit-carved wooden chair like the one in the master bedroom –but this one is painted white. Another bedroom includes an iron canopy bed with birds perched on the bars, and a six-paned window painted with bright orange carrots sits on an easel.
The lime green walls of the third bedroom offer a striking contract with the black wrought iron bed and black and white décor. Black and white vertical stripes run down the front of a black chest.
"This house has more 'live' space and less bedroom space," Nancy says.
Their "live" space includes the great outdoors as well. The front porch features kiln-dried, stained decking that is nailed on the sides, two ceiling fans, a pair of wicker chairs, two rockers and a porch swing.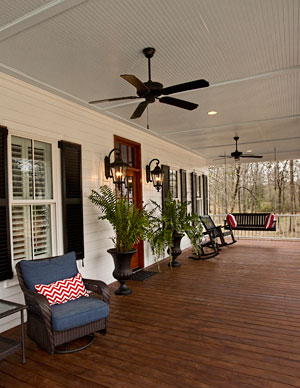 "We love our swing," Nancy says. "In the summer we spend a good bit of time out here. We've had lots of people on this porch. We just drag chairs out here."
When they want to soak in their water view, they can sit on the back deck, which features a tall table with four tall chairs and a tete-a-tete pair of seats made of recycled milk jugs. "It's heavy, durable and sturdy," Nancy says. Four Adirondack chairs surround a covered fire pit on reclaimed brick. Nearby, sits a wall of firewood, which Dan and their son split and Nancy stacked. "It came from all of the trees we had to take down on the lot," she says. "We tried to save as many trees as possible."
An iron heron sculpture, which Nancy and Dan got seven years ago, watches over the flowerbeds. "Little did we know that he was going to have his own place by the river with all of his heron and egret friends," says Nancy.
Backyard visitors include real birds flock that to the feeders.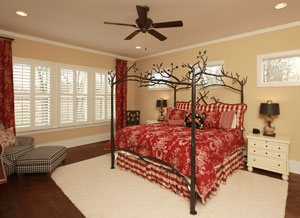 "I pinch myself that I get to live here," Dan says.
By Betsy Gilliland