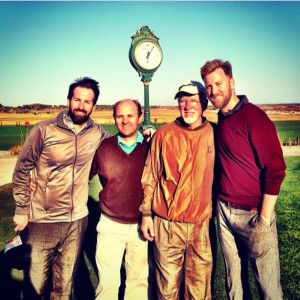 A trio of well-known brothers is joining forces with a local golf course, which was designed by the game's Big Three – Jack Nicklaus, Arnold Palmer and Gary Player – to bring a golf tournament and concert fundraiser to Evans.
John, Josh and Charles Kelley are combining two of their favorite things – golf and music – to give back to the community where they grew up. The inaugural celebrity golf tournament will begin at Champions Retreat Golf Club at 10 a.m. Monday, October 27. Following the golf tournament, the Kelley brothers will join various musical guests on Josh Kelley Stage at Evans Towne Center Park's Lady Antebellum Pavilion for a 7:30 p.m. concert.
Charles is a member of the award-winning country rock band, Lady Antebellum; Josh has released a number of albums that have appeared on the charts; and John has spent the last 15 years running a construction and development company in North Carolina. John and Josh played college golf while Charles is an avid golfer as well.
"We're thrilled to be bringing this event to Augusta," the brothers say. "This is our home, and we're grateful to all the folks around here that helped each of us get to where we are today. We couldn't be more excited to contribute to the community through this unique and exciting event."
The brothers are launching this endeavor to cater to area golf fans and music lovers while donating the proceeds from both events to charity. Beneficiaries will include St. Jude Children's Research Hospital and the John W. Kelley, M.D., Cardiovascular Endowment at the University Health Care Foundation. A number of Augusta-based charities will benefit from the fundraisers as well.
For more information about the golf tournament and concert, visit TheKelleyBrothers.com.