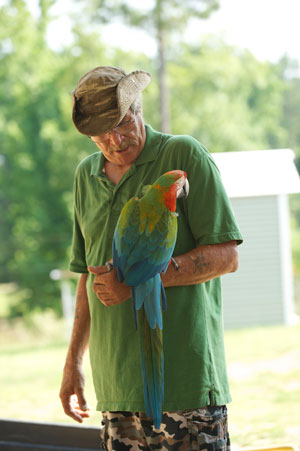 A local avian sanctuary is spreading its wings
Feathered Friends Forever Rescue and Refuge in Harlem, which provides permanent and temporary housing for tropical birds, is expanding to add new attractions to its 14-acre property.
The expansion of the refuge, which acquired 3.86 adjacent acres last year, will cover about 6 acres. New amenities will include a veterinary center, six horseshoe pits, a petting zoo, a 286-foot zipline, six tiny houses and a wildlife campground.
"For years, we had only parrots. Once people had seen the parrots, there was no reason for them to come back," says Ronald Johnson, chief executive officer.
Work is underway on the horseshoe pits and a new house with a pond for Mr. T, the 100-pound resident tortoise. "It will look like Fort Apache and be called Fort Tortouga," Johnson says.
The refuge also is developing blueprints for the vet center and applying for grants. In the meantime, a temporary building has been brought in to serve as a veterinary center until the permanent facility is up and running.
Plans for the tiny houses include using them to provide accommodations for volunteers from across the country and veterinary technician trainees.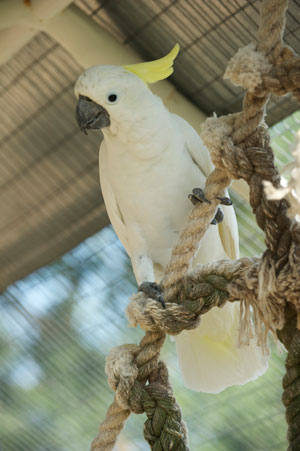 Keeping a Promise
Of course, the most important residents at Feathered Friends Forever, a state-licensed animal shelter and nonprofit organization, are the birds.
The refuge currently has about 200 birds from 46 states, but it has found permanent homes for more than 1,000 birds through the years.
"We do a lot of small bird adoptions. Now, 95% are big birds," says Johnson.
The facility has housed parakeets, lovebirds, cockatiels and finches. Its big birds include Indian ringnecks, African greys, cockatoos, amazons and macaws.
Johnson has had a love of birds since he was a teenager.
"When I was in high school, I worked in a pet store. I got two birds in the 1960s, and I've loved them ever since," he says. "They all have individual personalities. People don't give them credit for being as smart as they actually are."
When he entered the U.S. Marine Corps in 1967, Johnson had to find a new home for his green-wing macaw and Moluccan cockatoo. Although he successfully rehomed the birds, the experience left a lasting impression on him.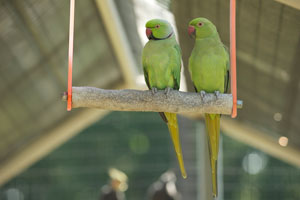 "I made a promise that somehow, someday, I would make it up to every bird that needed a home," he says.
Johnson and his wife, Tammy, founded Feathered Friends Forever in 1997, and the number of birds at the small operation quickly soared from five to 85 rescues.
Services include adoption, relinquish capabilities, temporary boarding, permanent placement and wellness checks for birds. The refuge also cares for all deployed active duty/activated national guard military personnel's parrots free of charge with proper documentation.
In addition, Feathered Friends Forever recently became affiliated with Parrots for Patriots, a nonprofit organization in Vancouver, Washington. The program connects parrots that need a forever home with veterans who need a friend for life.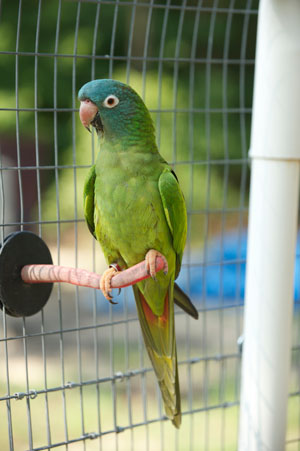 The facility also has started to work with military personnel who are dealing with post-traumatic stress disorder. Animal companions like parrots can be a source of joy and wellness for people with PTSD.
Around the Refuge
In the sanctuary portion of the refuge, 12 outdoor aviaries let birds "fly and be free birds" and live as they would in the wild – in a flock. Each of newly designed aviaries features automatic feeders, an in-flight pond, a misting system and infrared heaters.
Measuring 18 feet in width, 42 feet in length and 22 feet in height, the new macaw flight contains a full rain system, including thunder, lightning and rain; clay chew walls and individual ponds for bathing and drinking.
"Each particular bird has its own little quirks," says Johnson. "A parrot is a 3-year-old for the next 50 years. A parrot can change its mind with the bat of an eyelash."
However, parrots and other birds are highly intelligent, and they can learn to understand and mirror basic language skills. They also display "human-like" behaviors and have specific needs that a human companion can fulfill.
Because birds can be so unpredictable, Johnson says it takes years to understand their behavior.
"You can tell if something is wrong by their body or eye movement," he says.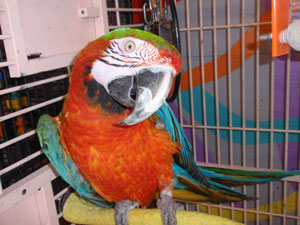 Other telltale signs of a problem include feather plucking, changes in attitude or appetite, flaring their tails and screeching or screaming.
The companion birds are not the only living beings at the facility, however. They are joined by other creatures on the endangered or threatened lists.
The 8-foot-by-10-foot, climate- and humidity-controlled honeybee house has the capacity to hold 16 individual hives. Developed by the University of Georgia and the Georgia Department of Agriculture, it was created to study the effects of climate on honeybees in a controlled environment. Honeybees are vital for stable, healthy food supplies, and Johnson says this is the only climate-controlled honeybee house in the world.
Feathered Friends Forever also features a butterfly garden and a certified monarch habitat as well as a reptile house that is home to spiders, snakes and lizards.
Nonstop Activity
Other activities at the facility include cornhole, a gold and rock mining area, birthday parties, educational classes, weekday tours for groups by appointment, adoption fairs twice a year and open house fundraising events.
The facility also has a cantina, a newly remodeled welcome center and an educational center called Birds on the Brink.
"It's a full science lab. We offer it for school tours during the week, and if we have the personnel, it's open on weekends," says Johnson.
Birds on the Brink offers an accredited science class as well as an augmented reality and virtual reality classroom, where rainforest animals and minerals come to life, and hologram technology. The educational programs, which support the Georgia Standards of Excellence and offer an immersive, multi-sensory experience, can be tailored to students in grades K through 12.
Feathered Friends Forever, which has an all-volunteer staff, is open 11 a.m. – 4 p.m. Saturday and Sunday. Johnson says the facility has averaged 60 – 70 visitors a day since recently putting up a new billboard.
For more information, visit featheredfriendsforever.org.