A husband and wife, who teach art at local schools, like to mix their individual styles when they create public artwork together.
Artwork is meant to be shared, and there is nothing that husband and wife artists Wesley L. Stewart and Colleen Beyer enjoy more than spending time together to create art.
"Typically, visual artists travel a lonely road," says Wesley.
Currently, however, they have gotten a double dose of gratification by working together on a project and sharing their talents with the community. Since October, Colleen, who teaches art at Harlem High School, and Wesley, an adjunct professor of art appreciation at Georgia Military College, have been collaborating on a public art project in Harrisburg.
During the academic year, Wesley and Colleen, recent winners of the 2020 Greater Augusta Arts Council Kath Girdler Engler Award for Public Art, worked on it for two hours at a time. This summer, though, they have worked in larger chunks of time to complete the project.
Concrete Canvases
The couple won a grant from the Porter Fleming Foundation in 2108 to do the artwork on the Calhoun Expressway underpasses at Eve Street and Crawford Avenue. The concrete "canvases," which are about 100 feet long and 30 feet high, are on Georgia Department of Transportation property, and it took a year to get approval from GDOT for the project.
"We submitted our idea, but they really wanted the artist to work with the community on the design," says Colleen. "We walked through the neighborhood and picked out flowers that were prominent. We painted bees because there are some beekeepers in the neighborhood. We wanted to mix our styles of art."
Colleen usually creates two-dimensional paintings in acrylic or watercolor. Influenced by nature, botanical forms and mark-making, she often paints animals, plants and portraits of children and pets. Her pieces begin with a charcoal drawing.
"I like 3D, but my brain doesn't really work that way," Colleen says.
Wesley prefers abstract, linear designs, and he draws, paints and welds. He incorporates color to accentuate specific areas of the work or the surrounding area where it is placed.
Primarily a three-dimensional artist, he developed an interest in sculpture, especially metalwork, when he worked for the family business – Stewart Sheet Metal.
"I'm a metal guy. I do a lot of sculpture work," says Wesley. "That's why we work well together. We're good at different things."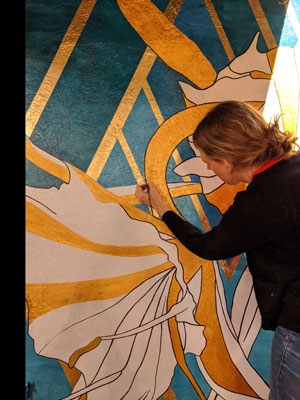 For the public art project, they painted the massive underpasses with sloping sides beneath the concrete stanchions supporting the expressway. Colleen painted the sides with whimsical plants, flowers, vines and bees, and Wesley painted intricate black and white graphic designs on the uprights.
"It's not a flat surface," he says. "This is the largest artwork we've painted."
They went through a learning curve to paint the space technically. In a split-second decision Wesley tried to reach a little farther to make a final swipe of black instead of moving his ladder, and he took a tumble. Even though it's hardly discernible, he still laments the slight smudge his fall left behind.
"We see imperfections that the average person wouldn't," Wesley says.
They painted the spaces to be viewed up close, not just from passing vehicles. After all, Colleen says, the neighborhood gets plenty of foot traffic.
"The intent of our work is for people to notice a place that they never noticed for days, weeks, months or years," says Wesley. "We want to bring attention to places that people forget about."
People also do photos shoots at the underpasses, much to their delight.
"We want people to enjoy our work and take pictures with it," says Wesley. "We want to inspire other people to get involved with art by buying it, taking art classes and asking their communities to fund public artwork."
Challenge & Connectivity
Of course, being art educators, they also enlisted the aid of local students in the public art project. Children from the Boys & Girls Clubs of the CSRA painted with them for a day.
AP students from Westminster Schools of Augusta also helped them with another Harrisburg art project at Hillside Park, which they finished this winter. For this public art piece, they decorated a chain link fence at the park with "Put-in-Cups" in a design that was chosen by a committee of the Harrisburg/West End Neighborhood Association.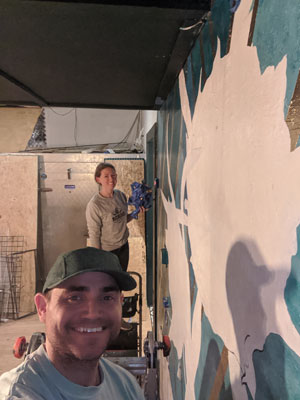 "We bought a bunch of different colors and arranged them to look like pixelated flowers," Colleen says.
The cups interlocked in the fence, but it required a bit of elbow grease to attach them.
"The cups are made for chain link fences and can withstand winds of 100 miles per hour," says Wesley.
The couple seems to like teaching art as much as they enjoy creating it.
"It's really fun working with students. This was my fourth year at Harlem, and it has been fun to see my students' growth from freshmen to seniors," says Colleen. "I like the act of creating and pushing through to create something out of nothing. I like the challenge and problem solving that comes with it. You learn a lot of skills like time management and how to pay attention to details."
For Wesley, art means conversation, contact and connectivity.
"I just enjoy having the conversations with people so they tap into something about themselves they didn't realize before. Art is about contact, looking up and feeling the surface. Art connects us to each other," he says. "You get to live people's stories that you couldn't otherwise. A lot of our history is told through art like cave paintings.
"I love looking at other people's artwork and techniques," he adds. "I like making art and talking about it. We like that other people like our artwork."
Pride in Public Art
Colleen and Wesley, who met in graduate school at Georgia Southern University and first collaborated on a team project called "Eagle Nation on Parade," hope to keep sharing their artwork with communities.
"It's art that is accessible to everybody," Colleen says of public art. "You don't have to go into a museum or gallery to see it."
They painted a floral and linear mural at Pineapple Ink Tavern, and Wesley is part of a team that is working on an art project at Beacon Station apartments.
In addition, his artwork can be found at Frog Hollow Tavern and Farmhaus Burgers. He also has a sculpture on the first floor of the city's Municipal Building, and he created artwork on two traffic boxes in Augusta. His outdoor, public sculptures can be seen on the University of North Georgia campus in Dahlonega and in the downtown areas of Lakeland and Kissimmee in Florida.
They continue to apply for local and regional calls as a couple, individually or as part of a larger artist team to create more art in public spaces.
"Public art creates a sense of pride. It's singular. There are not multiple copies. I think a successful culture has robust public art," says Wesley. "We would love to have more opportunities to create public art. We would love to break into Columbia County at some point."
Colleen agrees. "We're always looking for the next challenge," she says.
By Sarah James