A fast-working local artist loves to create quirky characters that show up anywhere from volumes of sketchbooks to public places.
Local cartoonist and illustrator Jacob Boland, who creates original characters with ink and paint, often encourages fellow artists to make their work public or share it with other people.
"A lot of people are nervous about showing their stuff," he says.
Once upon a time, Boland, who has been drawing since childhood, was one of those people. "For years, I would keep everything in a sketchbook," he says. "A couple of local artists saw my work online and told me to share it."
That was about five years ago, and now there's no telling where his characters might pop up. They rotate in and out of local bars and restaurants, and his artwork is available at Art on Broad.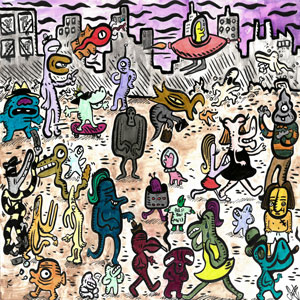 "I'm always downtown taking photos. I draw my characters into real life backgrounds," he says. "I draw characters over the photos, almost like Roger Rabbit."
His drawings can be found in a variety of places ranging from a picket fence outside of New Moon Café in Aiken to a T-shirt for Mema Had One, a vintage shop that often is a source of inspiration for him. "I like antiques, and I get inspiration from '40s and '50s maps and cartoons," says Boland.
His characters also appear in the form of plywood cutouts that he likes to put up in downtown Augusta, Athens and Savannah. Boland will attach them to walls or situate his cutouts so that they're reacting to the environment.
For instance, he might place a character so that it's peeking or climbing over a fence. If a cutout character looks disgusted, he will position it by a dumpster.
He sells or gives away the cutouts, but he also doesn't mind if appreciative observers take home a cutout that they find in a public place. "I've met a lot of local artists that way," Boland says.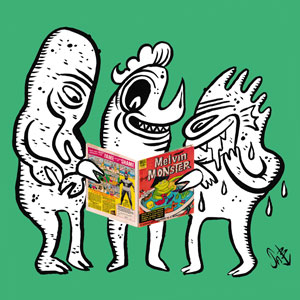 Go with the Flow
Boland, who grew up reading Archie comic books and Mad Magazine, was an Army brat who moved often as a child. However, he discovered that drawing was a good way for him to connect with his peers.
"It was a great way to make friends," says Boland, who also served as a medic in the U.S. Army for four years. "I was very shy, but people would come up to me in the classroom and say, 'What are you doing?'"
While his work may be unconventional, there is a method to the madness. Boland, who draws quickly, never goes anywhere without pen and paper, and he draws every day.
He starts with a draft using regular pen and notepad, but he uses a calligraphy pen for most of his work. He also makes clay models of his characters, but he's not afraid to deviate from the forms in the final piece.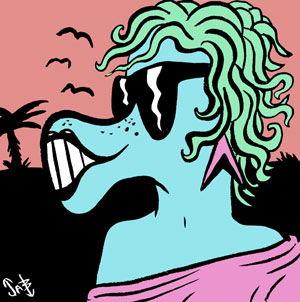 "I usually carry a sketchbook with me everywhere I go. At the end of the day, I see what I've done. The next morning I put it on watercolor or Bristol paper," says Boland. "I just like creating characters. It's really fun to have them occupy a space on paper and not just scribbled in a notebook."
Boland doesn't have a set thought in his mind when he starts drawing in his loose, flowing style. "It's just fun to draw that way," he says. "I don't like drawing traditional human shapes. They have human traits in a way, but they're really cartoony."
He always starts with a face when he draws, and his characters typically have long snouts or dolphin-like beaks. If the beak is facing upward, the character is happy. If it's facing downward, the character is brooding.
"Once I draw the face and shape of the character, it tells me what they're going to be doing," says Boland.
He gives a back story to his characters, and he frequently incorporates his own personality into his cartoon figures. Boland describes himself as "nervous," and some of his characters are jittery as well.
"For each drawing, I come up with a character, narrative or personality," he says. "I like to try to stay positive. A lot of my characters are happy."
Sometimes, but not often, he cleans up his work digitally.
"People are afraid to show their mistakes," says Boland. "If I scratch or smear something, I keep it. With digital, you're constantly cleaning it up."
Boland, who works primarily in black and white, also prefers original artwork to prints. "I try to do stuff where it's one and done," he says. "We live in a world where everything can be archived or replicated."
Always Teaching, Always Learning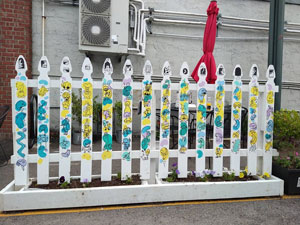 He also shares his knowledge and talent with students at Jessye Norman School of the Arts, where he has taught photography and film since 2019. He teaches 10- to 17-year-olds, but mostly students ages 13-15.
Each semester the subject matter changes, expanding beyond filming and editing. For instance, his students have made set designs out of cardboard and wood, and a lot of his characters have been featured in the sets.
At a summer camp, his students made racecars out of blocks of wood and had to figure out how to make them work.
Last year he curated a window display project for the school in which four young artists – two college-age people and two in their early 20s – were invited to participate, and he is overseeing the project again this year.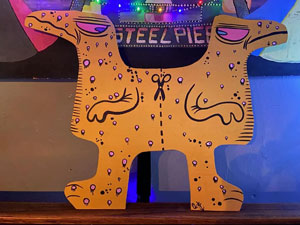 "We're always on the lookout for emerging artists," says Boland.
Four artists are participating, and each one will have their work showcased during a season of the year. In November, the school will have an onsite public gallery showing of the artists' work.
Boland pushes his students to be themselves and to be open to new concepts, and he has continued to evolve as an artist himself.
"I love to try new things in terms of art," he says. "I have tried charcoal and different types of paint. I'm learning to mix my own ink together, which is a kind of unpredictability. Figuring out materials to draw on is always fun."
Although he paints primarily with acrylics ("Since I draw really fast, I like my paint to dry really fast," says Boland.), he started using watercolors a couple of years ago. "I like the unpredictability of it," he says. "It's kind of like a snowflake."
He also has self-published several sketchbooks, including a medical illustration book called "Grotesqueries" that he released in April.
In addition, Boland is working on a dark humor portrait series for older teens and adults. He expects to finish this book, which will include 125 portraits, by August or September.
His books generally are available at the Book Tavern downtown as well as other independent booksellers in Athens, Atlanta and Savannah. "Mostly, I sell them out of my car or my house or through social media," he says.
Two years ago, he started self-publishing his own comic books. He creates cartoon characters such as macho cowboys, Clint Eastwood-types and spies.
"I'm just gradually testing out what works and what doesn't," Boland says.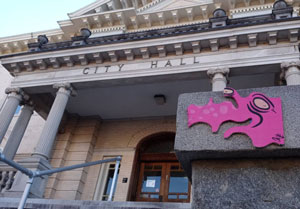 Dream Journal
He has graduated from drawing on kitchen or restaurant tables to using a drafting table that a friend bought him four years ago.
"It has changed the entire way I work. It's kind of like having a dream journal right next to my bed," says Boland. "It has made me more consistent. Having it in the same room, I can wake up in the morning and knock out stuff then and there."
He believes that art is meant to be shared, particularly in public settings.
"Art is for everyone. I love to see murals downtown or the work of local artists when I go out of town," says Boland. "I get more joy out of seeing something everyone can see that's not exclusive. Hopefully, it inspires other people to do the same thing."
For more information about Boland and his work, visit Instagram.com/wholebolafun or patreon.com/wholebolafun.
By Leigh Howard