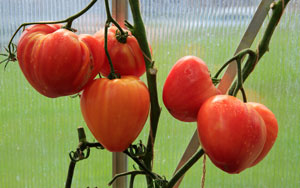 Red tomatoes may be the most popular, but you'd be missing out on a lot of flavor — and fun — if you didn't try at least a few other varieties
It's hard to beat homegrown vegetables for freshness and flavor, and few vegetables brighten a garden like ripe tomatoes. A gardening favorite for generations, tomato plants provide a tasty rainbow all on their own — red, pink, orange, white, blue, striped, even black.
Try planting a few different varieties and, who knows? They just may become your new favorites.
Orange
The Amana Orange, a large 1-pound beefsteak tomato, is a vivid shade of orange when ripe. Amana Orange tomatoes have a firm texture and a distinctive sweet flavor with a tart, acidic undertone. These tomatoes often are used for slicing to garnish sandwiches or cut into chunks to eat as a snack.
The Honeycomb hybrid produces vivid yellowish-orange cherry tomatoes. As an added bonus, their sweet flavor has a hint of honey.
The Hawaiian Pineapple tomato is generally orange on top, melding into red on the bottom. However, the fruit can have any combination of orange and red coloration. The medium-sized tomato looks like a small pumpkin, and it has a sweet, unique taste.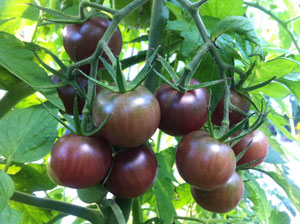 Purple/Blue
Purple tomato varieties such as the heirloom Indigo Rose have a full, rich flavor and delightful coloration.
Indigo Rose, the first blue tomato, is small enough to eat whole as a snack but firm enough to slice. When sliced, the 2-inch fruit looks like a plum with its deep red flesh. Plant it in full sun and it will turn its darkest color; grow it in a shady area, and it will be bicolor. The interior, however, is consistently rosy red and delicious. Indigo Rose stores well after being picked, and its flavor is at its peak within two weeks of picking. The sharp, sweet flavor complements sweet sauces and tomato juice.
Black
Black tomatoes are an interesting addition to a garden or greenhouse. The giant Black Krim is a large, firm tomato with a mild, sweet, earthy flavor. Typically used in sauces, salsas and other dishes, it is one of the most delicious tomatoes you will ever taste. The plant produces purplish-red fruits that ripen from green to dark red, with a brown tint. With the right amount of sunlight, it sometimes can appear almost black.
BrandyFred tomatoes — proof that large fruits do grow on dwarf plants — also have a firm beefsteak texture, but are juicier than Black Krims. A mildly sweet flavor and low acidity makes them a perfect sandwich tomato. BrandyFreds grow well in containers, but need to be staked well.
The heirloom Black Cherry, with a natural color that results from pollination from different cherry tomato colors, produces beautiful deep purple, mahogany-brown
fruit with 1-inch diameters. They are sweet and juicy with a subtle nutty taste, and make a beautiful addition to a salad or plate.
White
White tomatoes are not commonly found in grocery stores, but several varieties exist. Ghost Cherry tomatoes weigh approximately 2 ounces, so they can be eaten whole or sliced. They have a creamy white or pale yellow skin that takes on a slightly pink hue when the fruit is ripe. Their sweet taste and crisp texture is great for snacking, and the unusual color enhances fruit and vegetable appetizers or displays.
Italian Ice tomatoes, cherry tomatoes with ivory skin, grow in clusters of juicy, sugary-sweet tomatoes that ripen from green to buttercream ivory. Mellow in flavor, they are excellent for snacking and are a pretty choice for salads and plate garnishes. Plant in garden beds or large planters with supports.
The Great White is a large heirloom tomato with yellowish-white skin and a mellow, non-acidic flavor. The flesh is smooth and creamy with few seeds.
Pink
The Razzle Dazzle hybrid produces large, bright pink or magenta tomatoes that are extremely juicy with a balanced flavor that's not overly sweet. Razzle Dazzles are a good choice for canning stewed tomatoes and making tomato sauce or juice. They can be used alone or mixed with other varieties to create nuanced flavor and color.
Thai Pink Egg tomatoes are a pretty shade of pink and can be as small as grapes or as large as a small egg. These tomatoes are good for snacking, roasting, salads or making a light pink tomato paste.
The Brandywine is an irregular-shaped heirloom tomato variety with dark pink skin. Weighing nearly a pound each, they are excellent slicing tomatoes with slightly meaty flesh and rich flavor.
Striped
With striped orange and red skin, the Big Rainbow tomato lives up to its name. The large tomatoes can weigh up to 2 pounds each. Like other beefsteak tomatoes, they are an excellent choice for slicing because of their size and firm flesh. When sliced, their unique coloring makes them stand out on fruit and vegetable platters. Big Rainbow tomatoes also are great for sandwiches, salads and many cooked dishes. Use them to make soups, sauces, stews, juice, paste, ketchup and chutney.
The odd-looking Brad's Atomic Grape tomato is a real garden — and taste bud — surprise, winning Best in Show at the National Heirloom Expo. Extraordinarily sweet, the elongated tomatoes grow in juicy clusters (some to plum-size) and display an amazing array of color: lavender and purple stripes turn a technicolor olive-green, red and then brown/blue stripes when fully ripe. Add them to salads or keep a bowl handy for a delicious snack.
The striped, heart-shaped Orange Russian tomato is a delicious, fruity tomato that has undertones of peach, pineapple and citrus. The flesh is thick and meaty, and the fruit has few seeds. Color combinations range from streaky orange to gradient yellow-red, and the distinctive sweet flavor makes this a great tomato for salads, sandwiches, garnishes, sweeter sauces and stewed tomatoes. The Orange Russian also is especially good for dicing or using in salsas since it is not overly juicy.
The Sunrise Bumblebee Tomato may be the prettiest cherry tomato ever grown and is a little bigger than usual cherry tomatoes. With gem-like red and yellow streaks, it is colorful inside and out. Sweet and tangy, these bumblebees are great eaten out of hand or halved in salads.
Multiple varieties of tomatoes can be grown at the same time, but plant them on opposite sides or corners of a garden — or plant an entirely different fruit or vegetable in between — to avoid cross-pollination.
Sometimes cross-pollination occurs despite a gardener's best efforts, but finding unexpected tomatoes on a few plants also can be part of the fun.