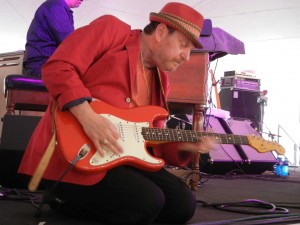 Having the blues is a good thing at this annual concert in Thomson.
A small town event offers big time appeal at the 23rd annual Blind Willie McTell Blues Festival in Thomson. Musicians travel from across the country to entertain audiences at the festival that is named in honor of the Thomson native and blues guitar pioneer of the early 20th century. This year's concert lineup includes Ronnie Earl & The Broadcasters, Larry Campbell & Teresa Williams, Cash Box Kings, Buckwheat Zydeco, The Deslondes, Jerron "Blind Boy" Paxton and Bruce Hampton and The Madrid Express.
Although few of McTell's recordings earned mainstream popularity, his influence on the modern music and art scenes is well known. Some of his songs, including "Statesboro Blues" and "Broken Down Engine Blues," have been recorded by famous artists such as the Allman Brothers, Taj Mahal and others.
Concertgoers are welcome to bring blankets and chairs for lawn seating. No pets or coolers will be allowed. Regional food will be available for purchase at the food court.
Pulling Strings
The annual Blind Willie McTell Music Festival is not the only way Thomson is honoring the legacy of its native son and influential blues musician. McTell's 12-String Strut, a public art project featuring a dozen 7-foot polyurethane replicas of 12-string Stella guitars, is recognizing his musical contributions year-round. 
The 12-string Stella guitar was McTell's instrument of choice, and local artists have created designs for the guitars that are on display in Thomson and McDuffie County. The public art display combines art and history to provide interpretation and everyday exposure to the musician's legacy.
The guitars in downtown Thomson – the central location of the display – include an audio box that tells McTell's story and plays samples of his music. The project coincides with the Georgia Department of Economic Development's Year of Georgia Music, which will promote tourism with the state's musical heritage, superstars and venues throughout the year. The guitars will remain on display for three years.  
If You Go:
What: Blind Willie McTell Blues Festival
When: Saturday, May 7; gate opens 11 a.m.; music begins at noon
Where: 1021 Stagecoach Road N.E., Thomson; (follow I-20 west to exit 172; take a right off exit ramp) 
How Much: $30 in advance; $40 at gate
More Info: blindwillie.com