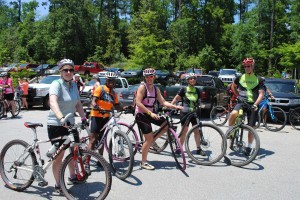 Is there a better way to celebrate National Bike Month in May than the 24th annual Lock to Lock Ride? While this ride will be just like the previous rides in many respects, the event will include a special tribute before the pedaling begins this year. Wheel Movement of the CSRA, a nonprofit organization that supports the local cycling community, will honor the late Andy Jordan, who passed away in October. He founded Andy Jordan's Bicycle Warehouse and initiated the bike ride.
"He started the ride to show people what you can do with your bike locally and what we have to offer here. And it shows non-cyclists how many people do ride bikes in the area," says his son, Drew Jordan, co-owner of Andy Jordan's and coordinator of the ride. "It's going to be an emotional day."
Before the ride, Wheel Movement will dedicate a bike station, which will feature a plaque that honors Andy Jordan, at the canal headgates at Savannah Rapids Pavilion. The bike station will include air pumps and other bicycle service tools. 
"Andy was a vital part of cycling in the community. He remains with us in so many ways," says Jim Ellington, Wheel Movement president. "We just felt like we wanted to do something in memory of Andy because he did so many things for those who enjoy cycling."
The fact that the ride rolls on almost a quarter century after Andy Jordan founded it is a testament to his legacy as well. Each year more than 200 people participate in the ride, which begins at Savannah Rapids Pavilion. Cyclists can choose between two distances – 18.5 miles to the New Lock and Dam or a 37-mile round trip. Riders who choose the 18.5-mile option will need to arrange return transportation at the New Lock and Dam. 
The bike route follows flat, scenic terrain on hard-packed dirt and asphalt roads along the Augusta Canal. Fireside Outdoor Kitchens & Grills will prepare a meal at the New Lock and Dam, and some lucky riders can win door prizes there as well. Powerade and snacks will be available at rest stops along the way, and the ever-popular Sno-Kone machine will be set up at Augusta Commons for the return trip. Pre-registered riders will receive a T-shirt as well.
"It's a good way to spend the day with your family. It's a very family friendly ride, and it's catered to recreational riders," says Drew. "The ride back is very pretty because the sun is starting to drop a little bit."
Cyclists must wear a helmet and have a bike that is in good working order. Hybrid/cross bikes, mountain bikes or comfort bikes are recommended. Riders also should bring water, additional snacks and a flat tire repair kit. Southern Off-Road Bicycle Association, or SORBA-CSRA, members will be available along the route to help riders if needed.
"We use all of the proceeds to improve cycling in some way," Drew says. "We always try to put the money back into the community to make things better for local bike riders."
If You Go:
What: Lock to Lock Ride 
When: Sunday, May 15; 12:30-1:30 p.m. sign in; 1:45 pre-ride briefing; ride starts at 2 p.m.
Where: Savannah Rapids Pavilion 
How Much: $25 if preregistered by 6 p.m. Thursday, May 12; $35 day of event 
More Info: (706) 724-2453 or andyjordans.com