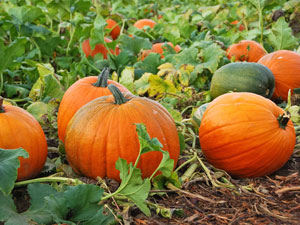 It's that time of year again when pumpkins become the centerpiece of many fall dishes and decorations or find themselves carved into scary jack-o'-lanterns.
Here are five tips to help you pick out the best pumpkins in the patch:
1. Look for pumpkins with rich orange color and a dry, attached stem. A green stem means the pumpkin is freshly harvested.
2. Knock on the pumpkin. It should sound hollow when ripe.
3. Choose a firm, heavy pumpkin. It will have more meat and a sweeter flavor than a lighter pumpkin.
4. Reject any pumpkins with blemishes such as white mildew, brown stains or wormholes.
5. When planning to cook pumpkins for pies or other dishes, pick small, heavy pumpkins called pie pumpkins or sugar pumpkins. They have more pulp than larger varieties.
If you choose to eat your pumpkin and not just carve it, you're in for a tasty — and healthy — treat. Pumpkins are packed with vitamin A, calcium, potassium, phosphorous and vitamin C. They also have no cholesterol, are a good source of fiber and contain only traces of fat and sodium.
Roast some seeds, and you've just added vitamins B and E to the mix:
Roasted Pumpkin Seeds
Salted water for boiling

1 1/2 cups pumpkin seeds

1 tablespoon melted butter

1 tablespoon olive oil

1 tablespoon salt
Boil seeds in salted water for 20 minutes to clean and flavor them. Blot dry and spread on a cookie sheet overnight to dry. Toss in a bowl with the melted butter, olive oil and salt. Spread on a cookie sheet and bake 30 minutes at 300 degrees, stirring occasionally, until golden brown.