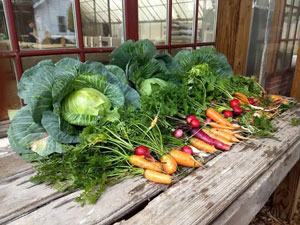 Whether they're taking care of crops or animals, women are making their mark in farming.
Maybe it's the nurturing nature of the business. Maybe it's the close relationship that women have with culinary prep. Maybe it's the desire to know the source of their food. Maybe it dates back to our country's agricultural roots. Maybe it's all of the above and then some, but farming is a field that seems to attract females.
According to Rebecca van Loenen, executive director of Augusta Locally Grown, an online farmers market, 74% of the organization's growers are female. She attributes that to several factors.
"The spouse usually has a fulltime job outside of the home, and the wife is left at home to manage the farm," she says. "Many of them are veterans, so these women want to do something therapeutic. Because they have other sources of income, it lets them pursue something they love."
While some of the growers were born into farming families, others have fallen into it by chance.
"I've heard people say, 'I bought a plant at the store, and before I knew it, I bought a farm,'" van Loenen says. "There is a nurturing quality to farming. It makes you want to take care of something."
Half of the farmers affiliated with Augusta Locally Grown, which always has been led by women, are veterans as well.
The female farmers have plenty of help, often from their husbands or children, but how much they get often depends on whether or not their spouse is retired. While men help with the heavy lifting, says van Loenen, the women are in charge of the day-to-day farm operations such as tilling soil, pulling weeds or doing paperwork.
She says one of the main challenges for female farmers is that farm equipment typically is built for a 6-foot man rather than a 5-foot-1-inch woman.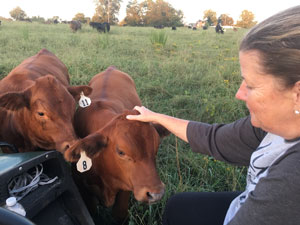 Tink's Grassfed Beef
The 5-foot-2-inch Etwenda "Tink" Wade, one of the original founders of Augusta Locally Grown, has been a farmer all her life.
A fourth-generation cattle woman whose great-grandfather started raising cattle on a central Florida farm in the 1800s, she helped launch the nonprofit Augusta Locally Grown in 2008 in a Grovetown front yard. She and her husband, Tim, bought their 230-acre Washington, Georgia farm, Lucky 7w, in 1995, and her business, Tink's Grassfed Beef, grew from it.
"We were raising hogs, but I have always raised grass-fed cattle," says Wade. "I'm from Florida originally, and that's how it's done there."
After she was diagnosed with multiple sclerosis in 1993, she started researching ways to improve her health. "Grass-fed beef was part of that," says Wade, who hasn't taken any medications for MS in 15 years. "I eat healthy, take care of myself and listen to my body."
He husband works for Ericsson, and he travels often for his job. Their three adult children helped out when they were growing up, and they still lend a hand as needed.
"Farming is hard. There are ups and downs. You can make a plan, but it's not going to work the way you thought it out," says Wade. "I'm a woman in a man's world. But once the people in my county saw that I was doing what I said I was going to do, and people were buying my products, I was accepted then. I don't do this for a hobby."
In addition to Black Angus and Red Angus cattle, Wade has free-range pigs and chickens. They only sell the chickens eggs, however. She also has apple, plum and pear trees; scuppernong and muscadine vines; and any flowers that attract butterflies and hummingbirds. Some years she plants a vegetable garden as well.
"Women can do anything.," Wade says. "All you have to do is put your mind to it."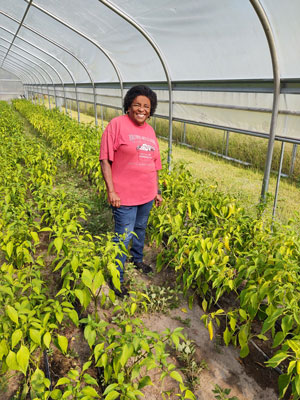 Brown's Place Farm
Lynn Brown and her husband, W.B., who have been farming for 20 to 30 years, own the certified organic Brown's Place Farm in Grovetown.
"You have to grow your food organically," she says. "You can't use any synthetic fertilizers."
Her husband is a retired veteran, and she worked on a military installation. They moved often because of his military career, but they always had a garden wherever they lived.
"My grandmother was a farmer, and my husband's father was a farmer, so we have it instilled in us," Brown says. "You would have thought that after being raised on a farm, we wouldn't want anything to do with it."
The Browns farm 1.25 of their 20 acres, where they grow tomatoes; spaghetti and butternut squash; cucumbers; mustard and turnip greens; peas; Japanese and Nadia eggplant; jalapeno, banana, giant macaroni, lantern and bell peppers; purple and white Russian kale; and microgreens. They only use material that has been approved by International Certification Services in the production of their vegetables.
"It's healthier for you. You don't have to worry about chemicals," Brown says. "You know what you're growing. You have to follow USDA guidelines, but you're helping everyone as well as yourself. Organic food cooks quicker and tastes better."
She takes care of the microgreens, certifications and paperwork, while her husband plants and grows the vegetables. "When you have your husband by your side, it's not that bad," says Brown.
The Browns, who became part of Augusta Locally Grown in 2016, have three high tunnels, where they can grow products year-round, and about 20 goats.
"I like to see things grow," she says. "I like to put seeds in the dirt and watch them grow. We have great results in the end."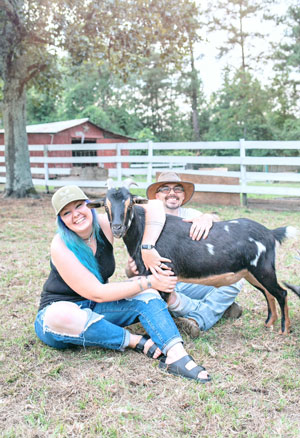 Shooting Star Acres Farmstead and Rescue
First-generation farmer Alicia Weiss, a retired U.S. Navy veteran, and her husband, Hunter, a Navy reservist who is based at Fort Gordon, moved to Grovetown from Pennsylvania in 2017. They fell in love with the area but soon realized they wanted more space for their family of four.
In 2019, they bought the 4-acre Shooting Star Acres Farmstead and Rescue in Dearing so she could pursue her dream of living as self-sustainably as possible.
"I started with containers on our back porch where we grew our first carrots," says Weiss. "It's all me, and whenever I can rope my family into it."
She grows eggplant, tomatoes, peppers, watermelon, corn, sweet potatoes, salad greens, carrots, beets, radishes and wildflowers that attract pollinators, and she sells her products in CSA (community-supported agriculture) boxes to customers that pay a one-time fee each season.
"I'm trying to close the gap so people know where their food comes from and trying to reduce travel time so food doesn't lose its nutrients," says Weiss.
She also has about 200 rescue farm animals including goats, pigs, ducks, geese, guinea hens, quails and chickens. On October 9, she is holding her first event at Shooting Star Acres, a farm-to-table dinner to raise funds to expand the animal rescue operation.
In addition, the former high school rodeo queen and 4-H Club member tries to take at least one class per year to benefit the farm or the animal rescue.
The self-described "farm-her" says her best friends and her mentor are fellow female farmers.
"We've been told for so long that we can't do hard things," she says. "It was such a manly thing to do to work on a farm. Women want to nurture. We want to make sure our families are taken care of properly. What better way to do that than to grow food in our backyard?"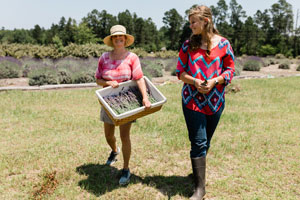 White Hills Farm
Former Evans residents Amy and Patrick Sutter also were looking for more space when they made the "life-changing" decision to buy the 28-acre White Hills Farm in Dearing four years ago.
"We wanted a couple of acres, and I wanted a big backyard garden," she says. "The farm came available, and we made the jump off the deep end."
The lavender farm has eight large garden beds, where they also grow tomatoes and herbs such as rosemary, oregano, dill, parsley and basil.
She plants most of the lavender and herbs, and in the fall, she conducts workshops for visitors. She also dries all of the lavender and herbs and uses them to make other products, which are sold in the onsite gift shop.
Her husband runs the equipment. "He likes to say that he just does what I tell him to do," she says.
The property is open every Friday and Saturday for self-guided tours, and groups can make appointments to visit at other times. An herbal activity is included in the group tours. Three or four times a year, the farm holds all-day yoga retreats on Saturdays as well.
Sutter enjoys having guests, who come from across the country, at the farm, and she feels a kinship with other female farmers.
"Augusta Locally Grown promotes camaraderie. We get to know each other and support each other," she says. "We learn from each other, get confidence from each other and feel inspired to try new things."
While Sutter says being outside makes her feel centered and peaceful, farming – and fickle Mother Nature – still present challenges.
"Sometimes I literally cry and have real blood, sweat and tears," she says. "But I learn something new every day. I learn a lot by trial and error. If you don't know it, then you YouTube it."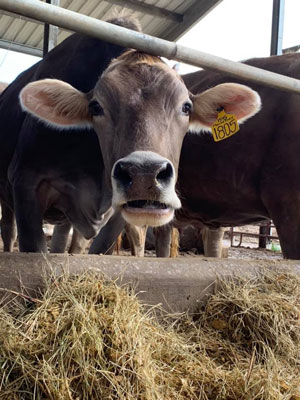 Southern Swiss Dairy
It's only fitting that fourth-generation farmer Ginny Franks and her husband, Jimmy, originally a beef farmer from south Georgia, met when they were working together on a Winder, Georgia farm.
In 1991 they bought their own Franks Farm, a 979-acre Waynesboro property where they operate Southern Swiss Dairy. They have about 175 cows, mostly Brown Swiss and a few Holsteins, and in 2010 they opened an onsite bottling facility to gain more control over their pricing.
The husband and wife team share responsibilities for the farm equally. "For us, it works great because we know each other's strengths and weaknesses," she says.
She is the purchasing coordinator and bookkeeper for the farm. She also tends to the cows and makes butter and ice cream.
"I'm just drawn to working with animals," says Wade, who showed cattle when she was growing up. "I try to improve the herd generation after generation."
As the head of trucking for the bottling plant, her husband spends a lot of time on the road. Their customers include schools and universities, coffee shops, restaurants and ice cream shops in Augusta, Atlanta and Savannah. They sell at farmers' markets, and they have been part of Augusta Locally Grown since 2010.
In addition to the dairy operation, the couple grows corn, soybeans, oats, ryegrass, wheat, sorghum and hay. They also sell beef cut from their farm-raised steers.
Farming is full of hardships such as a 2013 tornado that hit Southern Swiss Dairy, flattening some of its buildings and injuring or killing some of the cows. However, Franks says being a female farmer never has phased her.
"It depends on your own determination and what you want to make out of it," she says. "Nothing has held me back."
Her father also supported and encouraged her. "He had more confidence in me than I had in myself," says Franks, who has a master's degree in embryology. "I never thought about doing anything else."
Local Support
Despite the physical strength the job often requires, the female farmers generally agree that marketing is the toughest part of the business for them.
"Once you grow the product, you have to have somebody to buy it," Brown says.
While female farmers compete with each other for customers, says van Loenen, they generally don't sell the same products. In fact, she says, they often buy each other's goods and swap food preservation tips with one another.
People often don't realize that a local farm is a small business, van Loenen says, and when they shop online, they don't always know that a female is leading the business. The ability to sell a product and have a business also depends on support from the local community.
"People want to know where their food comes from," van Loenen says. "In Columbia County, people come from all different countries or parts of the United States. They value the person involved, and they like the agri-tourism component. They also want their kids to embrace an appreciation of where their food comes from."
She says more women and minorities are getting involved in farming, and she encourages backyard gardeners to become part of the local agricultural community as well.
"We would love to help you get started," van Loenen says.
By Leigh Howard