Two Martinez residents have been revving up donations with cross-country road trips to fight ALS.
Even though he is half his age, 29-year-old Martinez resident John Robert Herzberg has always enjoyed doing things with his cousin and godfather, Mark Lang, 58, of Jupiter, Florida.
"He's my best friend. He's my mentor. We've always been super close," says Herzberg. "He got me into doing things like kayaking, boating and body surfing at the beach. We played golf nonstop."
Now, however, Lang can do none of those things. He was diagnosed with ALS in 2017 at age 55.
Amyotrophic lateral sclerosis, or ALS, is a progressive nervous system disease that affects nerve cells in the brain and spinal cord, causing loss of muscle control. ALS also is called Lou Gehrig's disease, after the New York Yankees first baseman who was diagnosed with it.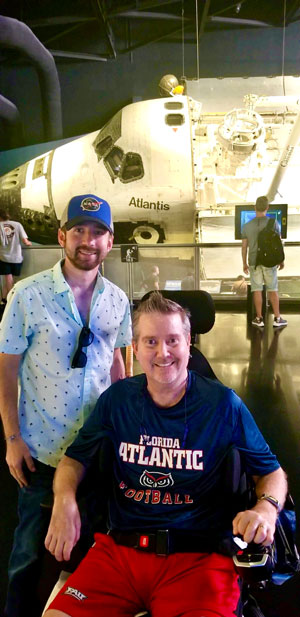 Typically, onset of the disease is gradual, and initial symptoms vary in different people. They can begin in the muscles that control speech and swallowing or in the hands, arms, legs or feet.
However, all ALS patients experience progressive muscle weakness and paralysis, ultimately losing the ability to speak, eat, move and breathe. The mean survival time for ALS patients is three to five years, and there is no cure for the disease.
Lang's first symptom was weakness in his hand, which he initially thought was caused by a pinched nerve. Within 18 months, he had lost the ability to walk or speak. "He's in the late stages now," Herzberg says. "He can only speak using his eyes."
According to the Georgia Chapter of the ALS Association, at least 16,000 people are estimated to have the disease at any given time and a little more than 5,000 people in the U.S. are diagnosed with ALS each year. (That's 15 new cases a day.)
Most people who develop ALS are between the ages of 40 and 70, with an average age of 55 at the time of diagnosis. Someone is diagnosed with the disease and someone loses their battle with it every 90 minutes.
"Right now, all we can do is just help make ALS patients comfortable and help them have the best quality of life possible in the time they have left," says Brandy Quarles, the Augusta University ALS Clinic research operations coordinator. "Our ultimate goal is to find treatment."
On the Road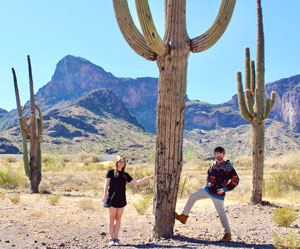 To do his part, Herzberg wanted to find a way to raise money and bring awareness to the rare disease. So, armed with a rented van, a tripod and a sense of adventure, he and his girlfriend, Bethany Marshall of Martinez, went on a two-week, cross-country road trip from Martinez to San Diego and back last October.
"I wanted to do something crazy to get people's attention," says Herzberg, who studies design and media production at Augusta Tech. "We wanted to do something out of the ordinary. It took a year of planning and saving."
Herzberg and Marshall stopped in places such as New Orleans, the Grand Canyon and Memphis to visit Graceland, which, much to his surprise, turned out to be Herzberg's favorite stop. While most of the places they visited were planned, they made some spontaneous stops as well. They made detours to Las Vegas and to Albuquerque, New Mexico so Herzberg, a diehard "Breaking Bad" fan, could see where the TV show was filmed.
On the return trip home, they also had to stop in Oklahoma City after the van's transmission blew out. They rented a car to get back to Georgia.
Driving eight to 10 hours each day, they stopped often to set up the tripod to take photographs at the various sites they visited. Herzberg posted the images on his Facebook and Instagram pages, @DriveAwayALS, to bring awareness to the cause, and welcome signs were a favorite spot for photo ops. He declared himself an unofficial resident of each state they visited, but the cowboy hat he bought at a Texas gas station became a frequent prop in the pictures.
While they were on the road, donors made contributions through a link on his social media platforms. In their travels they met other people whose families have been affected by ALS, and some of them donated money as well.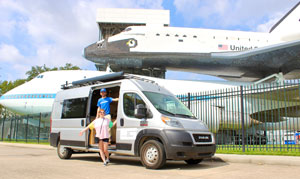 "People are very warm-hearted. Once they saw the ALS sticker on the side of the van, they wanted to know what we were doing," says Herzberg. "A lot of people on Instagram would randomly contribute, too."
The goal was to raise $5,000 at $1 per mile in the Drive Away ALS campaign, and he surpassed that goal.
"People from all over the world have reached out to me wanting to contribute or travel with us," Herzberg says.
For instance, he says two girls from Norway contacted him a couple of weeks after their trip to say they were inspired by him to sail across the Atlantic Ocean to raise money for ALS.
"It makes me ecstatic that a local person is taking the initiative to raise funds and raise awareness about ALS," says Quarles. "Supporting ALS patients is important. These families are going through a lot. ALS doesn't affect the mind. Our patients still want the same things they always did. It's important that people participate and help the ALS community."
More Work to Do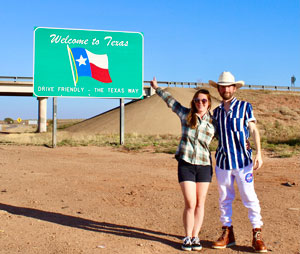 Herzberg has not stopped raising money for ALS. The couple hit the road again this past summer, traveling 2,000 miles to Niagara Falls and back. Along the way, they stopped in Pittsburgh on June 2 for Major League Baseball's inaugural Lou Gehrig Day to watch the Pirates take on Lang's favorite team, the Miami Marlins.
Gehrig lost his battle with the disease June 2, 1941 almost two years after he was diagnosed with ALS on his 36th birthday. The annual, league-wide event will be a time to honor and celebrate Gehrig's legacy as well as to raise awareness and funds to fight the disease.
Herzberg and his team, Drive Away ALS, also will participate in the ALS Association's Walk to Defeat ALS (walktodefeatals.org) at Georgia State Stadium in Atlanta on Saturday, September 25.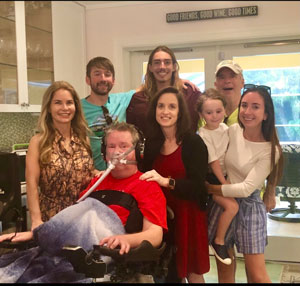 Herzberg and Marshall have visited more than 20 states since October, and they plan to schedule another fundraising trip to South Dakota. And he still finds time to visit Lang in Florida every couple of months and keep him up-to-date on the Drive Away ALS fundraising efforts.
"Mark loves it," Herzberg says. "If the tables were turned, he would have done the same thing for me."
By Sarah James