A university associate professor and former softball star conducts research to help sports officials up their mental games.
You remember collegiate athletics, right? Those games that thousands of young men and women played – with the support of their fans – on campuses across the nation before their seasons were shut down amid concerns about the spread of coronavirus?
Well, we know college sports will be back. And when that time comes, thanks to the research efforts of a former softball pitcher and current Augusta University associate professor, athletics (and fandom) have the potential to be better than ever.
From Field to Classroom
During her college and professional softball career, right-handed pitcher Megan Buning exceled on the mound. However, she was always just as dialed in to what goes on in the mind during competition.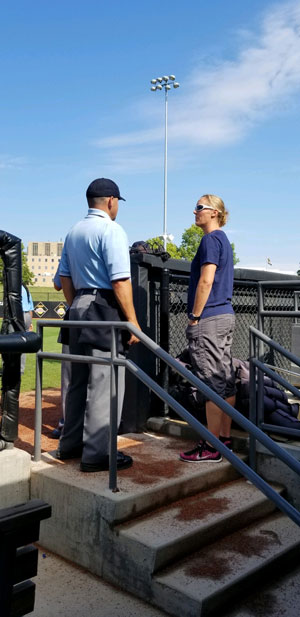 It wasn't only the mental game of the players that piqued her interest, though. After all, they share space with other people on the field – namely game officials. Now, with her softball career behind her, her new profession has given her a way to stay involved in the game and to explore the psyche of the rules enforcers in sports.
Buning, an AU associate professor of educational research, is finishing a year-long study of the mental performance of umpires and sports officials. She works primarily with softball umpires to improve their skills, but she also has worked with officials in other sports such as baseball, basketball, volleyball and soccer.
With her background as an All-American pitcher for the University of South Carolina, along with coaching stints at Florida State University and the University of Mississippi, she developed the ability to relate to sports officials.
"I can speak their language, and I understand the game," says Buning, who lives in Evans. "Within athletics, it's like a fraternity or sorority. There's definitely a culture and a way of doing things. I enjoy it because I understand it from the inside."
During her seven years as a Division I softball coach, the diehard Gamecock, who earned a bachelor of science in exercise science from USC in 2002, continued her own education. She earned a master's degree in sports psychology at Florida State and a doctorate in higher education at Ole Miss.
She had intended to use her doctorate as a springboard to a career in athletic administration. However, her dissertation advisor told her she should consider a faculty position.
"It had never crossed my mind, and then this position came open. As soon as I got off the plane, I thought, 'This feels like home,'" says Buning, a Greer, South Carolina native.
She joined the AU staff in 2014, teaching quantitative and qualitative research courses to graduate education students. During her second year at AU, Buning, who earned tenure last year, started letting herself teach like she had coached.
Immersed in the sports psychology world since 2006, she began translating these techniques to her education students to help them develop mental performance strategies and deal with anxiety.
"I teach all graduate students in the college of education," says Buning. "Not many of them have a sports background, but I wanted to combine what we do in the classroom with what we do in the field."
Commitment to Change
Softball tugged at her again, however, and Buning soon found herself back in the sport with the launch of the SEC Network. In the spring of 2015, she became a color analyst for South Carolina home softball game broadcasts on the SEC Network+ digital platform. Working in the booth, Buning, who also is an analyst for Clemson University softball games on the ACC digital network, realized that softball umpires were unprepared for the intense scrutiny that comes with increased television exposure.
"TV coverage was beating softball umpires down. Other officials have been on TV a long time," says Buning. "It hit collegiate softball all of a sudden. It went from having 10 games a year on TV to having all of them televised. It happened so fast."
She also found that her grasp of the rules wasn't what she thought it was. "I think I know the rules, but they change a lot," says Buning. "I ask the umpires about their perceptions."
She started connecting with umpire coordinators, who assign umpires to games, and
asked if the officials receive mental training to perform their jobs like athletes and coaches do. When she discovered they did not, she decided to turn this training deficiency into a research endeavor that combined her passions.
"I wanted to do research that's applied and can be beneficial and meaningful to others quickly," says Buning.
In March of 2017, she started offering workshops, training camps and instructional rounds to sports officials to help them improve their mental performance through sports psychology techniques.
"Umpires have to be unbiased. They have to know the rules and mechanics inside and out. They have to make the right call because they can change the outcome of a game," says Buning. "Coaches have to rely on kids to keep their jobs, and athletes have to learn how to perform and execute at a high level and win games."
She works with two to five umpires at a time in the instructional rounds, and all of them must umpire at the collegiate level. In addition, the umpires must agree on the mental performance issue they want to address. These issues can include emotional control, refocusing after a controversial call or play, maintaining focus when they're tired from calling multiple back-to-back games, communication, self-doubt and fear of failure.
"They're hungry for this," Buning says.
Once they identify their focus area, the umpires come up with observable, nonjudgmental, evaluative evidence that illustrates if they're struggling or doing well. "It's like a court of law," says Buning. "What are the facts?"
In the observational phase, everyone in the group watches videos or game clips of each other's performances and takes notes. Then they come together in a virtual meeting, and Buning gives them strategies to improve their mental performance.
"I just facilitate. It needs to be led by them," Buning says. "But they have to make a commitment to change."
For Love of the Game
For her research, she worked with about 50 umpires in instructional rounds and more than 150 through workshops.
"Working with umpires and getting to know them has made me a better announcer," says Buning. "It has also changed my view of the game and given me a deeper understanding of the entire game itself."
She believes that working with sports officials has made her a better professor as well. "It's not just lecture. It's about integrating," she says.
She hopes her work, which largely was complete by the time the coronavirus pandemic struck, will be published within the next year. However, she says she needs to expand and collect data from other types of game officials as well.
Buning also would like for sports fans to appreciate the thankless jobs of game officials.
"When fans are watching games, I would encourage them to take a step back and just remember that a lot of sacrifices and training go into what umpires are doing. They are private contractors that have other fulltime jobs. They take time off from work to travel to games. They do it because they love it, but umpires get mentally drained and beat up," Buning says.
"Just because they're being televised doesn't mean they're public figures. The institutions make the choice to put the games on TV. Just take a break and pause before you have an extreme reaction to what you're seeing on the field."
Her research already is having a positive reaction on sports leagues. Last fall the Peach Belt Conference announced that it would call on Buning to provide mental performance training to its referees and officials. She wants to continue her work with game officials as long as there's a need.
"They're not making a whole lot of money," she says. "They're out there because they love the game and love to be a part of it in that way."
By Todd Beck
Photos courtesy of Megan Buning, Augusta University and the University of South Carolin