From historic building materials to original artwork, this Champions Retreat home is the latest setting for this couple's joy-filled narrative.
It's easy to walk past it without a second glance. However, a small block of word art on a table on their front porch sums up the life that Rebecca and David Brewer have built together. "Live a Great Story," the four words simply state.
In November 2020, when the coronavirus pandemic had turned the globe upside down, the couple decided to turn their world right side up by relocating to Columbia County to be closer to two of their three children and their five (soon to be six) grandchildren.
"We love it," says David, a previously lifelong resident of the Atlanta area. "We love everything about being here."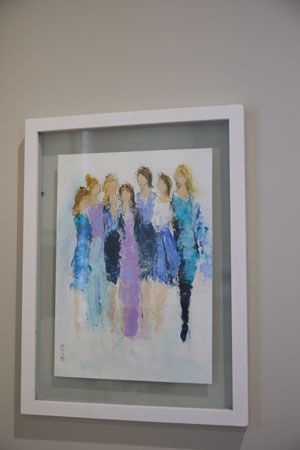 However, their home in The Reserve at Champions Retreat offers the Brewers, aka Lulu and Pop, much more than closer proximity to family.
Cheerful flowerbeds burst with pink and white blooms in the front yard. Background music plays in their house from morning 'til night (soft piano music to start the day, rock 'n' roll in the afternoon, jazz to wind down in the evening).
Colorful original artwork pops on the walls. Their energetic mini-Goldendoodle, Henry (named for Hank Aaron because they got him the day the Atlanta Braves icon died), happily follows his people from room to room.
Clearly, this is the home of a couple that blooms where they're planted. They don't just find joy, though. They create it.
"We moved here because we missed our family," says Rebecca. "When Lulu and Pop came to town, it was an event."
The Rest is History
Now, every day can be something special, and the Brewers just have to look around their home to see cause for celebration.
Even though the couple didn't build the house, which was finished in April 2020, they have great appreciation for its architectural details – particularly the materials that were used in its construction and the stories that are embedded in its bones. "There's some history in this house," Rebecca says.
The home, which features reclaimed wood, has 60-year-old white oak flooring that was purchased at auction. "We love the knot holes in the floor," Rebecca says.
The heart pine wood for the ceiling in the back hall/bar area came from Langdale Cotton Mill in Valley, Alabama, and the brick in the house originated from Goodale Inn and Dent's Undertaking Establishment in Augusta.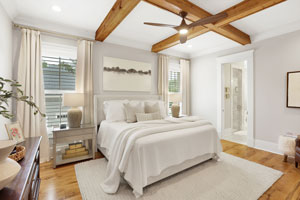 A pair of low brick columns by the front walkway and brick steps to the front porch offer instant curb appeal. Inside, a brick archway separates the foyer from the living room, where a raised hearth brick fireplace is the focal point. A brick column also provides definition between the living room, kitchen and dining area.
"You can get soot off of it from where it was in the fireplace in the old funeral home," says David, rubbing his finger on the column.
The original owners of the house gave the Brewers small pictures of the locations where they got the building materials – Goodale Inn, circa 1799; Langdale Cotton Mill, circa 1866, and Dent's, circa 1900 – and Rebecca had the photos blown up. They hang together in a distressed white frame in the back hall.
In the dining area, the custom-made table, which the Brewers commissioned Lamon Luther Company in Villa Rica, Georgia to build, makes a statement as well. After all, mealtime is special to Rebecca, a food blogger who shares recipes and tips at southernfoodandfun.com.
"So many great stories of life revolve around the dinner table," says David.
This farmhouse table has a back story of its own. Constructed of magnolia wood, the table was made from a tree that was cut down to build Mercedes Benz Stadium in Atlanta.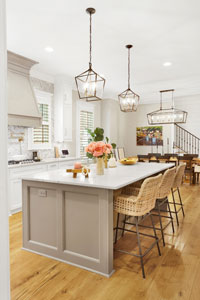 In addition, many Lamon Luther employees were out-of-work craftsmen, carpenters and millworkers who had fallen on hard times after the 2007 housing crisis gutted the construction industry. Some had been released from prison; others were recovering from addiction. When people took them food at the homeless encampment where they lived, they soon discovered that the men had a greater need – work.
"I was drawn to their story, so I asked them to make a table for us," says Rebecca. "It's my favorite thing in the house."
A trio of black chairs lines each side of the table, and the centerpiece is made up of black taper candles in a half-dozen black candlesticks of staggered heights. A painting of a Friday night concert in the Marietta Square hangs on one wall, while a painting of a black grand piano picks up the other ebony hues in the room.
"We have a lot of art that has special meaning to us," says David, who traveled and played piano professionally with gospel music groups in his youth.
The Brewers started collecting art in 2008 when Rebecca's friend, Donna Krueger, opened dk Gallery in Marietta to showcase the work of contemporary artists.
"That is what started our love of art. We learned about and met the artists," Rebecca says. "Most of the paintings are oil, and they're all original fine art."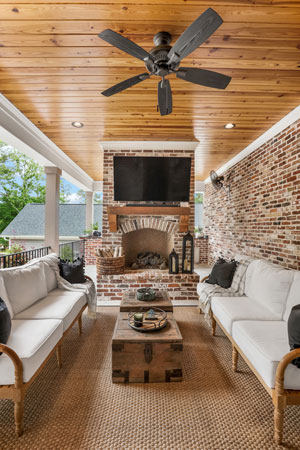 Painting a Picture
Many of the canvases paint a picture of their lives, and the Brewers have several paintings by one of their favorite artists, Holly Irwin. One depicts Rebecca with her friends at her 50th birthday celebration, while another shows her reading a book to her three oldest grandchildren. "She painted it so she can add more grandchildren," Rebecca says.
Two floral paintings by Irwin hang in the living room, where additional original artwork includes a white bowl that was commissioned by a woman in Israel and a vase that has the lyrics to "Hallelujah," one of Rebecca's favorite songs, written on it.
Other accessories in the living room include a coiled copper basket with a green patina from Art on Broad and a cowhide rug.
"We tried really hard to get things that were artisan-made," says Rebecca.
Playing the keyboard at a fundraiser at dk Gallery, David is featured in a painting by Dirk Walker in the living room. "The artist live-painted it at the event, and we bid on it," says Rebecca.
The Brewers also are avid travelers, and some of the simplest things they find on their trips become lasting treasures. In the adjoining kitchen, for instance, the utensil holder by the stove is full of wooden spoons. However, some of them aren't just any wooden spoons. They picked up a few of them in Greece three years ago.
The kitchen features quartz countertops, a farmhouse sink, brass hardware and fixtures, tile backsplash in a herringbone pattern and two lantern pendant lights above the island. A dough bowl filled with fruit and a ceramic vase that says, "Lulu and Pop, est. in 1999," sit on the island.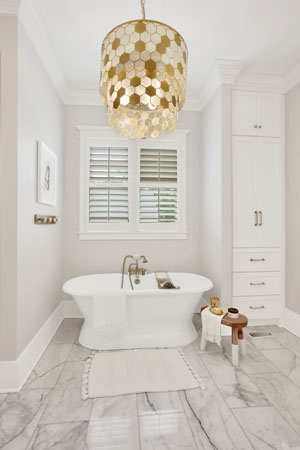 A sliding barn door with four windowpanes leads to the spacious pantry, which seems made for a food blogger. "The pantry door was one of the things that sold us on the house," says Rebecca.
Small appliances, a microwave and a wine cabinet are tucked away in the pantry. Cabinetry with glass doors and ample shelving, neatly lined with labeled cannisters and baskets, provide plenty of storage space.
"I love it because I have room for everything," says Rebecca, who grew up on a farm outside of Oglethorpe, Georgia.
Three decorative copper pans hang on the wall just inside the pantry door. The Brewers got the pans, which were made by an 86-year-old coppersmith, on a recent trip to Italy.
A teapot and teaspoons that belonged to Rebecca's grandmother sit atop a cake pedestal in a corner. "My grandmother was the inspiration for my blog," she says. "I just wanted something that made me think of her."
Happy Landing
More original artwork, such as the abstract painting above the bed in the master bedroom, brings character to the rest of the house. "That's one of my favorite pieces," says Rebecca. "I just love it because it's calm. It's relaxing."
The master bedroom also includes wood beams in the ceiling and a propeller ceiling fan. A showstopping TV cabinet made of mango wood features a hand stenciled gray-over-vintage white finish in a tile-inspired motif.
In the adjoining master bath, four small sketches by Irwin are grouped together on the wall. The master bath also features marble flooring, quartz countertops, a soaking tub, a marble shower with picket fence tiles on the floor, pocket doors to their closets and a Capiz shell chandelier.
"It's not anything I would have picked out, but I love it," Rebecca says of the chandelier.
By the staircase, a painting by Lincoln Stone called "Chelsea Girl" hangs on the shiplap wall. "Her eyes are Isabella Rossellini's eyes," David says.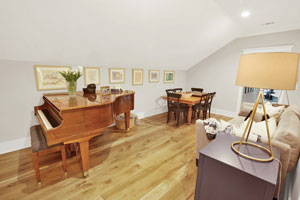 Upstairs, the wall of a room that the Brewers call "the landing" is the backdrop for framed artwork that their children created when they were young. The landing also includes a game table that belonged to Rebecca's great-grandmother and a baby grand piano.
"What do you like?" David asks before he sits down to play "New York State of Mind," "Candle in the Wind," "Something" and "Georgia on My Mind."
The layout of the house invites entertaining, and the Brewers love the open floorplan.
However, the covered back porch is their favorite place to spend time. The space includes a salted concrete floor, raised-hearth brick fireplace, TV above the wood mantel and an outdoor kitchen with granite countertops, a ceiling fan, grill, Big Green Egg and sink.
As much as the Brewers appreciate fine art, travel and, of course, a good story, nothing means more to them than their growing family.
"Our greatest accomplishment is being Lulu and Pop," David says.
By Betsy Gilliland