With her competitive edge, a local equestrian is riding high on the cutting horse circuit.
It's been almost a decade since Augusta resident Jan Burch started competing in National Cutting Horse Association shows, and nothing can rein in her love of the sport.
"All I do is grin," says Jan. "Everybody else is so serious, but I feel like I'm on a fair ride."
In fact, at her first-ever event in 2014, she had so much fun that she had to share it after she completed her run.
"You're not supposed to talk to the judges, but I turned to them and said, 'Well, I had a good time. I have to go now,'" says Jan.
She hasn't stopped grinning – or winning – ever since.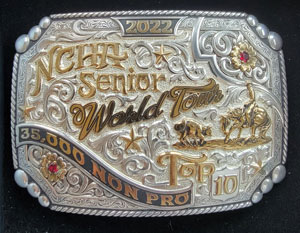 This year, for instance, she has competed in only a handful of events, but she is in the running to finish in the Top 10 of the Senior World Tour 35,000 Non-professional division. (Non-pros must own their horse and cannot receive remuneration for training cutting horses. The 35,000 figure indicates the competitors have won less than $35,000 in their careers).
Jan not only enjoys the success she has had in competition, however. She also likes meeting people at various cutting events around the country, and she is in good company as one of a number of local NCHA competitors. Others include Jeff Fehrman, president of the Area 18 Cutting Horse Association, and Mark Senn, NCHA president-elect.
'Show Me What You Got'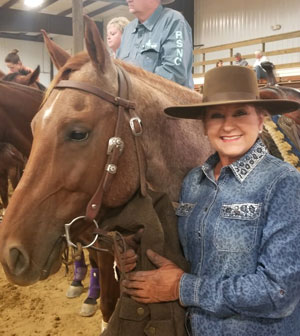 For the uninitiated, cutting is a judged event in which a Western horse-and-rider pair work together to cut a cow from a herd, drive it to the center of the arena and keep it from returning to the herd.
The events consist of individual runs, which last 2 1/2 minutes. The number of competitors might range from three to 50, and 2.5 cows per rider are placed in the pen. For example, 25 cows would be in the pen for a competition with 10 people.
Riders are encouraged to cut three cows from the herd during their run, and, from a base score of 70, points are awarded or deducted based on performance.
"When you are in a competition, you have to let the horses know you're there for them because they're very smart," Jan says. "You can't put them in harm's way."
Currently, Jan has four cutting horses – Smokey 2, Snoopin' Kat, I'm Struck on You and Light 'Em Upp. However, she got her first one, Dual Badge, in 2014 when she bought the horse as an investment with a friend.
She then called horse trainer Eddie Braxton of Edgefield, South Carolina, and told him that she wanted to ride in the Augusta Futurity. She said, "I have never ridden a cutting horse, but I own one."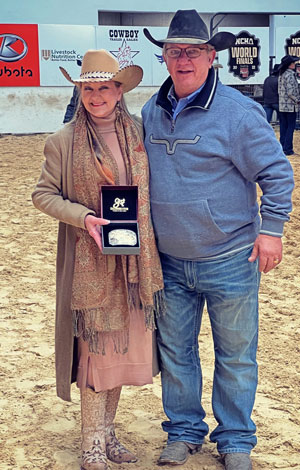 He told her to come see him the next day and "show me what you got." Proving to be a natural, she cut three cows.
Jan's love for horses began at age 3 when she got a Shetland pony and started riding bareback because she was "too lazy to put the saddle on the horse."
"I have always enjoyed trail riding by myself because it's quiet. It's good for the soul," she says. "I had ridden my whole life, but I had never competed."
She quickly discovered, however, that "I have a competitive edge in me."
Her first cutting horse event, where she rode Dual Badge, was the World Congress Futurity in Ohio in the fall of 2014. This event was supposed to be a trial run for the Augusta Futurity, where Jan had planned to compete the following January.
Although a family illness kept her from entering the show, she generally competes in the Augusta Futurity, now held at the Georgia National Fairgrounds in Perry, annually.
Events are held nationwide throughout the year, and the NCHA Triple Crown in Fort Worth, Texas includes the Super Stakes in March and April, the Summer Spectacular in July and August, and the World Championship Futurity in November and December.
Jan began competing in cutting horse events with more regularity during the pandemic in 2020 when she got Smokey 2.
"During covid, he really gave us something to look forward to," says Jan. "He's a special horse."
She has not competed as frequently this year as she did the past several years, but 2021 and 2022 were highly successful for her. In 2021 she finished in the Top 15 in the World Standings in the 15,000 Amateur division. (Amateurs must have lifetime earnings of less than $50,000 in cutting horse competition. In addition, these contestants may not work on a horse training facility or be married to a professional trainer.)
In the 2022 Senior World Tour, she finished sixth in the 15,000 Amateur and 10th in the 35,000 Non-pro division.
Jan takes all of her cutting horses to the events, and Braxton tells her which one to ride.
"Every cutting horse is different," she says. "I have to do a mental checklist about the horse I'm on because all of the horses have certain tendencies."
Commitment, Competition and Care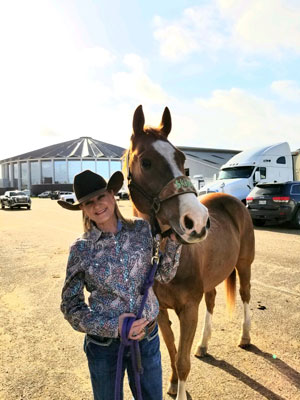 To be a successful cutting horse competitor, Jan says riders need to have a love of the sport and total commitment.
"You need a really nice horse and a good trainer," she says. "You need to have good balance, and you need to be able to listen."
She says cutting horses need good training and breeding. Before each run, riders also have to "lope," or calm down, their horses by cantering, trotting or walking them in a ring.
"You have to get them tired because they get excited when they're around the cows," Jan says.
However, she never wants to tire out her horses too much. "I like mine a little fresh because I like a fast ride," she says.
She also enjoys having the opportunity to compete.
"When you do well, you want to do it again. If you do badly, then you want to go out again and prove yourself," Jan says.
To build a good relationship with their horses, she says riders need to "love them, care for them and groom them."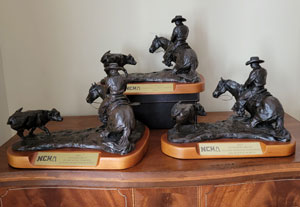 Mainly, though, she just enjoys spending time with her equine companions, which include pleasure horses that she keeps at her barn in Trenton, South Carolina.
"I love horses," Jan says. "I love to rub their noses. They feel like velvet."
By Betsy Gilliland