A Jones Creek couple celebrates the spirit of the season with string instruments, song and the occasional surprise at their annual Christmas party.
When people move from one city to another, it's customary to pack up their belongings and bring them to their new place. Then there are Evans residents Monica and Paul Dainer.
Each time they have moved through the years, they have taken their annual Christmas party, featuring live music, with them. Last year the Dainers, who live in Jones Creek, held their 38th annual party.
"It's something we've always done," says Monica. "It always comes together."
Unfortunately, they had to change their tune this year and cancel the party because of the coronavirus pandemic. However, they still might find a way to strike the right note for the times.
"We're so disappointed that we can't have the party, but we may do something virtually," says Paul. "And we hope to have the party again next year."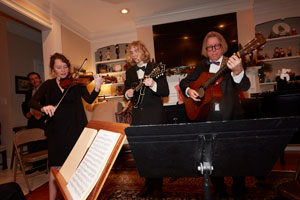 Traveling Show
Paul started the Christmas party tradition in the late 1970s when he was single, serving in the U.S. Navy and stationed in San Diego. In 1979 Paul, a hematologist and oncologist at Georgia Cancer Center, was transferred to the naval hospital in Charleston, South Carolina, where he first met Monica and told her about the party.
"I thought it sounded like a lot of fun to celebrate the season with live music," she says.
Paul, who also played viola for the Charleston Symphony, enlisted some of his symphony colleagues and the organist/pianist from St. John's Lutheran Church to play with him at the party. He also had bought a new baby grand piano just in time for the occasion, so he couldn't let that purchase go to waste.
He made an even better family addition when he and Monica married shortly after the second party.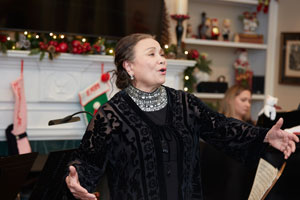 They took their party with them when they moved to Bethesda, Maryland and Jacksonville, Florida, where Paul played in their symphonies.
In Maryland, Monica says, "We attracted musicians from local orchestras and had already begun adding vocalists to the parties."
They held two parties in Jacksonville with fellow members of the Jacksonville Symphony and other local musicians. "The first chair of the second violins delayed her Christmas vacation a day just to play first violin in a piano quintet with us," Monica says.
From Jacksonville, the Dainers moved to Greenville, North Carolina, where their daughters, Erin and Caroline, started singing and performing on the piano and violin, respectively, during the four parties they had there. Monica began singing at the parties as well.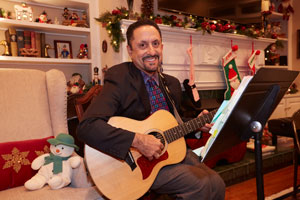 The Dainers settled in Evans in 1992, and they started hosting their annual Christmas party here the following year. Until this December, they had skipped the party only three times – the years they moved to Evans and Greenville and in 2009 when they had to cancel it after Paul had an accident a couple of days before the event. In 1982, the party was subdued after Monica had a miscarriage the night before and a heavy snow fell on the day of the party.
"We couldn't reach everyone to cancel the event. In spite of the snow, a few people arrived, only about 10. We couldn't turn them away," Monica says. "It was a quieter and somewhat somber evening. However, we did manage to sing some favorite Christmas carols."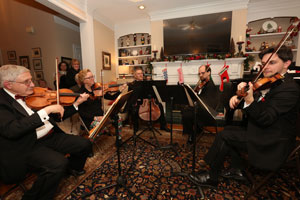 Strings Attached
The black tie-optional party is a Christmas highlight for many of the Dainers' friends, and the guest list has grown through the years.
"We started out with about 30 guests and have increased to over 70. We never know who will come because many of our friends have family commitments or have travel plans formulated months before the invitations have been sent," says Monica.
Several years ago, more than 100 guests attended the party during a three- or four-hour time period. Some people stay for the entire evening; others drop in.
No wonder the party, which includes Christmas, religious, classical and popular music, is one that people don't want to miss. With their ties to the local arts community, the Dainers can invite any number of talented musicians and vocalists to perform.
Paul, who plays viola for Aiken Civic Orchestra (and played with Augusta Symphony for 15 years) has enlisted many of his fellow musicians to appear at their parties.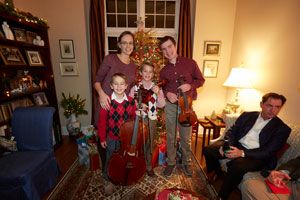 Monica, a former nurse who now presents programs at the USC Aiken DuPont Planetarium, also has been active with Augusta Players as a performer and board member. "Through my connections with that organization, we have invited a number of very talented singers over the years," she says. "And we always like to invite children and young people as guests and performers."
Last year, for instance, Laura Doss, organist at Christ Church, Presbyterian and accompanist for Augusta Youth Chorale, played the piano and was accompanied by her three sons (ages 15, 10 and 9 at the time) on the violin and cello. The played "Good Christian Men, Rejoice" and "See Amid the Winter's Snow," both arranged by Kristen Campbell.
Other performances included a piano solo by Moscow native and Columbus State University adjunct faculty member Ksenia Kurenysheva, who also accompanied Taiwan native Sho Ane Seaton as she sang the arias "Ombra Mai Fu" by Handel and "O Mio Babbino Caro" by Puccini.
Melissa Schultz, a voice and piano teacher who has performed throughout the United States and Canada, sang "Gesu Bambino" by Pietro Yon and Mozart's "Laudate Dominum (k.339)." Members of the Christ the King Lutheran Church choir sang "O Little Town of Bethlehem."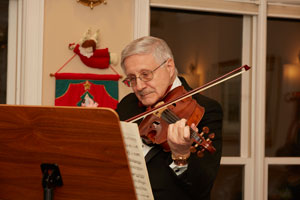 Mark Dickens, who has played the piano and organ in many area churches, and Stacy Reynolds, who has played piano for local musical theater groups and contemporary Christian music for churches for decades, also played the piano at last year's party.
The Dainers pulled double duty as hosts and entertainers for the festivities. Monica sang with her choir from Christ the King, and she sang an Austrian Christmas carol, "Es wird scho glei dumpa," with their daughter, Caroline Dainer Osburn, in Austrian-German dialect. Paul played the viola both as a soloist and in a chamber group.
He played Hoffmeister's "Viola Concerto in D major", third movement (Rondo) with Mark Dickens on piano. He performed "String Quintet No.4 in G Minor" (k.516) by Mozart with Adam and Andrew DePriest on violin, Janis Krauss on viola and Robert Gibson on cello.
He also played the fourth movement (Minuet) by Dittersdorf, a duet for a viola and string bass, with Adam DePriest. Finally, Paul played Christmas carols, arranged by Stan Pylant for three violas and the audience, with Stan and with Carl Purdy.
The program offered plenty of levity as well. Steven Hansen – a local actor, Greenbrier High School music and theater teacher, and Christ the King choir director – brought some fun to the occasion by singing "We Need a Little Christmas" and "You're a Mean One, Mr. Grinch."
Tyler Cook, a Bachelor of Music in Vocal Performance graduate of Augusta University who has won numerous state, regional and national musical theater competitions, sang the Christmas folk song, "River," by Joni Mitchell and James Taylor, and "She Used to Be Mine" from the musical, Waitress.
Rabbi David Sirull of Adas Yeshurun Synagogue in Augusta, another performer at last year's party, received classical training in the art of Eastern European Chazanut and Yiddish folk music. However, he sang several "redneck" songs from his collection, some of which can be found on YouTube.
The guests got into the act as well. After the scheduled performances, they joined in singing Christmas carols.
Expect the Unexpected
The Dainers never know what to expect at their party, except that it will be one for the ages – all ages, in fact. Last year, three babies were in attendance, which Monica says is unusual.
"They ranged in age from 5 weeks to 8 months, and they were perfect angels. We never heard them cry," says Monica. "I guess they were mesmerized by the music."
One year Paul's 93-year-old father came to the party shortly after losing his wife. However, the music lifted his spirits. "He even was inspired to play some familiar songs on our piano as the party concluded," Monica says.
On occasion, the Dainers have been surprised by the people they have found on their front porch. About 15 years ago, the doorbell rang during the party and they opened the door to a group of about eight college students singing Christmas carols. Naturally, the Dainers invited them inside to sing.
The couple loves to share the joy of the holiday season, and some aspects of the evening are entirely predictable. For instance, fellowship with good friends and good food from Silver Palm Catering Company – plus sweets, cookies, cakes and other treats made by Monica – are the perfect accompaniments to the party.
Still, the music is the star of the evening.
"Music transcends spoken language and has the power to bring people from diverse backgrounds together," says Caroline. "You don't have to sing or play an instrument to understand this language, because music is the language of the heart."
By Sarah James