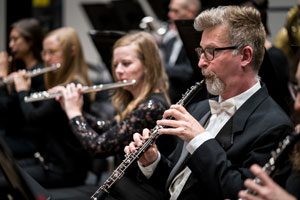 Augusta Symphony is making new arrangements for its 2020-21 concerts.
Musicians are creative by nature, and the Augusta Symphony will use its imagination this fall to launch the 2020-21 season. The first half of the season, Fall Reimagined, will reflect the signs of the times while still entertaining audiences with the orchestra members' talents and professionalism.
"Our fall season, though very different than anticipated, will be thrilling," says Dirk Meyer, music director. "The works we have chosen to perform are fantastic, and I'm excited that we can feature some of our very own musicians as soloists for these concerts. In addition, we came up with a very creative solution to get our patrons involved."
For Fall Reimagined, the concerts will be limited to current subscribers and will allow for physical distancing. Because fewer patrons will be allowed in Miller Theater at one time, subscribers have three options to enjoy the symphony performances. They can attend the evening concert; they can attend the afternoon dress rehearsal; or they can watch via livestream.
In addition, smaller orchestras will perform in shorter, intermission-free programs.
"We have created a system and programs though which we can limit the amount of people on stage, as well as in the hall," Meyer says. "This way we are able to perform safely, with social distancing in place throughout the performance. Additional safety measures such as masks are in place throughout the Miller,". "The key was to create programs that use a smaller orchestra, so that we can ensure enough space between each musician while performing. Thankfully, the chamber orchestra repertoire is vast and filled with fantastic compositions."
The fall concerts include two performances next month – Smaller Mahler at 7:30 p.m. Friday, October 2 and A Little Night Music at 7:30 p.m. Friday, October 30.
Smaller Mahler will feature Jessye Norman-mentored soprano Laquita Mitchell, and the performance will include Montgomery's Strum, Barber's Knoxville Summer 1915 and Mahler's Symphony No. 4.
Musicians for A Little Night Music will include Anastasia Petrunina on violin, Brian Lyons on oboe and Brian Winegardner on trumpet. The concert will include Assad's Impressions, Bach's Concerto for Violin and Oboe, Barber's Adagio for Strings, Albinoni's Trumpet Concerto and Mozart's Eine Kleine Nachtmusik.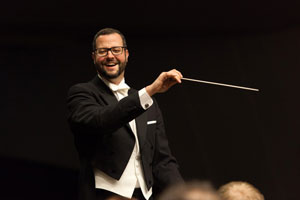 In-person Pops! concerts will resume in February, and the next performance in the Family Concerts performance will take place in May. However, patrons who had purchased subscriptions to these series will have access to two exclusive digital concerts – Movie Music Pops! and Holiday Pops! – in their own homes this fall. These concerts will be recorded in October.
"The past few months certainly have tested all of us like never before," says Meyer. "For performing artists, this is especially true. It has been very difficult to see all our performance opportunities vanish, one after another. For many, that has created enormous financial hardships. Additionally, it is a strange feeling to not be performing – like losing a very important part of yourself." Once it became clear that we would not be able to start our season like we anticipated, we immediately got to work on a backup plan. And I think we came up with some very exciting ideas."
The Passion concert from the 2019-20 season, which was rescheduled from March 28 to September 17, has been postponed again to Thursday, May 20. The recording project of Miguel del Aguila's music will continue at that time.
Ticketholders for E.T. The Extra-Terrestrial Film with Live Orchestra and Brass Transit: The Music of Chicago should expect to see those performances reprogrammed to the 2021-22 season.
Single tickets will not be available for purchase for the fall concerts. However, single tickets for the winter/spring 2021 concerts will go on sale November 2.