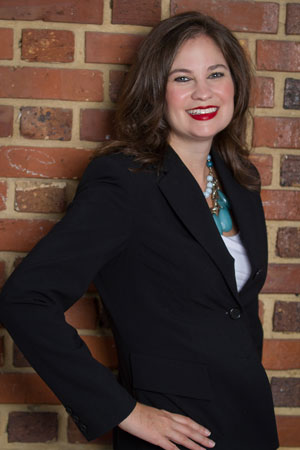 Family YMCA of Greater Augusta Marketing Vice President 
Number of years in position: 2 years
Family: Mother and stepfather, Dianna and Walt James; stepmother and late father, Janice and Frank Simmons; two cats, Jackson and Stella. 
Why I'm Passionate About What I Do: I am passionate about people, my community, marketing and fitness. The Y is a dream job for me as I can combine many of my passions, interests and hobbies into my career and day-to-day life. I love that the Y is a place that warms your heart from the inside out, and I love getting to creatively share that message with our community.
Community Groups and Charities I Love to Support: We have so many nonprofits with great causes in the area, and I love any initiative that involves several groups working together for a common good. The Family YMCA of Greater Augusta is especially important to me. It is a wonderful organization where we help kids learn to swim or help a teenage mom find childcare to stay in school. We provide a safe afterschool location, a place for kids that may not have other options to eat during the summer, a gathering space for teenagers and young adults, adaptive programs and opportunities for all abilities, a place to get healthy and a gathering place for seniors.
Biggest Career or Life Obstacle I've Overcome and How: The biggest obstacle I have overcome is taking a step back and realizing I was not happy or fulfilled in the job I had at the time in the for-profit world and needed to make a move back to nonprofit. I was not on the path I wanted to be on and did not align with where I saw my future going. It is hard to take a step back and admit to yourself you are not headed in the direction you want to be and work on realigning your life in the right direction. 
Accomplishment I'm Most Proud Of: Graduating with my M.B.A. from Augusta State University
Favorite Way to Spend Saturday Afternoon: I am usually marathon training Saturdays, so most of my afternoons are spent in run recovery with a good book. And when I am not doing that, I'm kayaking, exploring Augusta and the rest of the world.
Favorite TV Show: "This is Us"
Favorite Movie: Love Actually 
Favorite Sports Team: Mercer Bears
Favorite Comfort Food: Lemon French Macarons and McDonald's French Fries
Favorite App: Well most used, Amazon Music
Last Book Read: Before the Fall by Noah Hawley
Dream Vacation: I want to go everywhere and anywhere, but right now Italy. My dad passed away last May and told me to take a trip in his memory. Italy was the first place that came to mind and has stuck ever since. I hope to make it a reality in the next year or two.
Something That Has Changed My Life: I unexpectedly lost my father last year, and that has changed my every day and my normal life. It has made me appreciate life and the people in it on a deeper level.
Best Thing I Ever Learned: There is a work-life balance. For everyone's sanity, make sure you make time for yourself and your family. 
Favorite Hobbies: Running, traveling, reading
Secret Aspiration: Become a college professor and complete a Half Ironman competition.
Reality Show I Would Totally Win: "The Amazing Race" 
Something People Would Be Surprised to Know About Me: While I love fitness, I also love a rare filet.