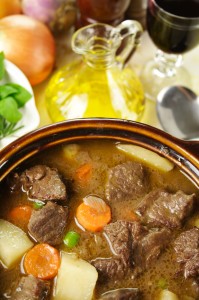 Score points with these soup, stew and chowder recipes that aren't too tough to tackle.
Sirloin Steak Soup
2 pounds boneless beef sirloin steak
2 tablespoons vegetable oil
1 1/2 cups coarsely chopped onions
3 cloves garlic, finely chopped
2 pounds small red potatoes, cut into 3/4-inch pieces
3 cups carrots, diced
1 (1-pound) bag frozen peas or cut green beans
2 tablespoons chopped dried basil leaves
1/2 teaspoon ground black pepper
1 teaspoon salt
10 1/2 cups beef broth
3 tablespoons steak sauce 
Cut beef into 1/4-inch strips; cut strips into 1-inch pieces. Heat oil in stockpot or Dutch oven over medium-high heat. Cook beef in oil 4-5 minutes or until brown. Add onion and garlic. Cook for 2 minutes, stirring frequently. Stir in remaining ingredients. Heat to boiling. Reduce heat to low. Cover and simmer for 30 minutes, or until meat and vegetables are tender, stirring occasionally. Serves 6.