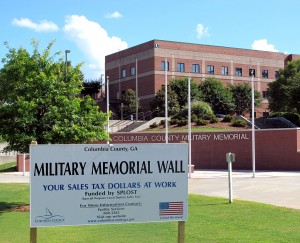 New Military Memorial Wall honors armed forces members
To honor its fallen soldiers, Columbia County has completed construction of a new Military Memorial Wall behind Columbia County Library in Evans.
The dedication ceremony for the wall has not yet been scheduled, says John Paul Stout, the county Facility Services special projects manager, but it will be held on a date that has military significance.
The wall will include three plaques to honor those who have served in the armed forces. Two of the plaques will list conflicts dating back to the Civil War, and the names of the Columbia County residents who died in action will be listed under each war. The names will include any fallen soldiers who, according to Department of Defense records, listed Columbia County as their home of residence at the start of their service 
"People will be surprised at the staggering number of Columbia County residents that gave their lives in the Civil War," Stout says. "The vast majority of fallen soldiers from Columbia County served in the Civil War. 
Local historian David Butler was the primary researcher for the project, and sources included the National Archives and the Georgia Historical Society. The county provided assistance as well 
"We took the task of researching the names and getting the information correct very seriously," says Stout. "We're happy to give our service members the respect they deserve."
The third plaque will have space for people to purchase an individual placard to honor anyone, living or deceased, who has served in the military. "We're still working on the procedure and verification process for that policy," Stout says. "We're also looking at doing something to honor Fort Gordon, but the manner in which we will execute that has yet to be determined."
In addition to the curved brick wall, the memoriam will include a fountain and seven flagpoles to fly an American flag, a flag representing each of the five branches of the military and a POW-MIA flag. The flags will be raised at the dedication ceremony.
"It will be a site for reflection to remember the people who gave the ultimate sacrifice," says Stout. "We're proud of our service history in Columbia County and our link to the armed forces."
The cost of the project, which was funded by Special Purpose Local Option Sales Tax monies, totaled about $170,000.