Little pieces of Americana add personal touches to one-of-a-kind birdhouses.
Local baseball historian Lamar Garrard is a lifelong fan of the Atlanta Braves and the New York Yankees, but he also knows his Cardinals, Orioles and Blue Jays. 
About five years ago the Lincolnton resident, who has an extensive collection of Major League and Augusta baseball memorabilia, spread his wings and started building tin-roofed, wooden birdhouses.
He originally made them as gifts for family and friends, and each birdhouse takes four to five hours to complete.
"I loved wood shop when I was in school, and I've always worked with my hands," says Lamar, a retired electrical salesman and U.S. Army Reserve veteran. "I like working with wood. It's better than going to a psychiatrist." 
Preserving the Past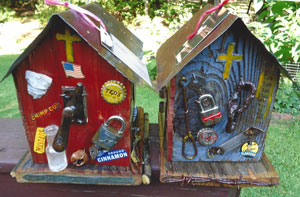 Lamar makes the birdhouses from wood and tin that he gets from old barns and houses in Lincoln and Wilkes counties.
To decorate the birdhouses, he uses items such as old bottle caps; padlocks; vintage rusted keys; hinges; pieces of old coffee cans, Coke cans, tobacco tins and license plates; shards of pottery; watch and clock faces; small forks and spoons; metal thermometers; bottle openers; arrowheads; acorns; vines; drawer handles; small toys; strips of copper and brass pieces.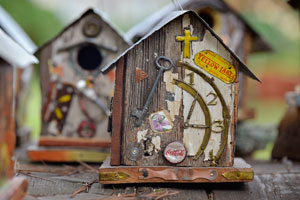 The pieces of Americana on the birdhouses reflect his lifelong love of history, especially Southern history. In addition to his baseball memorabilia collection, Lamar also collects paper items, postcards and photos that reflect Augusta history. 
He also speaks to church and civic groups about baseball, and he has been involved in several projects to erect monuments and markers in honor of deceased baseball players to preserve baseball's past.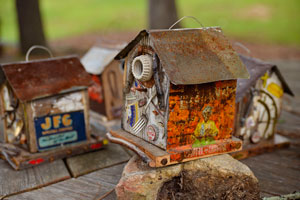 Showcasing his creativity, he uses materials such as jug openings and light sockets to make the birdhouse doors. He recently started adding small American flags and crosses to his birdhouses as well. He finishes the birdhouse by spraying them with a coat of lacquer.
His wife of 51 years, Ruth, helps him find the memorabilia at antique stores and flea markets. "I love reusing old wood. The beauty of repurposing it into something useful is gratifying," he says. "Using old pieces of Americana nostalgia makes each birdhouse unique."
Keeping It Simple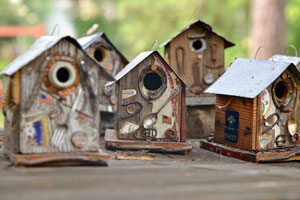 A collection of his birdhouses will be on display November 1 – 30 at Columbia County Library in Evans. The birdhouses also are available for purchase at several locations including Art on Broad in Augusta; Connely Gallery in Washington, Georgia; and Off the Beaten Path in Ridge Spring, South Carolina. "They seem to rekindle good memories of items from the past for people," Lamar says.
He even makes custom birdhouses for people to showcase their hobbies and interests. In addition, people can give him materials that he can use to build a themed birdhouse for them.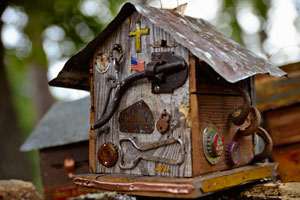 "I need to make a birdhouse with a music theme for my wife. She's a retired teacher and a longtime church musician," Lamar says. 
Lamar, who lives on Clarks Hill Lake, has converted on old boathouse into a workshop, and he uses only hand-held tools such as a jigsaw, a drill and a dremel.
"It's like fishing. It's really relaxing," says Lamar. "I enjoy thinking about what I put on the birdhouses that will pull somebody's heart strings."
By Sarah James
Photography by Addie Strozier