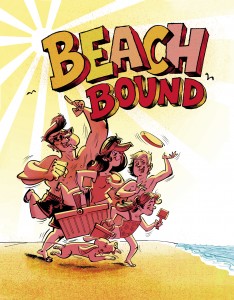 Whether you're looking for a day at the beach or a weeklong retreat, all kinds of summer fun are only a short drive away. 
Head east or south from Augusta on almost any route and in about three hours you will find yourself pulling up to a beautiful beach. The challenge of vacationing or spending a day along the Georgia-South Carolina coast lies neither in getting there nor in finding a lovely spot to kick off your shoes and dig your toes in the sand. It lies in deciding which of the varied possibilities suits you best. Family fun, great golf, elegant resorts, history lessons, wildlife refuges and quiet retreats dot the coast in multiple shapes and sizes. Even if you have already discovered your destinations and activities of choice, a few changes along these shores just might be worth checking out.
Myrtle Beach

The iconic beachfront Pavilion Amusement Park is gone, but some of the pavilion's classic rides, including the Herschell-Spillman Carousel, Wave Rider and the Caterpillar, were moved a couple of miles inland. They have taken up residence at the Pavilion Nostalgia Park at Broadway at the Beach, a shopping and entertainment complex. The historic German Baden Band Organ, five skill games from the old midway and a Pavilion Museum found a home there as well.
About six miles off the beach, where Hard Rock Park opened and closed in six months last year, the Freestyle Music Park continues to feature rock and roll. However, the park has expanded its reach to include country, reggae, beach music, pop, R&B, alternative, Christian and disco. The 55-acre theme park offers more than 50 attractions including roller coasters, shows, children's play areas, restaurants, cafés and retail stores, a multi-purpose live music amphitheatre and an ultra-modern sound system. Only time will tell if this new park can replace the beloved pavilion as the site of vacationland memory making and draw the crowds it needs to survive. Owners hope a more family friendly atmosphere and better relationships with the Myrtle Beach community will prove the secrets of their success.
The beauty of Myrtle Beach itself and the generous array of places to stay remain unchanged. Resorts, hotels, motels and condos stretch densely back from the beach to offer accommodations to about 500,000 sun and fun seekers during the summer. The strip along Ocean Boulevard still offers its wax museum, museum of oddities and endless T-shirt and gift shops. The NASCAR Speed Park remains the place for speed demons young and old to test their skills on multiple tracks. More than 100 golf courses – many with championship layouts – await the golfer, and nightlife offers live music at places like Dolly Parton's Dixie Stampede, Le Grande Cirque at the Palace Theater and the House of Blues. Great outlet shopping rounds out the area's offerings. (800) 356-3016; myrtlebeachinfo.com
North Myrtle Beach
This quieter northern neighbor offers a lower key alternative to Myrtle Beach. Condos, cottages and small motels are the primary accommodations, and nightlife leans toward well-weathered dance spots known for beach music and shagging. North Myrtle Beach – Windy Hill, Crescent Beach, Cherry Grove, and Ocean Drive – may be most like Myrtle Beach in its abundant golfing possibilities. Most of its 100-plus golf courses are open to the public. (877) 332-2662; northmyrtlebeachchamber.com 
Surfside and Garden City Beach
Just south of Myrtle Beach, these getaways may be the best-kept secrets on Highway 17. Called "the family beach," Surfside has an active residential community along with rental houses, hotels and condominiums that make it a thriving vacation destination as well. The Surfside Pier is a favorite fishing spot, boasting the likes of amber jack, bluefish, cobia, flounder, king mackerel, pompano, tarpon and whiting/southern kingfish species.
The 668-foot pier at Garden City Beach also offers fishing and a more family-oriented experience with a rain shelter and a variety of eateries and taverns in the ocean village. Worth finding is the Gulf Stream Café, which stands at the end of a residential road. Sure to serve a delicious meal of fresh seafood and traditional cuisine, the two-story restaurant also promises the best view of the best sunsets you've ever seen over the Atlantic Ocean and Murrells Inlet. dunes.com
Murrells Inlet
Tucked along the winding shores of the Waccamaw Neck, this beach boasts a colorful, pirate-filled history. Today's boat captains offer fishing charters every day for those interested in reeling in a fresh meal. If that's not your style, this little fishing village has waterfront seafood markets and more than 30 restaurants. Two of the most highly recommended are Southern Supper, with a menu ranging from fresh seafood to Southern-fried favorites, and the Hot Fish Club, which has a new chef and management this year. This restaurant offers a great view, fresh seafood dishes and pork chops and steaks worthy of comment. Outback, the Gazebo at the Hot Fish Club, is one of the hottest spots in the area for live entertainment. (843) 357-2007; murrellsinletsc.com
Litchfield Beaches
Here you get to feel "away from it all," but still have easy access to golf, shopping, bird watching, sightseeing and just about anything else that comes to mind. Wildlife sanctuaries border Litchfield on the north and south; the beautiful Brookgreen Gardens are just three miles away, and Myrtle Beach is a 15-minute drive away. Made up of Litchfield, North Litchfield and Litchfield by the Sea, the area spreads between the Waccamaw River and the ocean, offering oceanfront rooms, poolside condos and lovely homes with terraces on the marsh. Litchfield by the Sea has its own water park, and Litchfield Plantation offers the experience of waking up in an 18th-century manor house on the river. (888) 766-4633; litchfieldbeach.com
Pawley's Island
Although residents and regulars lovingly refer to the place as "arrogantly shabby," this beach island has been home to the Pawley's Plantation Golf and Country Club for more than 20 years. The resort offers decidedly unshabby one-, two-, and three-bedroom villas that overlook the Jack Nicklaus-designed golf course and the surrounding wildlife refuge. Not to worry though. The laid-back atmosphere continues to thrive just down the road. Tucked into the dunes, the Pelican Inn, a nine-room bed and breakfast, and the Sea View Inn, a 20-room inn, still provide wonderful experiences wrapped in salty ocean breezes and the smell of southern cooking. There are also condominiums and homes to rent along this barrier island that is less than four miles long and mostly one house wide. Originally an 18th- and 19th-century retreat for wealthy rice growers, the island now draws people across the salt marsh for activities like crabbing in the local creeks and strolling barefoot along the shore. The island's main export – hammocks, which were designed in the 1880s by an area riverboat captain – offers all the insight required to understand the area mentality. (843) 273-4698; townofpawleysisland.com
Isle of Palms
After World War II, attorney J.C. Long developed this 7-mile-long, 1-mile-wide island as a place where service people could afford to buy homes and raise a family. Some of those original families and their descendents still live here, and the island maintains a wide range of accommodation and recreation options. Before you begin to explore, though, you may want to turn down J.C. Long Boulevard and find the Sea Biscuit Café. Here you can mix with locals and visitors over great dishes like shrimp with gravy and crab-filled omelets. Later in the day you may also want to check out the burgers and crab cakes at Long Island Café on Palm Boulevard. For a place to lay your head, the possibilities include small beachfront condos that rent by the night. Heading north, huge new houses, which were built to replace what Hurricane Hugo destroyed, line the public access beach. Wild Dunes Resort offers golf, tennis and 300-plus vacation rentals including the brand new Village at Wild Dunes and the family friendly Boardwalk Inn. The Inn's beachfront pavilion has two pools, a food concession and a bar. Plus, it provides welcome cover from rain or heat. The surf is just right for wave jumping and body surfing, and the beautiful dunes invite late afternoon returns for kite flying. (888) 778-1876; wildddunes.com 
Sullivan's Island
Named for Captain Florence O'Sullivan, who was stationed at the island's lighthouse in the late 17th century, this island guards the entrance of Charleston Harbor. Its streets boast quintessential beach houses with screened porches, porch swings and ceiling fans. Ocean breezes keep bike riding pleasant almost all day for trips to the beach or down to Fort Moultrie to look back at 200 years of history that includes the first decisive defeat of the British in the Revolutionary War and the initial shots on Fort Sumter. In July the island also became the site of the first "bench by the road" to be placed and dedicated by the Toni Morrison Society, a non-profit group dedicated to examining the author's work. This project grew out of a comment she made that no memorial existed to commemorate slaves and their history – "There's no 300-foot tower; there's no small bench by the road." This first bench of many to be placed at significant sites in black history, along with Morrison's novels that honor that history, gives all who visit a place to sit for reflection or discussion. Sullivan's Island was chosen because it was the point of entry for more than 40 percent of the slaves who entered this country.
In March the Fort Moultrie Visitors Center unveiled its new African Passages exhibit that includes artifacts of the slave trade as well as haunting Middle Passage charcoal works of Thomas Feelings and the exuberant Gullah art of Jonathan Green. (843) 883-3198; sullivansislandsc.com; nps.gov/fosu/parknews/african-passages-museum-exhibit.htm
Bull Island
Just 16 miles north of Charleston, this retreat in the Cape Roman National Wildlife Refuge is utterly isolated and convenient to visit for a day of hiking and wildlife watching. Its 62,000 acres is the longest stretch of pristine wilderness and protected coastline on the East Coast. The 30-minute ferry ride from Garris Landing in Awendaw, S.C., takes you through the salt marsh home of dolphins, egrets, pelicans and herons. Sixteen miles of island trails include a mile-and-a-half hike to Boneyard Beach to see huge downed trees that have been bleached by sun and salt water to look like old bones. More than 20 species of reptiles, including alligators, inhabit the island, and more than 300 species of birds have been seen there. (843) 928-3368; coastalexpeditions.com/ferry.htm
Folly Beach
Just 15 minutes southeast of Charleston, this hang-10 haven boasts some of the best surfing on the East Coast. Because the island is just 6.5- by-2 miles (at its widest point), surfers can get to the beach quickly whenever one of the many surf cam Web sites shows the time is right. George and Ira Gershwin spent the summer of 1934 here while they collaborated with Dubose Heyward, Charleston native and author of Porgy, on the folk opera, Porgy and Bess. The Gullahs on adjacent James Island became the prototypes for the opera's Catfish Row residents. Homes and condos populate most of Folly Beach, but there is an oceanfront Holiday Inn, called Charleston on the Beach. follysurfcam.com; cityoffollybeach.com 
Seabrook Island
This private beachfront community offers peaceful seclusion in a natural environment and a welcoming neighborhood. Although the 2,200-acre resort includes horseback riding, tennis, golf, a deepwater marina and a world-class fitness center, it also is committed to protecting the environment. The golf course was South Carolina's first Certified Audubon Cooperative Sanctuary, and the distinctive lowcountry homes are nestled among giant oaks. There are also villas and cottages along the ocean, lake and marina.  (843) 768-9192; discoverseabrook.com
Kiawah Island
With its 10-mile stretch of beach, this getaway is paradise for anyone seeking luxurious waterfront accommodations and relaxing outdoor activities. But it is sheer heaven for golfers. Kiawah's Ocean Course was made famous by the dramatic 1991 Ryder Cup, which became known as the "War by the Shore." The course has been ranked 25th on Golf Digest's 100 best courses list and 4th on the Best Public Courses list. Fittingly named, the course has 10 holes along the Atlantic while the other eight run parallel to the ocean. The course, the setting for the 2000 movie The Legend of Bagger Vance, will be the site of the 2012 PGA Championship. Four other courses – Turtle Point, Osprey Point, Oak Point and Cougar Point – also offer satisfying challenges in beautiful settings for golfers of all abilities. (888) 559-9024; Kiawahisland.com
Edisto Island
With its rich, fertile soil, this island was once home to cotton and indigo planters who enjoyed great wealth and built majestic plantation homes and churches before the Civil War. The cotton fields now grow vegetables and melons, but the beautiful old homes still stand as historic sites framed by old oak trees hung with Spanish moss. Islanders proudly describe Edisto as "old, shabby, chic" and enjoy a relaxed beach lifestyle in the stately atmosphere of earlier days. Vacation accommodations include rental houses, townhouses, resorts and multiple hotels. Edisto State Park offers marsh-side cabins and limited oceanfront camping. The park also offers the region's best shelling on public property. edistobeach.com
Harbor Island
The only way onto this 1,400-acre barrier island is with a reservation in one of the private rental homes, condominiums or villas. The island, part of the 350,000-acre ACE Basin National Estuarine Research Reserve, sits on the edge of the biologically rich St. Helena marina. As a result, a day spent on the island's two-and-a-half-miles of hard-packed sandy beaches can include sightings of dolphins, pelicans, egrets, and herons in the rookeries just off the beach. HarborIsland-sc.com 
Hunting Island State Park
Just 18 miles southeast of Beaufort, this getaway works as an easy day trip from the Augusta area. Arrive in Beaufort for lunch and a short tour to check out local movie settings including Tindalholm, the house where The Prince of Tides and The Big Chill were filmed. Ride out to the park – also the site of movies such as Forrest Gump and GI Jane – to walk on the beach, check out the lighthouse and enjoy the marsh boardwalk. Then either spend a little more time on the beach, fish off the pier or hike in the maritime forest before you head home. Cabins and campsites also are available for overnight stays. Huntingisland.com.
Fripp Island
This secluded island, once was a favorite hiding place for 17th-century pirates, is an appealing vacation escape. One of those pirates, Captain Johannes Fripp, was called on by England's King Charles to protect the British settlement at Beaufort. He served the crown well enough to receive the deed to the island that now bears his name as compensation. Rumors abound that pirates' treasures are still buried on the island, but the obvious treasure of the place is its natural beauty and relaxed pace. Golf carts are the favorite mode of transportation. Recreation includes crabbing, tennis and three oceanfront golf courses. The entire island has been designated a wildlife sanctuary, so deer roam freely and bird watching is a rewarding activity. The community also is committed to protecting its loggerhead sea turtle population, and nature education programs, including Camp Fripp for kids, are offered. Fripp is a private resort, so only a reservation will get you through the gate. Accommodations include rental homes, villas and efficiencies. Frippvacation.com.
Hilton Head Island
The 55-square-mile, boot-shaped island boasts a history as lively as its main thoroughfare. Before English Captain William Hilton "discovered" the island in 1663, it had been inhabited seasonally by Woodland Indians thousands of years before and by the Spanish in the 1500s. The island, which has a storied military history, began its incarnation as a resort destination in 1957 when Sea Pines Plantation was founded on 5,000 acres at the southern tip of the island.
From the start, Sea Pines established the plantation model for development and set the standard of preserving the natural environment as the island grew. Oceanfront buildings could be no taller than the surrounding oak trees, and they had to sit back from the shore and blend into the environment as much as possible. Housing options at the resort include large beachfront homes, modest villas and the 60-room Inn at Harbour Town. Sea Pines boasts multiple golf courses, tennis complexes, restaurants and shopping. Horseback riding through 600 acres of forest is also available. In Sea Pines and beyond the requirement for subtle signage and the prohibition of neon signs continue the commitment to preserving the area's natural beauty.
About ten plantation-style resorts cover much of the island. They include Palmetto Dunes and Shipyard, which offer oceanfront hotels, villas and homes, plus their own restaurants, and golf and tennis facilities. Disney even has a family resort in Shelter Cove Harbour. Checking in at any of the large resorts can mean parking the car for the length of the stay. There are also freestanding villas and hotels such as Sea Crest Villas, Beachwalk Hotel and the Holiday Inn Hilton Head Island (Oceanfront). Exceptional shopping is available as well for those who do not mind braving the traffic that has come with the island's growth. Possibilities include the beachfront Coligny Plaza, Mall at Shelter Cove, Pineland Station, Tanger Outlets and high-end boutiques at Harbour Town and South Beach. More than 2.5 million visitors make their way to the island annually, but its size and careful development mean it can still offer a restful retreat. 800-523-3373; hiltonheadisland.org.
Daufuskie Island
Take a short ferry ride across Calabogue Sound from Hilton Head to retreat to the quieter setting for Pat Conroy's book The Water is Wide, which was made into the movie Conrak. Descendants of former slaves live on small farms, and tours of former slave quarters, a 200-year-old cemetery and a local winery are available. The Daufuskie Island Resort and Spa closed in March of this year. The facility has plans, but no definite date, to reopen (check daufuskiemagic.com for updates), so the only accommodations on the island for now are private home rentals. Daufuskieislandrentals.com
Tybee Island
The scheduled filming of Miley Cyrus' next film, The Last Song, from mid-June through August on the island and in Savannah might disrupt the laidback atmosphere this summer. However, hosting celebrities is nothing new for Tybee – Sandra Bullock and John Mellencamp have homes there – and movies have been set throughout the area. Still, island residents and regular visitors expect a higher shriek factor this summer as they anticipate teenage fans to descend on Tybee to catch a glimpse of Cyrus. For those more interested in relaxation, the island's three miles of beach were refurbished during the off-season with 1.2 million yards of sand. Kayak and boat tours offer a close-up view of bottlenose dolphins and other area wildlife. Fort Pulaski and the Tybee Island Museum and Light Station provide fun diversions as well. Accommodations include beachfront hotels, condos and rental cottages, some in restored historic homes. Tybeeisland.com
Sapelo Island
Multiple layers of natural and human history cover this 16,000-acre retreat, Georgia's fourth largest barrier island, which is 60 miles south of Savannah. The ferry ride from Meridian requires proof of a reservation for an island tour, a campsite or one of the island's few lodgings. On the boat, you could find yourself with a dolphin escort, and once you arrive, the island features a wealth of Geechee (Georgia's sea island equivalent to Gullah) culture and marsh-fed wildlife to explore. Reynolds Mansion provides a beautiful setting for group events, and the Wallow Guest House, located in the Hog Hammock Community made up of descendants of Spalding plantation slaves, includes individual rooms. The Georgia Department of Natural Resources offers an artist-in-residence program. The Sapelo Island Visitors Center of Meridian has exhibits about the island and sells tickets for round-trip ferry rides and an island bus tour. Sapelonerr.org. 
Little St. Simons
Privately owned and accessible only by a 15-minute boat ride from St. Simons, this serene escape beckons those who want to reconnect with nature, friends and family. Ten thousand acres of untouched tidal creeks, marsh, forest and beach await. The Lodge houses only 30 guests with a package that includes three family-style meals a day, drinks at cocktail hour and equipment for activities such as horseback riding and fly-fishing. Three naturalists on staff give nature talks and tours about the abundant wildlife on the untouched island. Day trips are available by reservation only. They run from 10:30 a.m. to 4:30 p.m. and start with a ferry ride from Hampton River Club Marina. They include an island tour, a lunch of lowcountry specialties and an afternoon on the beach. (912) 638-7472; littlestsimonsisland.com
St. Simons Island
Start your visit here with a trip to Pier Village and a climb up the 129 steps to the top of St. Simons Lighthouse. You'll enjoy a view of the coast down to Cumberland Island and have a chance to soak in the warm, calming ocean air that defines the atmosphere on this barrier island. A playground on the ocean by the village pier allows children of all ages to swing to the rhythm of the surf. From the pier you can wander up Mallory Street and shop for island wear, lowcountry art, antiques and more. A trolley tour provides an overview of the island's historic sites, including Christ Church and Fort Frederica, and kayaking tours explore the marsh creeks. The island is also home to a wealth of Gullah/Geechee culture, which will be celebrated June 19-21 at Pier Village in the Annual Original Georgia Sea Island Festival. Accommodations include the oceanfront King and Prince, which opened in 1935 as a dance club and still boasts a vibrant atmosphere, and the Sea Palms Golf and Tennis Resort, which is set on the marsh with access to the ocean through St. Simons Beach Club.  There is a range of other vacation rentals, plus a Holiday Inn Express that rents bikes for the two-mile trip to the beach. The firm, sandy beaches offer good surf at high tide and flat stretches up to 100 feet wide at low tide. stsimonsguide.com
Sea Island
Owned by the same family for four generations, this resort has resisted commercialization and offers a secluded, magnolia-covered experience at the Cloister, which offers a variety of ways to absorb the island's beachfront beauty and Southern charm. The resort is luxurious, elegant and family friendly. Everyone dresses for dinner, but the Cloister also has a legendary children's program and offers Bingo on Tuesday and Thursday nights. The main hotel has the feel of an Old World Mediterranean-style mansion with marble floors, stucco archways, arched windows and intricate plasterwork. Guest rooms include hardwood floors, wood-beamed ceilings, 500-thread count sheets and 45-inch LCD high definition televisions. There are also Beach Club rooms and suites as well as oceanfront villas with private pool and beach access.
The new Sea Island Beach Club offers sailing schools and kayak clinics along with three new pools and cabanas and umbrellas for soaking up the island's pristine private beach. The new spa and fitness center has already received Mobile 5-star accolades and offers individual services or a full-day retreat. The Cloister also offers a shooting school and multiple championship golf courses. The Lodge at Sea Island Golf Club offers a more golf-centered, 5-star experience. This year's economic challenges have led to some layoffs at the Cloister, which means the staff will have to deliver its legendary service with fewer helping hands. In addition to the resort accommodations, about one-third of Sea Island's 500 private homes, traditionally called cottages, are available for rent through the Cloister. They range in size from three to nine bedrooms and afford guests membership at the Sea Island Club during their stay. 888-732-4752; seaisland.com
Jekyll Island
The only self-sustaining state park in Georgia, this island is in the midst of a multi-year, multi-faceted revitalization project to spruce up as a vacation and convention destination. The island will maintain its long-term commitments to leaving 65 percent of the island undeveloped and to providing beach vacations to budget-minded travelers.
The Jekyll Oceanfront Resort became the first of the revitalization projects to open in November 2008. It offers one- to three-bedroom units in two-story buildings on a 10-acre property. Also new on the island is The Georgia Sea Turtle Center, which offers evening turtle walks in June and July and morning hatchling walks in August and September. In addition, the center offers Arribada Adventures, a family-based program for those who want to learn about the life histories of sea and other turtles.
Jekyll also boasts the newly dedicated memorial to the Wanderer, the last known slave ship to come to land in Georgia and the last slaving expedition known to have reached the United States without repercussions. The Wanderer exhibit can be seen at St. Andrews Picnic Area on the south end of the island. Also well worth a visit is Millionaires Village, which from 1886 to 1947 was a winter hunting resort for the likes of J.P. Morgan, Everett Macy, Joseph Pulitzer, William Rockefeller and Cornelius Vanderbilt. The Great Depression and World War II led these wealthy families to abandon their coastal Georgia retreats. Some of those homes have been restored and preserved and are open for touring. Two cottages have also been renovated and serve as guest rooms of the Jekyll Island Club Hotel, a distinctive Victorian-style resort that was built originally as a club for the island's wealthy visitors. This fall the Jekyll Island Club will expand its offerings to include the oceanfront Hampton Inn and Suites, which is part of the revitalization plan and under construction on the previous Holiday Inn and Suites site. Later developments will include redeveloped shopping and entertainment areas along the beach. Jekyll has golf and other recreational options as well. Jekyllisland.com
Cumberland Island
Georgia's southernmost barrier island is the place to see wild horses roaming the beaches and to camp along the seashore in one of five National Wilderness sites. Guests also can enjoy a more elegant retreat at the distinctive Greyfield Inn. Once the site of several lavish homes built by Thomas Carnegie, brother of Andrew, Cumberland Island is now a vital, secluded wildlife sanctuary with limited overnight accommodations. The island offers ranger-guided tours and daily craft activities for children. It is also possible to take in the island on your own by enjoying the solitude and sanctuary of the marshes, dunes, ponds, beaches, forest and lakes. Other island wildlife includes sea turtles, otters, blue herons, snowy egrets and wood storks.
The island also has a few historic sites to visit, including the Dungeness Ruins, the Plum Orchard Mansion and the First African Baptist Church in the Settlement. Greyfield Inn, which is the only remaining home from the Carnegie estate, has only 16 rooms, but non-guests can also dine there. Any visit to the island begins with a 45-minute ride from St. Mary's, Ga., on the Cumberland Queen ferry, which requires reservations that can be made as much as six months in advance. The heaviest ferry bookings are in the summer months. (904) 261-6408; nps.gov/cuis; greyfieldinn.com
By Carole C. Lee
Illustrations by Jason Crosby