A Harlem man brews up spine-tingling, spook-tacular fun for Halloween.
When some people decorate for Halloween, they carve a jack o' lantern, put it on the front porch and call it good.
Not that there's anything wrong with that. For the past 13 years, however, Harlem resident Steven Brzozowski has decorated his yard in Shady Grove subdivision with Halloween decorations that are scary good. With help from his neighbor, Chad Hurley, he starts decorating in mid-September.
"When we first started, it was a two-week process," says Steven. "Now it takes us a good six weeks, and we work all the way up until the day before Halloween. We do a walk-through the night before."
Halloween Scenes
The Halloween scenes include a cemetery, a clown midway and a Texas Chain Saw Massacre display, and the holiday has become a family affair. Steven's wife, Melissa, arranges creepy dolls in the carport, and his brother-in-law, Mike Chandler, dresses up like a crotchety old swamp creature.
"We set up a projector and show scary movies on a portable screen while people wait," says Steven.
Typically, the Brzozowskis have 200 to 300 people in their yard at a time, and Steven estimates that 2,500 people came to see the Halloween decorations last year.
"It's a maze of displays," he says. "At the peak, it's just gridlock."
A lot of the same people come back year after year, but new people come each Halloween as well.
"I just want kids to have fun. It's a safe place for them to come," Steven says. "People come through three and four times. There's so much to see. They have to come through more than once to see all the details."
His friend, Benjamin Hill, boils peanuts on Halloween night for visitors – last year they gave out 270 pounds of the peanuts, stopping only when they ran out about 8 p.m. – and Benjamin's wife, Amanda, helps them give out candy. A year ago they doled out 80 pounds of candy to trick-or-treaters.
Steven enjoys the crowds, but with repeat visitors every year, he definitely feels pressure to meet – or exceed – their expectations. He changes the displays every year, and of course, he always tries to outdo himself.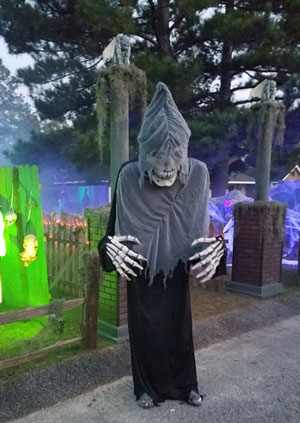 "I like to shake things up and do something different, but it's a double-edged sword," says Steven. "I have to step it up every year to keep it interesting for everybody. The problem now is you can't stop. Everybody expects it."
This year Steven will continue a new tradition that he started a year ago and hold a food drive for Harlem Baptist Church. "Last year we collected 100 to 120 pounds of canned goods," he says.
Spooky Atmosphere
Steven makes many Halloween decorations out of old scraps, using liquid latex, dyes and paints to create his props. He also builds things with palettes and buys medical skeletons online. He gets ideas from Pinterest, scary movies and theme parks.
"Sometimes I lie in bed and things just pop into my brain," Steven says. "I go to haunted houses to get ideas, but I put my own spin on them. It comes together mostly out of trial and error."
Of course, creating the right atmosphere is as important as having bone-chilling props. On Halloween night, Steven uses lighting that changes colors, strobe lights, a fog machine and scary music to create a spooky mood.
His wife and their daughter, Madison, dress up in costume, but Steven wears a Halloween-themed suit on the big night.
"I like to walk around and make sure everything is running smoothly," he says. "It's good to have people that enjoy it with me. I like to get people's opinions, and I eavesdrop on people to hear what they have to say."
His favorite display is the clown section, where Chad dresses up like a scary clown and walks around with a big plastic hammer. People enter a tunnel through a giant clown face and battle through hanging pool noodles to get to the area.
"I have 10 or 12 clown props, and I'm adding more this year," says Steven.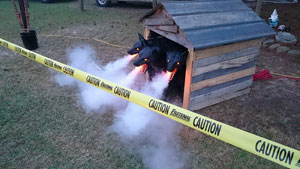 Halloween Neighborhood
Shady Grove has long-standing Halloween traditions. In fact, when they first looked at the house, Steven says, "Our Realtor said, 'I hope you like Halloween because this is a Halloween neighborhood.'"
Police officers block off the entrance to the subdivision to vehicle traffic on Halloween. Three or four other families on the street also set up lots of decorations, and almost all of the neighbors give out candy.
Anticipation is half the fun, however, and Steven does his part to build up excitement for Halloween night.
"People ask me questions when I'm setting up," he says. "When the school bus comes by the house, all of the kids stand up and press their faces to the glass."
Once the holiday is over and the last box of decorations has been put away, Stevens says, "I'm done. I don't want to talk about Halloween."
However, he hopes the children who come to his house on Halloween remember it for years to come.
"I just enjoy doing it so people will have a fun Halloween," says Steven. "I do it for the kids so they'll remember it when they grow up. I want the kids to have a memory when they have kids of their own."
By Sarah James