A local artist spreads good will and happiness through his music and paintings.
As a self-taught painter and musician, local artist Billy S doesn't have to search hard for inspiration. He simply works from the heart – just like his lives his life.
"I try to be loving, kind and generous because those things come back to me," he says.
And whether he is wielding a paintbrush or a guitar, he always seems to strike the right note with his upbeat, vibrant style.
'Make People Dance'
Billy's paintings are displayed at various venues in the area, and he is slated to release a new, 19-song record called Do It Now on Valentine's Day. "It's acoustic only. One guitar, one voice," he says.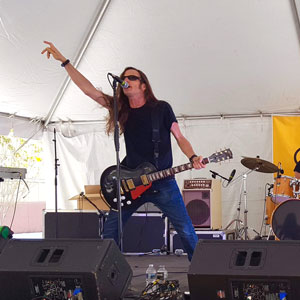 The record includes dance songs and ballads, and "Do It Now" also is the name of the introductory song on the album. "The first words of the song are 'Love one another,'" Billy says. "That's our purpose for being here."
Another song called "The Flame" is about something or someone important in your life that is no longer here.
"A few songs might make you cry a little bit in a good way," he says. "I never want to write a sad song unless it helps."
"The Flame" and "Do It Now" can be downloaded at billys.bandcamp.com/track/the-flame. In addition, Billy will give an acoustic solo performance of his new record in a concert, fittingly called "Love," at Southbound Smokehouse at 9:30 p.m. Saturday, February 15. Love is a recurring theme in his work.
"There are all kinds of love like friendship or romantic love, so it's very inspiring," says Billy, who grew up as the middle of five children. "I was loved, but I was also disciplined. And I respected love."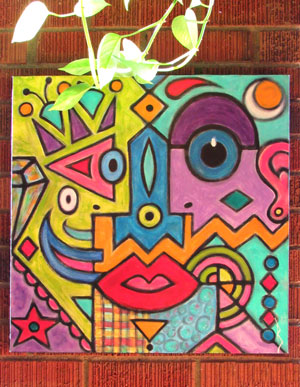 Billy is not just a solo artist, however. He also plays in a band called billy s electric power trio with Dave "Muz" Mercer, who sings and plays drums, guitar and bass; and Alex Bruce, who plays bass. Billy is the lead singer and plays guitar.
The band will perform a live set at Southbound Smokehouse on February 15 as well. "Playing live with the trio is one of the things I enjoy most," Billy says.
In addition to Southbound Smokehouse, he and his band play at various local venues and events including The Soul Bar, Stillwater Taproom and Arts in the Heart.
"I just want to make people dance," he says. "Some people listen to the lyrics, and some people don't. You want people to escape for a minute. I want my songs to bring back good memories. I'd rather heal than harm."
He first started playing music when he was about 17 years old after a new neighbor, who had a guitar, told Billy he needed to get a bass. He never had played before, but he played two notes on the top string. Then in 15 minutes, he wrote a five-verse song entitled "Nevermore," based on Edgar Allan Poe's "The Raven."
"I realized I was a songwriter this whole time," says Billy, who also taught himself to play the piano.
When he was studying computer drafting at Aiken Technical College, he went on the road with a band. He came home and told his father he wanted to quit school to tour with the musicians. Billy says his dad asked him how much he was getting paid and said, "Do it."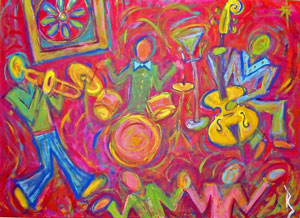 The group traveled across the country, playing on Sunset Strip, in New York City's Greenwich Village and Washington, D.C. On their days off, Billy visited art galleries.
He ultimately quit the band in the 1990s, and on his birthday in 1994, when he had a job waiting tables, he decided to take a mental health day. He spotted a box of paints – with dust on it – that a former girlfriend had given him.
"I had a few canvases, and I started squirting paint on them. When I woke up the next morning, I had 10 paintings," says Billy. "I showed them to my brother, and he couldn't believe I had done them. I said, 'What do you think this is?' My brother punched me in the arm and said, 'It's art, stupid.'"
Color & Shape
From that first jab in the arm from his brother, Billy has welcomed brutally honest feedback about his work. He laughs as he recalls the friend who told him, "That ain't your best" about some of his work. Another man who used to work at the downtown Augusta Mellow Mushroom, where Billy has artwork on display, said of his guitar painting, "I could have done that."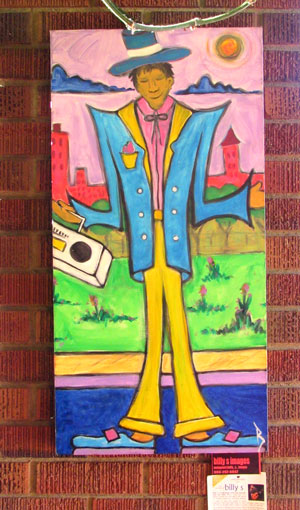 "I'm a little radical, but I like a punch or two. I want people to tell me the truth," he says.
However, his truth tellers have given him encouragement as well.
For instance, in 1995, several months after Billy started painting, a friend suggested he show his work to Al Beyer, a former USC Aiken art professor who retired in 2018. Billy still remembers what he told him. "He said, 'Billy, what you have here is what we try to teach.'"
Billy says Beyer didn't want to teach him. However, the professor told him he could come to his class to paint and use his supplies, and he said he would answer any questions.
A Billy S painting typically includes several identifying characteristics. First and foremost, Billy likes color – lots of color – and shapes.
"I wish there were more colors," he says. "I even think on the other side of our existence, there are more colors."
He uses sacred geometry, which ascribes symbolic and sacred meanings to certain geometric shapes and proportions, and the Golden Ratio in much of his artwork as well. The Golden Ratio is a common mathematical ratio found in nature (think the spiral of a seashell or the eye of a hurricane), which can be used to bring harmony and structure to artwork (like the "Mona Lisa").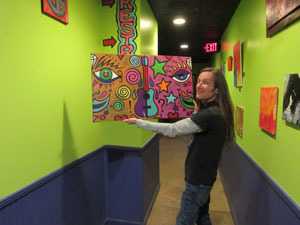 In addition, Billy sometimes adds a long swirl to his paintings because a deaf girl told him that the symbol means "artist." A half-mask sometimes shows up in his paintings as well. "That's me, looking into the painting," he says.
For anyone who still might harbor any doubts about his distinctive style, he also signs his work with a signature "B." "It's not a rounded 'B,'" he says. "I want it to be almost like a mark, like it's carved."
He works primarily with acrylics, but he also uses oils. "I love what acrylic does. It's so forgiving," Billy says. "There are no mistakes. You just paint over it, and that gives the painting texture."
With his artwork, he says, "I try to make another place. I wouldn't mind if the art gives people someplace else to go."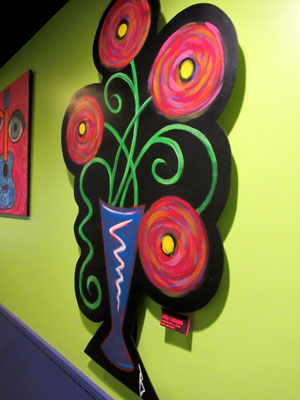 Giving as Much as He Gets
When Billy sits down in front of a canvas, sometimes he has an idea or an image in mind and sometimes he doesn't. "Anything you see will come out. I'm painting from my head or my spirit," he says. "I don't draw anything. I just start painting. I like the sound of a brush."
That free-spirited approach most likely dates back to elementary school when he had a clear disdain for pencils. "I always wrote with a pen instead of a pencil because I hated the sound that a pencil makes," says Billy. "But when I was in fourth grade, I was told I had to use a No. 2 pencil like everyone else."
(Conformity isn't exactly his M.O. He once was let go from a church quartet for having long hair.)
Billy has learned that his art will take care of him "one way or another."
"When I've tried to use my art to make money, I would end up giving it away," he says. "I've learned not to sell it, just share it. I feel like everything I paint is for somebody."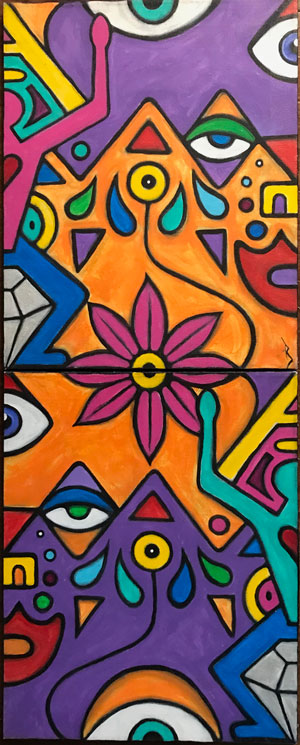 When he displays his artwork, he usually doesn't put a price on his paintings because he doesn't want cost to influence someone's reaction to them. He says people always try to give him more money for his paintings than the asking price.
"The titles usually mean more than the prices," Billy says.
However, "survival" is a factor in selling his artwork, he quips. "And seeing the person and what it does to them."
In addition to Mellow Mushroom in Evans and Augusta, his work is or has been displayed at places such as Nacho Mama's, New Moon Café, Hire Grounds Café, Augusta University Medical Center, Art on Broad, 600 Broad, USC Aiken's Etherredge Center, other South Carolina galleries and even hair salons.
"I like being in a gallery," says Billy. "But I would almost rather be where anyone can see my work, not just people who go to galleries."
He also tries to give as much as he gets from his talents.
"If I had some music success, I would want to go to some of my art supporters, buy my paintings back for a lot of money and then give the paintings back to them," Billy says.
In the meantime, though, he says his artwork "allows me to live inside and keep warm and eat my organic stuff. I'm safe, secure, happy, fed, and I have a future."
And he plans for the coming years to be as productive as the past years.
"I want to make sure I do everything I'm supposed to do, and I feel like I have," Billy says. "I have lived the life of five people."
By Betsy Gilliland