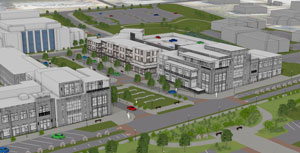 A 3D model of Evans Towne Center created by Columbia County's Geographic Information Systems team has been selected as the recipient of the GMIS International award for outstanding service and dedication to the citizens of Columbia County.
The project was submitted to GMIS International after winning the Georgia GMIS Government to Citizen Award earlier this summer.
Although the department team had no experience in 3D modeling, it was asked by the county administrator to create the model to showcase the county's new Performing Arts Center, Meybohm Building, future parking deck and other future retail/professional developments.
The team had only two weeks to put the project together to present to the Board of Commissioners and county administration.