Three local food producers – including the grand prize winner – got a taste of victory at this year's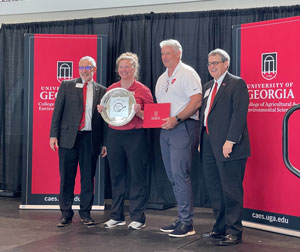 Flavor of Georgia contest.
The local area earned considerable bragging rights at this year's Flavor of Georgia, an annual food product contest for established or market-ready foods and beverages made in the state.
Hart Dairy in Waynesboro won the dairy products category with its chocolate whole milk – and the overall grand prize – in its first year as a contest participant.
"We're proud to be the only national brand to sell milk that comes from cows that are pasture-raised and grass-fed 365 days a year – and it all starts right here in Georgia," says Mandy Schulz, marketing manager. "We wanted to compete and meet other companies that are also thriving."
Another Waynesboro agribusiness, Byne Blueberry Farms, collaborated with Mercier Orchards in Blue Ridge to take first place in the beverages category with their blueberry cider. The blueberry farm became the first six-time winner in contest history this year.
"I like the competition because you're up against the best marketers in the state. These are the most progressive, competitive people in Georgia," says Dick Byne, owner of the blueberry farm. "Every time I go, I learn something. It makes you a better business person."
In addition, Cassava Breads, based in Evans, was a finalist in the snack foods category for its garlic and herb cheese bread.
"It's a great contest. It puts a spotlight on Georgia brands, value-added producers and entrepreneurs," says Chef and CEO Solomon Cohen. "It helps put us on the map. It helps bring exposure to our brand."
During the first round of judging, 32 finalists were chosen from 148 entries in 11 categories, and the Flavor of Georgia finals were held in Athens in April.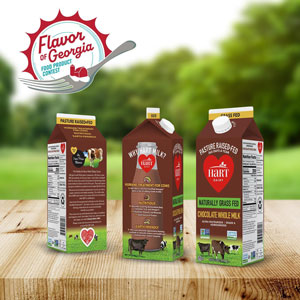 Natural Choice
For Hart Dairy, entering the farm's chocolate whole milk in the contest was a natural choice.
"It's delicious. People rave about it," Schulz says. "Also, we want to bring awareness to doing dairy the right way. We know – because it's how we operate – that farming can be done responsibly by treating animals humanely, providing highly nutritious food, and working with the earth – not against it."
She says Hart Dairy, founded in 2017 by Tim Connell and Richard Watson, is the only national brand to sell milk from cows that are pasture-raised and grass-fed 365 days a year.
"Our cows are never confined. They're always outside grazing on fresh grass," Schulz says. "We're the first grass-fed pasteurized dairy cow milk sold in America that's certified humane."
The dairy calls the milk a great post-workout drink, due to its protein and carbohydrate content, as well as a drink that the entire family can enjoy.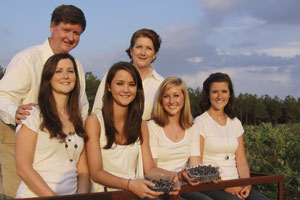 Winning Combination
According to Byne, who also teaches marketing at Augusta Tech in Grovetown, 92% of the public likes fresh blueberries. However, he says, "I started going after the 8% that doesn't like fresh blueberries and put them in another form."
Byne Blueberry Farms, the oldest organic blueberry farm in the Southeast, and Mercier Orchards, a fourth generation family-owned apple orchard founded in 1943, started collaborating on the cider in 2012. Development of the product really started to gel in August 2020.
"It's the first time two farms in Georgia have come together to make a product," says Byne, who started the blueberry farm in 1980. "Apples and blueberries are super fruits, and I don't know if anybody has ever put two super fruits together. There are a lot of health benefits to it."
Byne has entered Flavor of Georgia eight times, and in past years, the farm also has won in the barbecue sauces, beverages, condiments and salsas, confections and snack foods categories.
"I've always wanted to be creative and continue to come up with new ideas," says Byne. "You have to come up with something that people will like and keep buying. You can have a great product, but you haven't done anything if it's not in a vehicle that's marketable."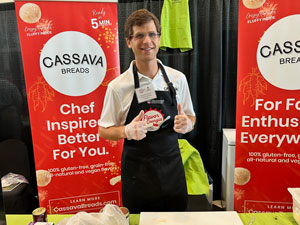 Root of the Matter
Cassava Breads was another first-time Flavor of Georgia entrant. For the initial round of judging, Cohen submitted all four of his cheese breads – classic, garlic and herb, sweet potato herb and chili lime – and the judges selected the garlic and herb to advance to the finals.
"We made a lot of connections with UGA food scientists," Cohen says. "It was a great opportunity for exposure."
The entrepreneur named his company, which he founded in 2017, after cassava, a mineral-rich, ancient root that is a centuries-old sustainable food source. Calling the root the ideal foundation for his artisanal breads, Cohen says the naturally gluten-free, grain-free and vegan cassava flour naturally highlights the flavors of the breads.
He imports cassava starch flour from the Minas region of Brazil and hand-selects aged cheeses to complement his artisan recipes.
"We cater to people that love bread and cheese and to people with dietary criteria for food products," Cohen says.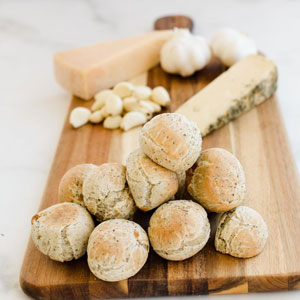 Prized Products
To evaluate the entries, the Flavor of Georgia judges considered technical aspects of the products such as flavor, texture and ingredient profile. The judges also take into account consumer appeal including packaging, innovation and how well the product represents the state.
Each entry is featured in the Flavor of Georgia print and digital product directory, which is seen by leading food industry buyers. Finalists are granted the right to use the Flavor of Georgia logo on their label and promotional materials, a one-year membership in Georgia Grown and the opportunity to present their product to a panel of food industry experts.
As the grand prize winner, Hart Dairy also was awarded exhibit space at the Georgia Food Industry Association Annual Convention and three consultation sessions from the UGA Food Product Innovation and Commercialization Center.
Since the beginning of Flavor of Georgia in 2007, more than 1,600 products have been entered in the contest.