Lots of local talent helped the 1962 Georgia Southern Eagles soar to the NAIA baseball title.
John Glenn became the first American to orbit Earth. Marilyn Monroe sang a breathy rendition of "Happy Birthday" to President Kennedy at New York City's Madison Square Garden. Spider-Man first appeared in a comic book, and the Cuban Missile Crisis led to fears of a full-scale nuclear war between the United States and the Soviet Union.
These events were on the world stage in 1962, but the baseball team at Georgia Southern College (now Georgia Southern University) in Statesboro, Georgia was making its own dramatic headlines as well. Overcoming adversity to post a 13 – 7 regular season record, the Eagles advanced to the regional National Association of Intercollegiate Athletics district finals and ultimately claimed a national title 60 years ago this month.
Driven to Excel
The roster featured a number of players from Columbia and Richmond counties including Harlem High School graduates Pierce Blanchard and E.G. Meybohm. The Academy of Richmond County also was represented by Tommy Howland, Charles Tarpley, Buzzy McMillan, Bill Griffin, Miller Finley and Larry Crouch.
When Blanchard, Meybohm or Crouch was pitching, six players in the starting lineup were from the Augusta area.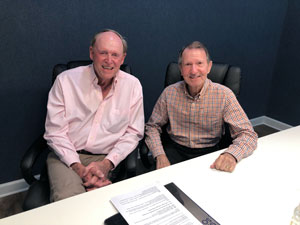 This year marks the 60th anniversary of the team's national championship, but with many underclassmen on the roster, there were few expectations for the Eagles to excel. However, the players' determination and resolve, coupled with their talent, paved the road to Georgia Southern's first sports national championship. In fact, it is reported by some to be the first national championship by any college team in the state.
"We had a team that believed in teamwork, no super-stars, a lot of camaraderie, and we played hard with a great desire to win," says Meybohm.
At one point, however, the Eagles' post-season hopes appeared to be grounded before they ever took flight. In mid-May, after finishing a two-game road trip at Florida State University, the team bus was in a serious collision with a tractor trailer just outside of Tallahassee. Several team members were badly hurt, and a few required hospitalization.
Coach J.I. Clements called a team meeting to find out if his players wished to continue with the season after so many of their teammates had been injured. The team vote was a resounding "yes," which was the beginning of turning a mishap into a major success.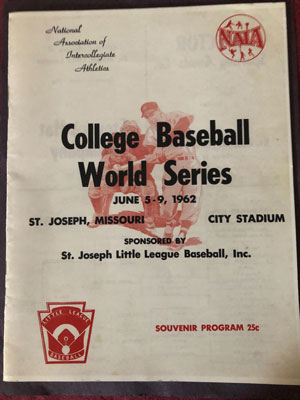 Playoff Time
Hosting the NAIA District 7 Tournament, the Eagles lost their first game to Pfeiffer College of North Carolina. Having to win three games in one day seemed an impossibility. The boys from the "Boro," as the town was known, started in the early morning and finished at dusk in a stadium with no lights.
GSC defeated Carson Newman in the first game and went on to topple Pfeiffer in the next two games to capture the District 7 title. Winning three games and playing 27 innings of baseball in one day was a major stepping stone for this championship-bound team.
Advancing to the NAIA National Championship playoffs in St. Joseph, Missouri, June 5 – 9, GSC handily defeated Minot State, 9 – 3, when Blanchard took the mound and allowed only three hits. David Bell was the winning pitcher in Game 2 as the Eagles handed Winona a 1 – 0 loss. Game 3 saw Meybohm hurl a six-hitter while besting Portland State, 5 – 2.
Allowing just five hits, Blanchard picked up his second tourney win in Game 4 when Georgia Southern beat Portland State again in a 2 – 0 victory that earned the Eagles the championship.
When their bus returned to the Georgia Southern campus, the players were greeted by a large contingent of well-wishers including students, faculty and community.
"Playing on this team was a true life lesson in what can be accomplished through hard work and teamwork," Blanchard says.
By Lamar Garrard