An Augusta University Health primary and cardiovascular care facility on Furys Ferry Road is expected to be the first of several new clinical sites in the area.
Better late than never. Augusta University Health, which originally was established as the Medical Academy of Georgia in 1828, is coming to Columbia County.
"It took us 190 years to get to Columbia County," says Dean of Augusta University Medical School David Hess.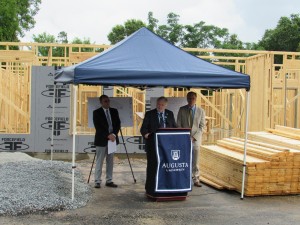 Hess, along with Augusta University President Brooks Keel and AU Medical Associates CEO Julian Nussbaum, recently spoke at a ceremony to celebrate the construction of AU's 6,450-square-foot facility on Furys Ferry Road.
"We're so excited to finally be out in Columbia County," Keel says. "We're looking at pockets where the population is highest to expand."
The primary and cardiovascular care clinical building is expected to be complete by early 2019. The facility, which is part of a plan to bring ambulatory care to locations where patients live and work, will include 12 exam rooms and a pharmacy. Four physicians – two cardiologists and two primary care doctors – will be on staff.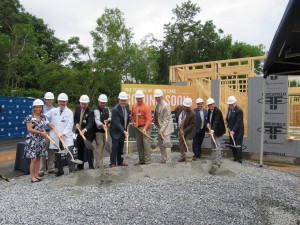 In addition, says Nussbaum, "We probably will have students here. Wherever we go, we'll have teachers as well as practitioners, and we may do clinical research trials here."
While the Furys Ferry Road clinic will be the first AU Health site in Columbia County, several other new AU Health clinics are expected to be built in the area as well.
"We will have six or seven locations around the CSRA within the next year to provide urgent and primary care as well as pediatrics and women's healthcare," says Nussbaum.
AU Medical Center also has plans to build a $149 million, 100-bed hospital on an 82-acre parcel of land in Grovetown. In mid-June the Superior Court of Fulton County affirmed the original decision by the Georgia Department of Community Health to award AU Medical Center a Certificate of Need to build a hospital in Columbia County.
In a lawsuit filed by Doctors Hospital, the facility claimed the state department overstepped its authority in employing the 20 percent county funding exception in deciding the Certificate of Need. The Court disagreed with Doctors, upholding the November 2014 decision by the Department of Community Health.
Doctors Hospital has 30 days to appeal the decision. If that happens, then the Georgia Court of Appeals would rule within 60-90 days on whether to not to hear the appeal. In the past four years Doctors has filed a combination of lawsuits and appeals that have delayed the project.
The proposed 259,649-square-foot facility will include smart room technology in all the rooms and a Level II trauma center with a 16-bed emergency department. Columbia County is the largest county in the state without a hospital.