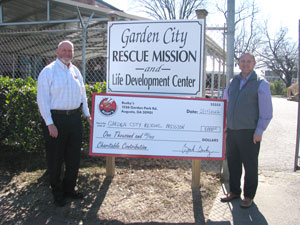 Busby's Heating & Air has launched The Busby's Cares Community Contribution, an initiative in which the company makes a $1,000 donation to a small local nonprofit organization each month. The inaugural recipient of the funds was Garden City Rescue Mission in February.
"With small local charities, $1,000 can be significant," says Rick Busby, owner of Busby's.
The company also conducted a food drive for Garden City Rescue Mission, the largest men's homeless shelter in the CSRA, and Busby's delivered the food contributions at the same time that it presented the financial donation to the rescue mission.
"A lot of folks have helped me in my life one way or another. I just feel like the world would be a better place if more people helped each other," Busby says. "We've always given back. That's just part of our culture. That's how I was raised."