Springtime in Augusta is synonymous with the Masters Tournament. However, the Garden City Festival at Sacred Heart is another spring celebration with strong roots in the area.
"The festival has been a tradition since 1992," says Kim Overstreet of Sacred Heart Cultural Center. "It started as a small flower show, but it has grown through the years as new features have been added."
Although the event was cancelled in 2020 and a modified version was held in 2021, this year's festival will have something for everyone from to novice to experienced gardeners.
The Garden Festival Preview Party, which begins at 6 p.m. Thursday, April 21, will kick off the festivities.
The evening will feature fine cuisine, musical entertainment and the first viewing of the gardens and floral exhibits created by local garden professionals. Guests also will have the first opportunity to shop for plants and garden accessories in the Garden Market. Tickets are $75 per person.
The festival itself will run from 9 a.m. until 5 p.m. Friday, April 22 and Saturday, April 23 at Sacred Heart. Festival-goers can see landscape and floral exhibits, shop in the Garden Market, enjoy Seedling Saturday and the Butterfly Habitat and Garden Tour, and hear educational speakers during festival hours.
The Speakers Series will offer how-to demonstrations and tips that people can use to enhance their gardens. As a new addition this year, vendors will teach 30-minute Wandering Workshops on topics such as "How to Create a Container Garden" and "Cooking with Herbs From Your Backyard."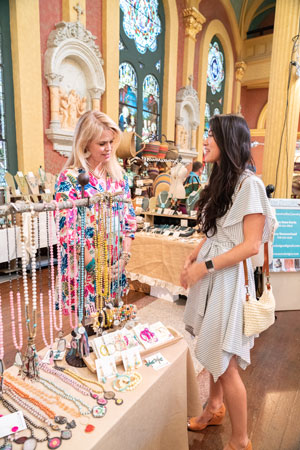 "The workshops will cover simple things that people can take home and do," Overstreet says.
Food trucks and vendors also will be available from 11 a.m. – 2 p.m. on Friday and Saturday.
Advance tickets for the festival and garden tours are $25 for both days until April 21. Tickets will be sold at the door for $30. Tickets for the festival only are $10 in advance and $15 at the door.
The private garden tours are scheduled for noon until 5 p.m. Friday and Saturday. Featured gardens include three in Augusta and three in Walnut Hill in Evans off of Gibbs Road.
The festival also is collaborating with Pop-Up Augusta! for its first ever Friday party – an exclusive dining and concert experience from 6 p.m. – 9 p.m. The location will be revealed 48 hours prior to the event to ticketholders only. Register at popupaugusta.com to receive an exclusive ticket invitation.
The festivities will conclude at 4 p.m. Sunday, April 24 with the Blanton Garden Tea at Blanton Farm. This event will include fare from recipes featuring organic produce grown on the farm as well as afternoon tea. The gardens will open at 4 p.m., and seating, which is limited, will follow at 5 p.m. for a talk and tea. A separate ticket is required. Call (706) 826-4700 for reservations.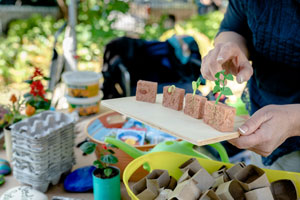 "We want people to experience good gardening ideas, be inspired and learn something about eco-friendly living at the festival," Overstreet says. "Whether someone lives in a small space like an apartment or on a large landscape, they should be able to take away something."
Tickets are available online at sacredheartgardencityfestival.com, by phone at (706) 826-4700 or at various locations including Sacred Heart.