To some people, teen suicide is a collection of statistics. To the family and friends of Wilkes Cooper, along with other Columbia County adolescents, it's much more personal.
For Greenbrier High School senior Mabry Cooper, her favorite memory of her cousin, Wilkes Cooper, occurred on a family Fourth of July trip when they were about 10 years old. The grownups wouldn't let him light fireworks, which she says, was "probably in his top five all-time favorite things ever."
"So he went inside, packed his bags and walked out to the road," Mabry recalls. "His sister took off after him, and he only agreed to come home if ice cream was involved."
Lakeside High School senior Sydney Wilson says her favorite memory of her boyfriend happened on February 14, 2021, when he picked her up at 5 a.m. for a road trip to Cleveland, South Carolina to do another one of his favorite things – watch the sun rise over the mountains.
"I was able to experience the most surreal moment with the person who meant the world to me," Sydney says. "This memory will forever live in my heart."
Less than a month after sharing that early morning sunrise with Sydney, Wilkes took his life on March 5 at age 17 after battling adolescent depression. He would have been a senior at Harlem High School this year.
To mark the first anniversary of one of the most painful days of their lives and to celebrate and honor Wilkes' life, Sydney and Mabry have put together a walk and a concert to raise funds for the Win It For Wilkes Foundation, which they created for their joint senior project.
"His mother wanted to do it on that day, and we also wanted the chance to make a bad day, a good one," Sydney says.
The event will feature live music, food vendors and the sale of merchandise. Wilkes' brother, country music artist Pat Cooper, will perform as well.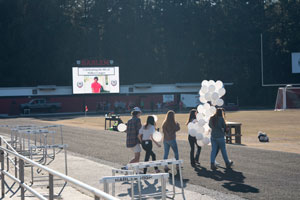 "We decided to do a concert as the main event because music was a very big part of Wilkes' life, and attending his brother's concerts was one of his favorite things," says Sydney.
Pat, who grew up in Thomson and now lives in Nashville, will perform a song that he wrote to honor Wilkes.
"Initially, I had no intentions of releasing it. I just wanted to write something that my family could cherish. Upon showing it to them, we felt it was important to make it public," he says. "Music is something everyone can turn to for any feeling they are having or mood that they're in. It touches all of our lives in a variety of different ways. Few things make us feel and touch our hearts in the way music can."
He wrote the song with Ray Fulcher, originally from Harlem, and Aiken native James McNair, singers/songwriters who knew Wilkes well and also live in Nashville now. "I cannot stress enough how important their contributions were to bringing the song to life," says Pat.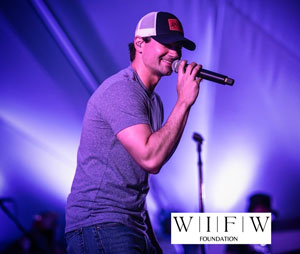 His friends weren't the only ones who helped him through the process. "The room was very heavy and emotional, but I felt God's presence," he says. "There was an overwhelming peace about it that He provided."
All proceeds from the concert will go to Win It For Wilkes to help young people find mental health resources, and the foundation will continue to hold fundraisers throughout the year.
According to the Centers for Disease Control and Prevention, national suicide rates increased 33% between 1999 and 2019, with a small decline in 2019. Youth and young adults ages 10–24 accounted for 14% of all suicides with 10.2 per 100,000 people. Suicide is the 10th leading cause of death in the United States, but it is the second leading cause of death for young people.
"Everyone struggles with their mental health at one point in their life. Just because you don't struggle with your mental health now, doesn't mean in 10 years you won't either. But by becoming aware of the signs of mental health issues, you'll have a more likely chance of being able to tell why you feel and act the way you do," Sydney says.
Through the foundation, the girls also hope to dispel any stereotypes about depression and, Sydney says, "to spread awareness that nothing is wrong with not being OK."
Wilkes' friends and family remember him as someone with a giving heart who lit up a room and cared deeply about other people.
"Wilkes was the outgoing, fun-hearted, life-of-the-party friend that everyone needed in their life," Sydney says. "You could always count on him no matter the circumstance. He was a true friend."
To cope with the loss of Wilkes, Mabry says, "Talk therapy allowed me to learn a lot of different coping mechanisms."
His friends also leaned on each other for support.
"The first couple months were really hard. There was about a group of eight of us who couldn't go a day without each other," Sydney says. "But as the months went on and life went on as well, we chose to strive for our dreams with all we had and be the best people we could to make Wilkes proud."
Pat hopes people come away from the concert with a greater understanding of the significance of mental health.
"It is just as important as any other aspect of our lives," he says. "Love one another because we all have our struggles. Being kind has no downside."
If You Go:
What: Win It For Wilkes Foundation walk and concert
When: Walk begins at 5 p.m.; concert 7 p.m. – 10 p.m. Saturday, March 5
Where: Lady A Amphitheater, Evans Towne Center Park
How Much: $12 general admission; $40 VIP
More Info: (706) 414-0134 or mabrycooper47@gmail.com; (706) 550-3887, sydwil03@gmail.com; Win It For Wilkes Foundation Facebook page
National Suicide Prevention Lifeline
If you are thinking about suicide, are worried about a friend or loved one or need emotional support, call the National Suicide Prevention Lifeline at 1-800-273-8255 or use its online crisis chat at suicidepreventionlifeline.org.
The Lifeline network is available 24/7 across the United States. Beginning July 16, callers also can reach the National Suicide Prevention Lifeline by calling 9-8-8.
By Leigh Howard