Operation Double Eagle prepares veterans and transitioning active duty military personnel to work in the golf industry.
U.S. Army veteran and Grovetown resident Matt Weber, who medically retired from the military in 2009 after five years of service, had fallen on hard times.
He lived in his car with his service dog, a Dutch Shepherd named Max, for a while. He moved in with a friend, but that situation ended up causing more harm than good. Then Weber spent the little money he had left on a hotel room. In November 2020 his hours were cut before he ultimately lost his job during the pandemic. He struggled with alcohol abuse and addiction to his medications.
"I was in a dark place for the better part of four years," the 36-year-old Weber says.
Last fall, however, his circumstances started to change. In October 2021, he met Jeremy Tindell, program manager for Operation Double Eagle, through a local veterans service organization.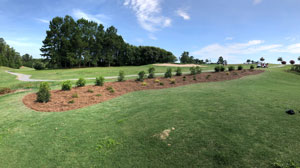 Operation Double Eagle is a nine-week skills development program at Augusta Technical College that connects veterans and transitioning active duty service members to a network of employers seeking "job-ready" veterans for nationwide career opportunities.
The program, a workforce initiative of the Atlanta-based Warrior Alliance, actively recruits veterans with barriers to employment through its network of partners, transitioning active duty military personnel and government agencies.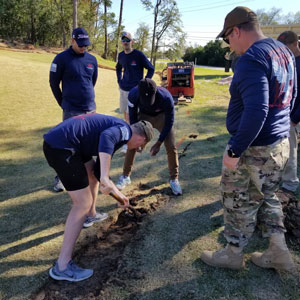 Tindell, who lives in Evans and served in the Army for 20 years, talked to Weber about Operation Double Eagle. Although a session had started a week before their conversation, Tindell squeezed the veteran into the program.
"I wasn't sure what I wanted to do or where I wanted to go," Weber says. "I kind of bounced around for a couple of years. I was making an attempt to figure out what I wanted to do. Operation Double Eagle had resources for me to make something of myself."
Weber finished the program on December 17, 2021, and three days later he started working as an equipment operator for Landscapes Unlimited, one of the largest golf course contractors in the country.
"The first thing I told my boss was that in two-and-a-half years or less, I plan on taking his job," says Weber.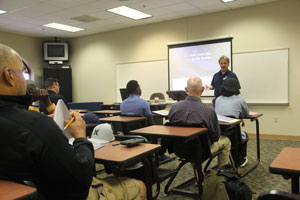 And that wasn't the last time he put his director supervisor, Brett Ambrose, on notice that he's coming after his position. Ambrose, a Landscapes Unlimited project superintendent, appreciates the ambition.
"I want to have people that want to move up and have goals. If he's a go-getter, let's do it," he says. "I said, 'Dude, come and get it. Let's see it happen."
Landscapes Unlimited also hired one of Weber's classmates, and Ambrose hopes to hire many more people from the program. "I like where they're going with it. It has a lot of promise and gets people in different careers in golf," he says.
Optimum Exposure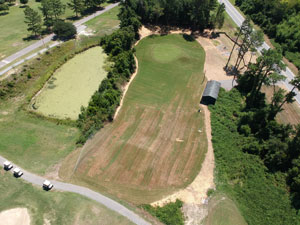 Operation Double Eagle is the brainchild of Scott Johnson, president and chief executive officer of the Warrior Alliance. During his 20-plus years as a corporate executive, he worked with wounded warriors and saw a contingent of the veteran population that was unemployed or bouncing from job to job.
"I wanted to try to help veterans find a way to be trained like they are in the military. This is the kind of work they want to be doing, and it was a chance to try something that hadn't been tried before with veterans. We want to restore the warrior that is inside of each individual," Johnson says. "On the flip side, it solves a huge problem for the golf industry where there is a high demand for skilled labor."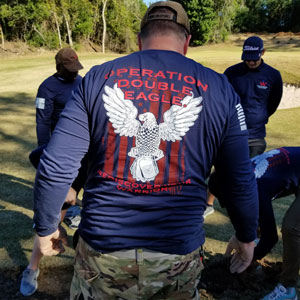 With local assets such as Fort Gordon, a rich military tradition, the Charlie Norwood VA Medical Center and Augusta National Golf Club, Johnson says this area has been the ideal place to build the program.
"Logistically, Augusta made sense," he adds. "Why not take the mecca of golf and do something unique for it?"
Nine-week cohorts are scheduled four times a year, and up to 15 selected "warriors" per session receive a monthly stipend for housing and meals to attend the free educational program. Participants are not required to use their GI Bill benefits, and graduates receive Augusta Tech's Golf Turf and Landscape Specialist certificate. In addition, the students earn 14 college credit hours.
The first cohort was launched in February 2020, but Operation Double Eagle went on hiatus from March 17, 2020 until June 2020 because of covid.
The program is structured so that students receive classroom instruction from 8 a.m. until noon Monday through Friday at Augusta Tech. Topics include golf course maintenance, horticulture science, irrigation, construction, turf management, mechanical and equipment operation, golf operations, landscaping and pest control.
"We tell people on the second day, 'You'll learn a dozen different things in nine weeks. Get passionate about one of them, and you'll find a career,'" says Johnson.
In the afternoon the students go to the Performance Center, a par-3 hole that was built in 2019 at Augusta Municipal Golf Course, for hands-on learning opportunities.
At the Performance Center, the students practice golf course design, construction, renovation and maintenance skills. Veterans, as individuals and teams, tackle clearly defined projects to solve real-time challenges.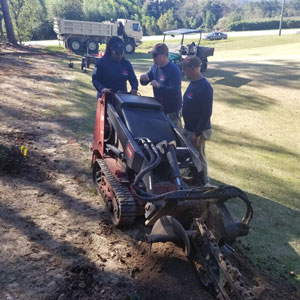 "We have everything that a larger golf course operation would have," says Evans resident O'Neil Crouch, a former golf course superintendent and Operation Double Eagle program director. "They get to learn real-world problems. If we have to, we create problems."
The students also take field trips to local golf courses such as Champions Retreat and Forest Hills Golf Club as well as Belle Meade Country Club in Thomson. They also have helped prepare the course at East Lake Golf Club in Atlanta for the Tour Championship.
"Veterans love to be outside. They love working in tough nature conditions. They love working in teams," Johnson says.
In addition, the program covers golf course etiquette and what to expect when working on a golf course and introduces students to industry sales representatives.
"We try to expose them to everything possible so they can make a decision," says Crouch. "We've had a few graduates that have started their own business or more veterans support programs."
The Right Fit
Warriors have to go through a three-tiered application review and assessment before they are accepted into Operation Double Eagle. "You have to educate veterans and find people that are right for the program," says Johnson.
As part of his responsibilities, Tindell recruits students and vets the military applicants. He conducts an overall evaluation of the soldiers to assess each individual's attitude, aptitude, academics and achievement.
Operation Double Eagle finds recruits through the Department of Labor, social services organizations, veterans services organizations, career centers, grassroots efforts, word-of-mouth, social media and by visiting military installations.
"When potential students fill out a questionnaire and application online, they self-identify their barriers to employment," Tindell says. "I contact them and build a personal relationship with them before they join the program."
Johnson has found that warriors often have difficulty transitioning to civilian life because they lose their network when they leave the military or realize that the work they have been doing does not translate to other employment opportunities. Weber agrees.
"You're losing that 'suited and booted' mentality," he says. "You knew that what you were doing was important. When you have to stop wearing that uniform for whatever reason, you feel like it's been taken away from you. There's a lot of camaraderie in the military that you rarely get in civilian life."
Veterans lose the team mentality that the military fosters as well. However, Crouch says golf course superintendents sometimes model their maintenance staffs on military groups to build camaraderie.
"The golf course maintenance staff has always been a very tight-knit group," he says. "They work outside in all kinds of weather and situations. Rarely do you do a job by yourself."
Tindell says that employment in the golf industry offers structure and uniformity. In addition, he says, "There's a therapeutic aspect of working outside and working with your hands."
With Tindell's military connections and Crouch's ties to the golf industry, they make a good team as well.
"He can find veterans that need training and employment," says Crouch. "I know superintendents all over the country that need quality employees. The labor pool is very small. There's a great demand for quality labor."
Crouch also oversees fundraising for the program. He says fundraising tournaments are coming up locally, in Atlanta and in North Carolina, and people can get involved by making donations on a monthly or yearly basis. They also can help make connections with potential employers, sponsors for the program, military resources and industry players.
"We are seeing a tremendous amount of support from the community," Crouch says.
'Purpose, Direction and Motivation'
Tindell keeps track of everyone who completes the program for 24 months post-graduation. "I try to instill a sense of purpose, direction and motivation in everyone who comes through the course," he says.
About 50 people have gone through the program so far, but Johnson hopes that close to 100 will complete the certification this year. Students have ranged in age from 25 to 64 years old, and 30% to 40% of them have been female. While the program has drawn students from across the country, 60% to 70% of them live in the local area.
The participants agree that they will start working or continue their education after they finish the program. Johnson says 90% of the people who have gone through the program have "made it." He hopes Operation Double Eagle, which also is building partnerships nationwide, can be a solution for a lot of people, like it was for Weber.
In January Weber moved into a house, and he is continuing his education by pursuing a degree in Golf Course Turfgrass Management at Augusta Tech. He also hopes to mentor the students in the next Operation Double Eagle class.
"Because of what they've done for me, I want to give back as well. I want to give them direction like Jeremy did for me," he says. "I'm immensely blessed because of the program. I'm more than grateful for everything they've done. Every aspect of it from that first conversation with Jeremy allowed me to have what I have right now. I went from having nothing to having everything."
By Betsy Gilliland
Photos courtesy of Operation Double Eagle