Two Martinez neighbors collaborate to create a Christmas light show and synchronize it to music, and the display gets bigger every year.
Santa's elves don't have anything on Martinez resident Mike Carter. The man likes to stay busy – and to spread Christmas cheer. Only he doesn't spend all year making toys for good little girls and boys.
When he isn't working, renovating houses or running bowling leagues, he spends time building an outdoor Christmas lights display at his house and setting it to music.
In fact, his enthusiasm is so infectious that his friend, Kirstyn Harris, wanted to get in on the act. They originally met in a bowling league, and now they live across the street from each other on Whisperwood Drive in Shadowmoor.
The lights display at their houses in the neighborhood, located at the corner of Columbia and Belair roads, runs from Thanksgiving through New Year's Eve. The hours are 6 p.m. to 10 p.m. Sunday through Thursday and 6 p.m. to 11 p.m. Friday and Saturday.
Between their two homes, they have put up 82,050 lights with 384 channels and 816 extension cords totaling 10,906 feet this year. A channel is a unit of lights that can be controlled individually, and all of the lights in a channel work as a single unit. For example, a single bush with one set of lights draped over it can be a channel. Each channel controls one color of one element in the light show.
This year will mark Mike's fifth show and the fourth show that he and Kirstyn have done together. He started out in 2016 with 6,600 lights, 32 channels and 64 extension cords totaling 834 feet.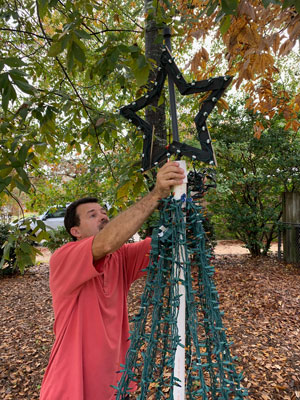 Getting With the Program
Mike first got interested in creating a lights show from one of his favorite movies, National Lampoon's Christmas Vacation. He also was inspired to synchronize Christmas lights to music by "The Osborne Family Spectacle Of Dancing Lights," a display of Christmas lights and decorations at Disney's Hollywood Studios. He went to the Disney display during the holidays every year from 2003 until 2015. (It was discontinued in early January of 2016.)
On the day after New Year's Day in 2016, Mike was walking through a big box store when he saw that Christmas lights were on sale for 40 cents a box.
"I decided to buy $50 worth of lights, and I put them in my garage," he says.
Mike, a former computer programmer, bought Light-O-Rama software and controllers in August 2016 so he could synchronize a lights show to Christmas music. He had four songs for the initial display, and it took him four weeks to program the first song. He got faster as he went along, however, dropping a week from the programming time with each successive song.
To put up the 6,600 lights, he worked from 8 a.m. on Thanksgiving Day until 2 a.m. the following morning.
"I turned it on, and it worked flawlessly," says Mike. "We have expanded the show every year since."
They use red, green, blue and purple lights, and they zip-tie the various colors together so they don't have to put up separate strands of lights. That technique not only makes their work easier.
"The display looks cleaner when the lights are zip-tied together," says Kirstyn, a graduate student in the medical illustration master's program at the Medical College of Georgia.
This year, Mike and Kirstyn have added 18,050 lights to the display. "We added lights to two sides of the houses because of the spots where people stop to view the show. We want them to have something to see," he says.
They have constructed 5-foot and 10-foot Christmas trees out of tomato cages and wrapped them with strands of lights, and they crafted wooden stars for the tops of the trees. Wooden snowflakes go on the roof, and arches are lined up in the yards. They also made a wreath out of wire mesh.
"The lights display helps me with the medical illustration program," says Kirstyn. "It helps me learn about color and design and how lighting is different."
Each extension cord is labeled with a channel ID. A transmitter on each side of the street sends and receives data, and the light show is transmitted across the street wirelessly. Mike has one control box in his garage, and they have 24 control boxes in various places in their yards.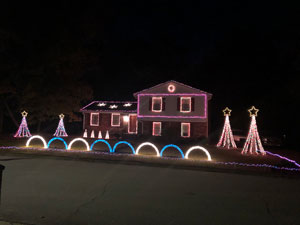 Feeling the Beat
Mike has created a map of each house in the computer program, and he identifies every channel with lights and analyzes the music. "It doesn't have to be perfect," he says. "You just have to be able to see what's going on."
The software tells how much power to send to each channel and controls the intensity of the lights. The program can set the intensity at 100%, 50%, etc., and increase the intensity by going from dim to 100%.
Every second is divided into 20 segments, so the program tells each channel what to do every 1/20 of a second.
"You can break the songs down into different parts," says Mike. "Each part of the song can be represented by a different element like a trumpet or a drumbeat sound in the background."
Flashing along to the beat of the music, the lights build up the show visually with the addition of more lights as the song continues. The lights can turn on or off, fade in or out, twinkle or shimmer.
"I don't match colors to the songs, but I try to represent each part of the music," Mike says. "I match the beat in the background. I represent each part of the song with an element on the house."
The music is broadcast over an FM frequency, and a transmitter sends the signal across the FM channel for a quarter-mile. "That's as far as it can go without a Federal Communications Commission license," says Mike.
A sign posted in Mike's yard tells people viewing the lights to tune into FM radio 90.5 to hear the music.
"You have to choose a frequency you can hear that won't get overrun by a powerful radio station," says Mike. "You don't coordinate with a particular station. I scan the radio and pick the frequency that has the least amount of noise."
This year they will play seven songs for the 21-minute show. The songs include the 45-second "THX Intro" for movies; "A Mad Russian's Christmas," "Christmas Eve," "Wizards In Winter" and "Christmas Canon" by Trans-Siberian Orchestra; "Carol of the Bells" by David Foster and Tchaikovsky's "Dance of the Sugar Plum Fairy."
"We try to add songs to the show every year," says Mike. "This year we added so many lights that we didn't have to add songs."
One thing that doesn't increase with the show – not by much, anyway – is their electric bills.
"For each house, it adds about $50 to $75 to the power bill," says Mike. "The lights aren't on all the time, and the show only runs four hours per day."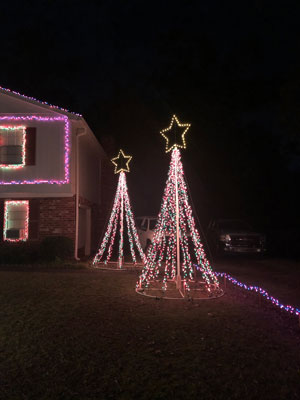 Timing is Everything
In 2018, Mike timed their efforts to put up the display. With the two of them working together almost the entire time, it took them 26 1/2 hours to put everything in place over several nights and two full days.
It took them 16 hours to take everything down and carefully pack it away in labeled storage boxes that they keep in Mike's garage.
After all, timing is everything. Their well-synched collaboration began when Mike was working on his lights program at the bowling alley when he felt a tap on his shoulder.
"Any free time I had, I worked on the program," Mike says. "Kirstyn came up to me and said, 'What are you doing? I want to learn how to do it.'"
The next day he got a text from a number he didn't recognize, but he quickly figured out it was from Kirstyn. They have been working together ever since.
And yes, they're already plotting how to add to next year's display. They plan to include songs from Frozen and add white lights to complement the music.
"We will probably double the songs for next year, but we don't have to build anything new," says Kirstyn. "I like learning the art that is involved in creating the show."
As much as they love putting the lights display together, however, they get just as much joy from seeing families appreciate their efforts.
"I think it helps increase people's ability to do family things together," says Kirstyn. "Families are trying to find holiday traditions, and driving around to see Christmas lights is a good tradition. It's also a good way for people to get in the holiday mood."
Mike agrees.
"People can come out with their families and enjoy the show," he says. "Children love it. They're fascinated by the flashes of light. It will be especially good this year because people can be six feet apart."
By Leigh Howard