A local Instagram influencer has built a loyal following with her savvy sense of style and creative content.
At first glance, a flair for fashion, a penchant for walls and a tiny dormitory mailbox would seem to have little in common.
Well, not so fast. The unlikely combination has played a role in the success of Instagram influencer Emma Kohtanen of Grovetown.
An Instagram influencer is someone who creates content about a particular topic (say fashion, food or travel) to share on the visually driven social media platform and builds a community around that niche.
In the last five years, Emma. a 23-year-old Augusta University graduate who works as a marketing coordinator in Evans, has built an Instagram following of 20,000-plus and counting. Her content, like any good influencer, reflects her passions – a little fitness, a lot of fashion.
She uses the social media platform to promote clothing brands and to provide her followers with a source of inspiration for quick outfit ideas.
"I have clothing crises a lot," says Emma. "I don't know what to wear sometimes, and I want to eliminate that problem for other people."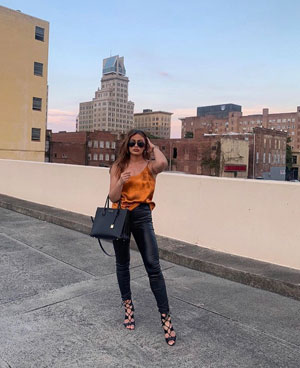 Sense of Style
Emma got her start as a fashion blogger as an 18-year-old when she wrote her first post about her personal style while sitting on her parents' living room couch.
"I really love clothing and pulling pieces together," she says.
She always has had an interest in fashion, but her style has evolved in the past several years.
The native of Finland, who moved to Georgia 10 years ago with her family because of her father's job, used to wear a lot of simple black, white and gray clothing. Her tastes have changed, however, after living in the American South.
"My style is simplistic. It's a mix of Southern and European," Emma says. "I like florals, bright colors and girly clothes."
She has shifted her social media preference as well. Once she started posting photos on Instagram, she never looked back. "Nowadays, people don't feel like reading long blog posts," says Emma.
One thing that has never varied, however, is her love of shoes – especially statement heels.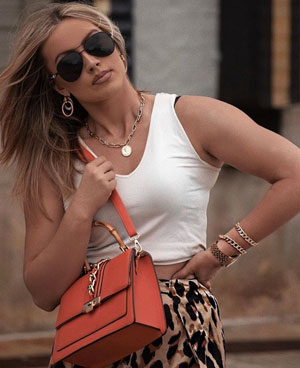 "I like simplistic outfits, but I like to wear shoes that bring the look altogether," she says. "Accessories can dress an outfit up or down."
Win-Win-Win
It took Emma about six months to get her first Instagram collaboration, which was with HandPicked, a jewelry store in Augusta. "I styled outfits with their jewelry and got to keep a piece," she says.
(For the uninitiated, a collaboration is when one Instagram user teams up with another for promotional purposes to increase their audiences or reach in a mutually beneficial arrangement. It can be paid or unpaid.)
To find collaborators, Emma exchanges emails with companies and constantly posts photos to attract the interest of clothiers. About 80 percent of time, however, retailers contact her first to see if she would like to wear their outfits in her posts. Companies pay her to model their clothing.
In addition, she says, "I get to keep the clothes, which is a nice bonus."
Emma typically tags the products in her photos and links the outfits or accessories she wears to the LIKEtoKNOW.it app, where people can shop the looks of influencers, stylists and celebrities. She gets a commission when someone buys a piece of clothing from that app.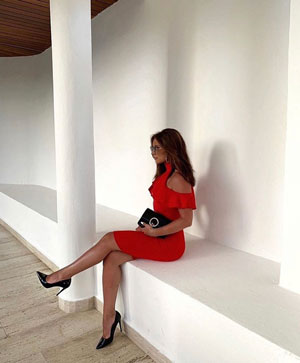 The collaboration is a win-win-win. The retailer makes a sale; the influencer gets a cut of the profits; and the followers gets access to items they otherwise may not have known about.
"There are so many online boutiques," says Emma. "The clothing companies give me discount codes, and my followers can use them."
She usually takes photos on weekends, and she tries to post something two or three times a week. Her younger brother, Eemeli, and her fiancé, Brent Pruitt, are her photographers.
"When I first started, I didn't know anybody. They've been a huge help. I just go with it, and they click the button," says Emma, who was interested in modeling when she was younger but has no formal experience.
They do photo shoots at random locations such as business buildings, Augusta Mall and downtown Augusta. However, the settings typically have one element in common.
"Wherever I see a wall," says Emma. "I like the whole urban look with no trees."
Relatability & Authenticity
Emma first realized she was on to something when she was a freshman in college at Kennesaw State University in 2017. Since tiny dormitory mailboxes can't really accommodate large packages, she had the clothing from her collaborators mailed to her parents' house.
"I would get 20 packages a day, so I realized I had to move back home," says Emma, who transferred to AU.
Her influencer status also gave Emma a leg up on her education. "When I was taking marketing classes in college, especially digital and social media classes, I already knew 70 percent of the material," she says.
Now that she has graduated and joined the work force, her side gig helps her in her marketing coordinator position as well.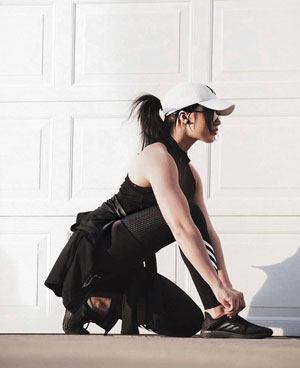 Her Instagram audience is made up primarily of college coeds and clothing shoppers on a budget, and they can interact with her by sending her direct messages or commenting on her posts.
"I want to be relatable," says Emma. "I don't post $200 shirts. I post $20 clothes."
She also has found a foolproof way to build her social media community.
"You have to be yourself and have a passion for whatever you do," Emma says. "Followers can tell if you're authentic."
She posts Instagram stories nearly every day as well.
"I try to post something in live time to keep it relevant," she says. "I'll post things from my daily life like walking my dog or going to the gym. I want my followers to know that I'm not only about fashion."
While free clothing has been a tangible benefit of being an influencer for Emma, she has enjoyed intangible perks as well.
"I get to be creative," she says. "If I have an idea, I don't have to run it by somebody else."
She hopes to build on her success as an Instagram influencer in the future.
"I definitely want to have my own clothing boutique one day," says Emma. "I would want to make the experience at the boutique relate back to my blogging and integrate my experience into the boutique."
In the meantime, though, expect to see more of Emma and her fashion sense on Instagram. After all, she says, "My stories and posts have been good to me."
By Leigh Howard