A couple that has plenty of get up and go can put on the brakes at their Clarks Hill Lake home when they're ready for some down time
For two people who live life to the max, empty nesters Christine and Chris Walker took a minimalist approach when they downsized to a two-bedroom home on Clarks Hill Lake two years ago.
The exterior of the contemporary house is made of stucco, hardy board and 1-inch-thick cultured stone cut into 12-inch-by-24-inch pieces. Inside, the clean lines and open spaces offer the perfect backdrop to showcase the Walkers' collections of art, sports memorabilia and automobiles.
"We have a fast life with the business we have," says Chris, who owns Southeast Utilities of Georgia and also builds custom Ford F650 super trucks. "When we're not working, we can spend time at the house for quiet and solitude. The lake is our passion. It's our release."
Sporting Life
The Walkers, who used to spend almost every weekend at Clarks Hill, knew they wanted to build a house on the lake. When they first saw the property they now call home, however, they didn't like it. "The lot was completely wooded," says Christine. "You couldn't even see the water."
After a second look, however, they reconsidered. Now the footprint of the house occupies space that once was filled with giant boulders, and the front door marks the spot where a giant white oak tree stood.
"Everybody in the family helped prep the land for the house," says Chris. "After the land was prepped and organized, then we built the house. It made the placement of the house easier. I oversaw or built everything."
It took the Walkers about a year to build the house, and they moved into the Appling home two years ago. They also took a collaborative, but unorthodox, approach to the design of the house.
"We designed the garage, and then we designed the house around it," says Chris. "I designed and engineered the house, and Christine was in charge of the interior design."
A garage-first approach might be unconventional for most people, but not for the Walkers. Chris raced formula cars in the 1980s, and the custom truck builder also collects vehicles, which he houses in the 4,000-square-foot garage.
His collection includes a special edition, handmade Rolls Royce, which has a special sound system for opera and classical music with copper speakers and coils; a handmade, all carbon fiber 2019 McLaren 720s; a 1958 Jeep pickup, which was fully restored for Jay Leno's garage; and a 110-year anniversary 2019 Morgan three-wheeler. He also has a fully electric, carbon fiber Lito Sora fighter bike – the motorcycle that Daniel Dae Kim's character, Chin Ho Kelly, rode in "Hawaii Five-O."
Chris collects professional sports memorabilia as well, and the garage is full of jerseys from pro athletes. "I've been collecting jerseys half my life," says Chris. "I built trucks for a lot of these guys."
He has signed jerseys from super truck customers including NFL stars Albert Haynesworth, Chad Ochocinco, Plaxico Burress and Irving Fryar and NBA greats Shaquille O'Neal and LeBron James. His collection also includes jerseys worn by professional athletes such as Dan Marino, Peyton Manning, Eli Manning, Russell Wilson, Joe Montana, Larry Bird and Greg Maddox.
Another sports memorabilia display in the garage features a collection of frames that each hold a photo of a Masters Tournament winner, his autograph and a badge from the year he won.
Other wall displays include boating memorabilia – Chris races boats now, with Christine at his side as his navigator. He stores his 45-foot and 47-foot race boats in Lincolnton, but the Walkers, who love to travel, keep their 26-foot Chris-Craft Catalina at their Chigoe Creek dock. The dock bears the name "Walker's Cay," which they fittingly call their lake retreat after the northernmost island in the Bahamas.
During the winter, they go out on the lake about twice a month. The rest of the year, they're on the lake four times a week.
"There's a little island where we like to go to meet friends," says Christine. "When we're at home, we're usually on the lake."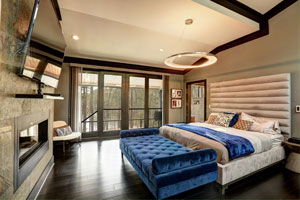 Designed to Entertain
Even though the house only has two bedrooms, it was designed for sleepovers and entertainment. The house features four-and-a-half baths (including a full bath outside), and all of the couches turn into beds so friends and family who come over to play are welcome to spend the night.
Frequent guests include their children, Savannah Walker and Cameron Morbey, who live in the area. Their other two children – son Christopher, his wife, Alejandra, and their son, Eliah, who live in Florida, and daughter Whitney Weathers, her husband, Jim, and their daughter, Sadie Jane, who live in North Carolina – visit as well.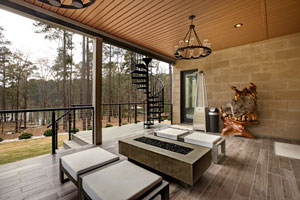 Just inside the front door, a floating staircase leads up to the entertainment room – a favorite hangout for the Walkers when they're not traveling or on the lake. To build the staircase, they put that giant white oak tree from their property to good use. Chris had it milled, and he used the wood to make the 18 steps and the railing for the staircase.
"I would say what I wanted, and he made it," Christine says. "He's detail-oriented and romantic. And he listens."
The entertainment room features a black bamboo floor, which is made up of planks that are 4.5 inches wide. "I like the sexiness of black hardwoods," says Christine.
The room also features black trim work, teal walls and exposed A/C and heat duct. "It's the one room that pops out from the rest of the house," Chris says.
Railed openings on one wall overlook the living room on the first floor, and big picture windows on the opposite wall offer a view of the lake. Furnishings include white couches and a stamped aluminum coffee table. A chalkboard barn door opens to a full bath, which includes a vessel sink and a shower.
For fun and games, the room includes a pool table, a poker table, a dart board and a flat-screen TV. The entertainment room is full of more sports memorabilia as well. Chris' collection, which he has amassed in 30-plus years, includes a pair of boxing gloves signed by Muhammad Ali; a half-dozen coins used for the opening coin flip in various Super Bowls; countless autographed NFL helmets signed by the entire teams (including a Patriots helmet from Tom Brady's first Super Bowl); and an autographed football from the undefeated 1972 Miami Dolphins' perfect season.
He also has a baseball from the 100-year anniversary of the World Series, which was signed by all of the living World Series MVPs; a case full of Hall of Fame bats; and a 1997 World Series trophy that belonged to Florida Marlins closer Robb Nen. "I taught him how to fish," Chris says.
He loves all professional sports teams, but the south Florida native is partial to the Dolphins and the Marlins. Since moving to Georgia in 1996 (Chris was sold on Columbia County after a convenience store clerk told him "around here, you get your gas first and then pay for it") he also has become a fan of the Falcons and the Braves.
The entertainment room leads to an open-air porch, where Christine and her girlfriends like to sit during "game night" at the Walker house. The porch features a fire pit surrounded by four square stools and an outdoor kitchen with a teppanyaki grill. A spiral staircase connects it to another porch below.
Spacious & Sleek
A vaulted ceiling brings a feeling of spaciousness to the living room, where big picture windows overlook the landscaping in the front yard. "We don't like curtains and doors," says Christine.
However, the doors they have were made in Italy with solid wood, and they're lined with aluminum strips. A two-sided, vented, propane-burning, slate fireplace separates the family room and the kitchen.
Chris made the open shelves in the kitchen from the oak tree they had milled and mounted them with industrial plumbing pipes that he painted black. The oak ceiling was made from the tree as well.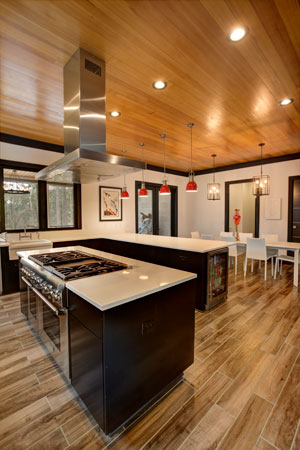 In addition, the kitchen features deep drawers and cabinetry with no hardware, a farmhouse sink, stainless steel appliances, a walk-in pantry with a pocket door and a chandelier, and countertops of vein-free, manmade material. A clear vase, which holds oil-based, floral décor, sits on the adjoining dining area table.
The master bedroom also features a vented, propane-burning, slate fireplace as well as a mirrored wall, a walk-in closet with an island in the middle and a "futuristic, crazy" chandelier.
"Every room has a chandelier, but that's the only light fixture in the whole house that Chris picked out," says Christine. "In the rest of the house, we have frou-frou chandeliers."
Two oversized Oriental porcelain vases, which had belonged to Christine's mother, stand in the corners on one side of the room. Doors lead out to a balcony on the other side.
The adjoining master bath has tile flooring, a stand-alone tub, a walk-through tile shower, two trough sinks and a separate water closet.
The antiques that Christine once favored have been replaced with sleek, modern furnishings, and artwork has a constant presence throughout the house as well. "Art can be passed down for many generations," Christine says.
An oil painting, which they watched the artist finish on a river in Bangkok, hangs on one wall in the living room, and a hand drawing by Picasso hangs on another wall. A print called "Vintage" by Erté, a Russian-born 20th-century French artist and designer, hangs in the kitchen.
Tucked under the floating staircase, a hand-cut bronze sculpture, "Callisto" by Michael James Talbot, sits on a granite base. An abstract oil on canvas triptych lines the wall by the staircase.
They got a wood carving on the back porch in the mountains of Taipei, Taiwan when they took Christine's mother there. "He is carved out of a tree root," says Christine. "He has to be by a door because he wards off any bad spirits and brings in health and happiness."
In a back hallway, the Walkers grouped 25 of their favorite black-and-white family photos in black frames with white mats. Even the laundry room is a gallery, where two pictures that Chris had done for his wife for Christmas one year, hang on a wall. To honor her penchant for footwear, one of the pictures is an oil painting of a shoe and the other features hundreds of shoes hand-etched with Xs and Os in copper.
While artwork is a necessity in the home, the couple took the opportunity to shed anything they no longer needed when they moved into their lake house. And that minimalist attitude hasn't changed.
"If we don't use it, we don't keep it," says Christine. "Except for clothes, shoes and pocketbooks. You can't have too many of those."
By Betsy Gilliland