Highlighted by family farms and home-grown businesses, Georgia Grown Trails promotes agritourism and awakens feelings of nostalgia for travelers.
Sometimes a name says it all. But sometimes a name – like Georgia's nickname, the Peach State – merely whets the appetite. Peaches, along with peanuts and sweet Vidalia onions, might be the state's most well-known crops. However, the state is full of other Georgia born-and-bred products, and the Georgia Grown Trails system is here to highlight the abundance of homegrown goods.
Georgia Grown Trails, which started in 2014 and includes four trails, is designed to showcase agriculture-related tourism hot spots in rural areas throughout the state. These attractions include U-pick and other farms, dairies, vineyards and wineries, farm-to-table restaurants, seafood and farmers' markets, specialty food stores, lakes and forests.
"The attractions represent something out of the past," says Jerry Connell, one of the co-founders of Georgia Grown Trails. "It's all low-tech. The trails are simple fun."
The trails are developed as a joint project of the state Agriculture and Economic Development departments, and the trail designations are authorized through the Georgia Legislature. The system also is affiliated with Georgia Grown, a state Agriculture Department marketing and economic development program that helps state agricultural economies grow and thrive.
Attractions on the trail system must meet certain criteria to be eligible for inclusion. First and foremost, however, Connell says, "To be part of a trail, you have to be connected somehow to Georgia agriculture."
The number of each trail designates the highway where the attractions are located, and the state Department of Transportation posts signs along the roadway designating it as a Georgia Grown Trail. All of the attractions on the trails are open to the public.
"The trails particularly appeal to empty nesters and grandparents who want to show their grandchildren what life was like when they grew up," says Connell. "They can get a sense of how food is grown, where it is grown and what it tastes like out in the field. You can get a real sense of how things used to be."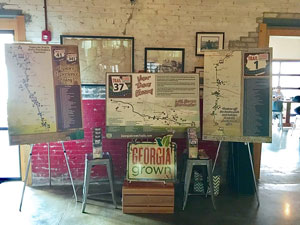 Trail 1
Featuring 44 stops and stretching for 182 miles, Georgia Grown Trail 1 is the closest to Columbia County, extending north to south from Augusta to Folkston. It became operational in July 2017 as the third trail of the system.
Trail stops include meat markets, hands-on farm experiences, farmers' markets, peanut stands, museums, specialty shops and restaurants.
Closest to home, the family owned and operated Lanier's Fresh Meat Market in Augusta has been in business since 1969. Some of its locally farmed meats include certified Angus beef, alligator, goat, seafood, game and hard-to-find meats and poultry. The cow atop the building on Walton Way was a landmark on Highway 1 for about 50 years.
Halfway down the trail visitors will come to the home of Georgia's official state vegetable — the Vidalia onion.
"Trail 1 runs through Vidalia onion fields, which are a big draw for this trail," Connell says.
Visit farms and produce stands, but allow time to explore historic downtown Vidalia, which is listed on the National Register of Historic Places.
Just a block off Highway 1 in Lyons is the Altamaha Heritage Center, a history museum dedicated to the cultural heritage of the Altamaha River Basin. Visitors can see artifacts and information on Native Americans, moonshine, turpentine, homestead, transportation and barn implements.
In Alma, the Blueberry Capital of Georgia, visitors can happily get the blues at The Blueberry Barn. From fresh-picked berries — the season starts in late April — to jams, sauces, syrups, even blueberry butter and barbecue sauce, it's filled year-round with all things blueberry.
The shop also carries items made by local artists such as paintings, jewelry, pottery and ornaments. In a nod to the past, the store shelves are made from 100-plus-year-old wood from owner Ann Wildes' grandfather's house.
Also in Alma is Rockingham Pecans, famous for its specialty – fried pecans. These sweet and salty pecans were a finalist in the 2007 Flavor of Georgia contest and the number one snack food in the 2008 Flavor of Georgia contest.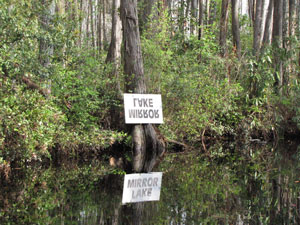 Trail 1 is about much more than food, however. Okefenokee Swamp Park transports visitors to prehistoric environs where alligators and rare birds roam among carnivorous plants and lily-decked water trails.
Travelers along this route also can enjoy sports such as kayaking and turkey hunting, attend festivals and expos and learn old-fashioned arts such as making soap. You can even visit a working saw mill or grist mill.
"Georgia Grown doesn't just mean 'plant-based' or 'animal-based.' Businesses are Georgia-grown, too," says Connell.
Trail 37
Extending east to west for 167 miles from Homerville to Fort Gaines at the Alabama state line, Trail 37 was the first trail in the system, the state's first officially branded agritourism highway and its first award-winning agritourism trail. Incorporated in 2013, it was up and running by mid-2014. Trail 37, which became the prototype for the subsequent trails, includes 30 stops.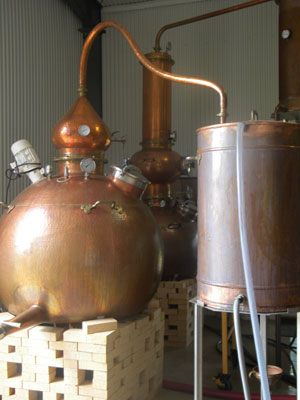 At the historically significant Kolomoki Mounds State Park, visitors can see the oldest and largest Woodland Indian site in the southeastern United States, occupied by Indians from 350 to 750 A.D. Standing 57 feet high, the state's oldest great temple mound dominates two smaller burial mounds and several ceremonial mounds. Kolomoki Mounds also offers outdoor activities such as fishing, boating, camping and hiking.
At 2,500 acres, White Oak Pastures in Bluffton is the state's largest organic farm. The six generation, 152-year-old family farm has four one-bedroom cabins that are nestled in a longleaf pine forest, a general store and a farm-to-table restaurant called The Farmers Table.
Trail 37 also includes three wineries that were instrumental is getting the south Georgia agritourism trail started. The properties offer wine tastings and vineyard tours.
Near Lakeland, Georgia Olive Farms has plants that came from Italy. "Visitors can see the machinery harvest olives, and some people go just to see what an olive tree looks like," says Connell.
For award-winning honey, travelers can make a beeline to Bruce's Nut-N-Honey Farm in Homerville. The honey is a Flavor of Georgia winner, and it has been voted Georgia's Best Tasting Honey.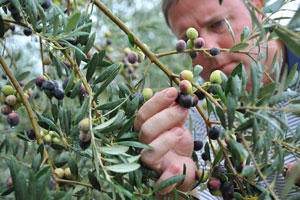 "Trail 37 is the most unadulterated one, and all of the attractions relate to agritourism," says Connell.
Trail 41
Trail 41, the system's second trail, was dedicated in October 2014. Easily accessible from Interstate 75, this 173-mile trail runs north to south from Barnesville to Lake Park near the Florida state line.
"You can take a train ride. You can go to a cotton museum. You can get pecan products or go to a ranch that has miniature horses," says Connell.
The 46 attractions along Trail 41 include Turner County Stockyard, where visitors can see a live cattle auction, and three different locations of Stripling's General Store. This family business offers custom-cut meats, its famous sausage and jerky, seasonings and sauces, syrups and jellies, pickles and relishes.
At the Historic SAM Shortline Railroad, travelers can board air-conditioned, 1949 vintage cars and take the train to quaint little Georgia towns.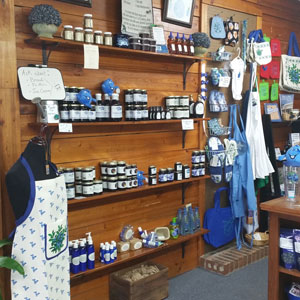 The Georgia State Cotton Museum occupies a 125-year-old school house in the eastern part of Vienna, between historic downtown and I-75.
"These are all Southern experiences. A lot of small towns don't have large tourist attractions. This is our way of getting people off the interstate and into the countryside," Connell says.
Trail 17
The newest agritourism highway, which runs north to south for 108 miles along Highway 17 from Kingsland to Savannah, was added in the fall of 2018. The 22 stops along Trail 17 include farms, restaurants, red brick sidewalks in historic downtown Kingsland, a cattle company and a petting zoo.
In Woodbine, visitors can kick back and relax at Captain Stan's Smokehouse, where backyard barbecue, local seafood, Southern sides and live music reign supreme behind its "magic fence." One customer amusingly describes the quirky vibe there as "Jimmy Buffet meets Deliverance."
Veering off Highway 17, Market on the Square, a family owned and operated general store in historic downtown St. Marys, is located in a renovated grocery store. The store carries gift items and sweets, including homemade fudge that is made on the spot.
Greyfield Inn on Cumberland Island also is part of the trail. Situated on 200 acres of land, the property spans from marshland on the west to the ocean to the east. Each day the inn provides guests with three full meals including a Southern breakfast, picnic lunch and farm-fresh dinner – plus an hors d'oeuvres hour.
Trail 17 also includes U-pick blueberry farms, so wear comfortable shoes and take your sunscreen.
Timing is Everything
Because the agritourism attractions along the trails are seasonal, visitors need to plan ahead before visiting a location.
"Berries are seasonal in the spring. Olives are big in the fall," Connell says. "Winter is a good time to visit the wineries." In addition, he says, "It's not the kind of thing you can do in one day. The stops can be 40 or 50 miles apart."
Trail stops also include overnight accommodations such as state parks, B&Bs, boutique hotels and historic inns. "We realized when people are traveling long distances, they're going to need a place to stay," says Connell.
However, Georgia Grown Trails is not just for long-distance explorers. Local residents can enjoy the sites as well.
"We think we know everything about the area where we live, but we don't see for looking. So often, we don't know or see interesting, beautiful or exciting things in our own backyards," says Connell. "People should get out and explore their own areas. They'll really be surprised at what they'll find."
So go ahead and hit the trails.
"There is only good to come of getting off the interstate and into the countryside to find beauty and charm in out-of-the-way, small country towns," Connell says. "It lifts the spirit and enriches people's lives."
By Morgan Davis