Restoring vintage Farmall tractors keeps a Lincolnton man 92 years young
It doesn't matter if he is at sea, in the air or on land. As long as he is working with his hands, Lincolnton resident Buddy Hawes, 92, is a happy man.
He served as a diesel engine mechanic in the U.S. Navy from 1948-52. He got his pilot's license in the mid-1950s, and he raced motorcycles for 10 years in his younger days.
Hawes and his ride even landed in Street Chopper magazine one year after a photographer spotted him with his motorcycle during Bike Week in Daytona Beach, Florida.
He reaps his biggest rewards, however, by restoring vintage red Farmall tractors at the Lincolnton property where he grew up. Farmall is a model name for a brand of tractors manufactured by McCormick-Deering, which later became International Harvester. The general purpose tractors had their origins in row-crop tractors.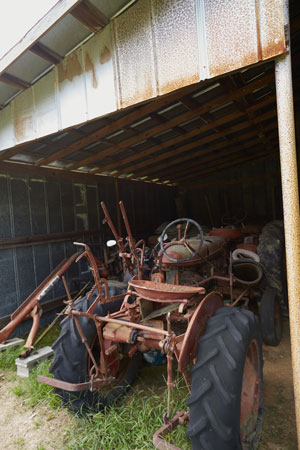 "I just like to take nothing and make something out of it," Hawes says. "I'm a workaholic. I figured if somebody else can do it, I can, too."
Steady Work
Hawes lived in Belvedere. South Carolina for 40 years and worked as a welder at Federal Paper for 32 of those years before retiring at age 62.
He and his wife, who passed away in November, moved back to Lincolnton to take care of his ailing parents in 1987. They finished their house in 1991 on the property where he was raised.
The house isn't the only structure on the 114-acre property, though. In the mid-1980s Hawes built a 50-foot-by-40-foot shed where he restores the tractors (and motorcycles), and he has about 30 to 40 tractors in various stages of disrepair that require his attention.
Of course, he also needed some place to keep his finished tractors, so two years ago at age 90 he built a 40-foot-by-80-foot shed where he displays the fruits of his labors.
He poured the concrete floor, and a sign that reads "Buddy's Tractors" hangs from the ceiling just inside the door. About 20 restored tractors are lined up as neatly as a row of crops on either side of the structure, and an identifying plaque accompanies each tractor.
There's the "Daddy Ralph," which was "the first tractor I ever saw when I was five years old," Hawes says. He worked hard to add this one to his collection. Originally, he tried to buy it from its owner, Rob Bentley, but he wouldn't sell. Neither would his wife after he passed away. Ultimately, Bentley's brother, Ralph, willed it to Hawes because he knew no one else was more deserving of the tractor.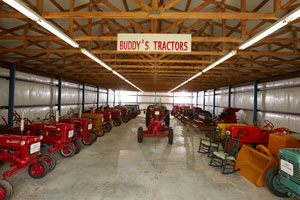 Hawes has a 1929 Farmall "Regular," which is credited with being the first successful mass-produced row-crop tractor. For most of its product life, the tractor was marketed as the "Farmall," but "Regular" was added to the name after production of the F-20 and F-30 models followed it.
His oldest tractor is a 1924 model, and his 1939 model is the first tractor that he ever used as a 10-year-old. "When my dad bought that tractor, we got rid of the mule," Hawes says.
He prefers the all-purpose Farmalls, which were manufactured from the 1920s to the 1970s, to other tractors for a simple reason. Farmall was the brand that the local dealership carried, says Hawes.
He didn't have to be as persistent to get all of his tractors as he had to be to get his hands on the Daddy Ralph, though. Some were easy to acquire; others required extra effort.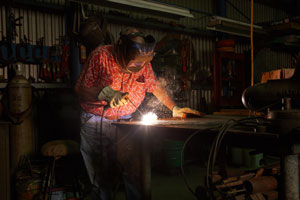 "People had them stored in their yards or sitting in the woods," says Hawes. "I had to use a chainsaw to get to some of them."
He uses a trailer to transport them to his property, where he also has a vegetable garden and a pond.
"When I was able, I worked on them every day for 12 to 16 hours a day," says Hawes. "I would get started and work until midnight."
Now, however, he works on his tractors "only" four or five hours a day. He puts about 200 manhours into the restoration of each tractor, and he has finished one in as little as three months. Hawes says the costs run about $3,000 per tractor.
To restore the machines, Hawes completely dismantles them, sandblasts them, reassembles them and finishes them with a coat of polyurethane paint.
Farmall tractors originally were painted blue-gray (but the wheels usually were red) until the color of the entire tractor was changed to its distinctive "Farmall" red in mid-1936. At one time there were 1,200 different tractor manufacturers in the United States, Hawes says, and companies started painting their tractors brighter colors for branding purposes.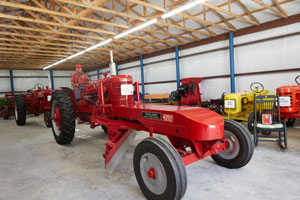 Most of the tractors have hand cranks, but Hawes says manufacturers began adding starters to them in 1940.
Good Company
Hawes understandably takes great pride in his work, and the tractors in the display shed are in good company. They are joined by other farm machinery that he has restored as well as nostalgic artifacts that have special meaning to him.
The machines include a 1902 Mietz & Weiss hit-and-miss miss hot bulb engine and a Le Roi Tractair, a tractor and air compressor combination. Just about every piece of equipment has a history, but the story behind the Le Roi restoration might be Hawes' favorite one.
When he was restoring it, he couldn't find the rings he needed to fit around the pistons because he didn't have the parts number.
"No one wants to help you if you don't have the number," says Hawes.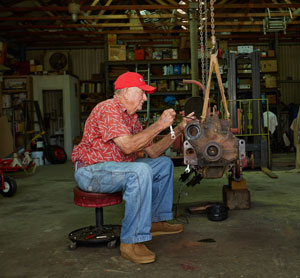 Well, almost no one. He knew the size of the rings he needed, so, undeterred, he called Hastings Manufacturing Company, a replacement piston ring manufacturer in Michigan, to try to get the parts.
"I talked to two people, and they finally switched me to someone in the engineering department," he recalls. "She asked me to wait while she looked it up, and then she said, 'Is that for a Le Roi compressor?' I'll never forget her name. It was Lisa Townsend."
He keeps smaller mementoes in his shed as well. For instance, a toolbox that hangs on a wall in the shed is not just any toolbox. It was Hawes' first toolbox, which he built himself at age 14, and it still has the original implements such as a saw, a hammer, a brace and bit, a hatchet and a hacksaw, carefully stored inside.
Always a stickler for details, he even painted likenesses of the tools in the box so he knows where they belong, and more importantly, so he "knows what's missing." On the inside of the door, he wrote "Made by Buddy Hawes 1944."
Parked by the toolbox is a refurbished bicycle that his son, Al, used as a boy to deliver the Aiken Standard on his newspaper route. Naturally, Hawes painted the bike red and added "Farmall" to it.
Other vestiges from the past include an old cookstove that he restored, a retro wooden wall telephone, an antique cash register from his father-in-law's store, Farmall signs and an old gas pump.
And then there's the customized casket that rests on the back of a bright green mule-drawn cart in the back of the shed.
Hawes got the cart from his friend and local aerobatic pilot, Gary Ward, and restored it as well. He remade the seat and the framework, except for the wheels. The cart had belonged to Ward's grandfather, George Ward, so the elder Ward's name is painted on the side.
Of course, there's a yarn behind that casket as well. Hawes traded 35 boiler tubes to a local undertaker for it several years ago. He spent a week transforming the casket to his liking, painting it – what else? bright Farmall red – and adding Farmall decals to it.
"My wife raised hell when I got that casket," Hawes says. "But everybody needs one."
At the rate he's going, however, he isn't going to need it any time soon. After all, he still has parts from those 30 or 40 tractors, waiting to be put back together better than ever.
By Betsy Gilliland