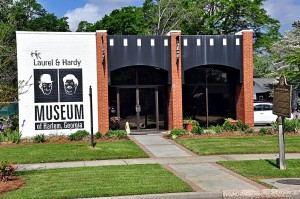 Any self-respecting Columbia County resident knows all about Harlem's Oliver Hardy Festival, but how much do you know about the man himself?
Comedic actor Oliver Hardy, who formed one of the world's most beloved comedy duos with British actor Stan Laurel, was born Norvell Hardy on January 18,1892, at his mother's parent's home in Harlem, Georgia.
Hardy's father, Oliver senior, a Confederate veteran wounded at the Battle of Antietam, worked as a foreman for Georgia Southern Railroad and supervised the building of a rail line between Augusta and Madison, where he owned a hotel. He died less than a year after his son was born, and young Norvell was raised by his mother, Emily.
Hardy spent most of his youth in Milledgeville, where his mother managed the Baldwin Hotel, and the lively teenager worked as a projectionist and ticket taker in the local movie theater. He soon changed his name to Oliver Norvell Hardy (Norvell was his mother's maiden name) as a tribute to his father and began pursuing his passion for singing and performing. The versatile showman studied music, performed vaudeville and worked in the fledgling film colony of Jacksonville, Florida. In his 20s he headed to Hollywood to try his luck in showbiz. The rest, as they say, is history.
Harlem's all-day party to celebrate its native son has turned into a must-do favorite, and last year more than 40,000 people from across the world attended. This year the 26th annual Oliver Hardy Festival promises barrels of fun with a parade, numerous arts and crafts booths, a look-a-like contest, Ollie & Stan skits, Laurel & Hardy movies, kiddie rides and games, live entertainment, a barbecue chicken dinner, silent auction and more.
If you go, be sure to visit Harlem's Laurel and Hardy Museum in the former post office, where you'll learn about Hardy's youth, his rise to stardom and his illustrious — and lucky — pairing with his trusty sidekick.
If You Go:
What: 26th annual Oliver Hardy Festival
When: 9 a.m. to 5 p.m. Saturday, October 4
Where: Downtown Harlem
How Much: Free admission
More Info: (706) 556-0401 or harlemga.org