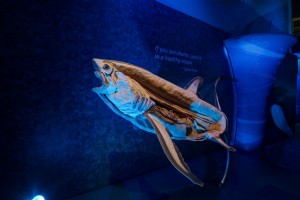 Some of the mysterious creatures of the sea have surfaced from the depths of the ocean at the Georgia Aquarium's traveling exhibit, "Sea Monsters Revealed: Aquatic Bodies." 
The exhibit features more than 18 full-body sea creatures including a 6-foot-wide devil ray, a 15-foot-long mako shark and an 18-foot-long, 3,000-pound whale shark. Using a polymer preservation technique called plastination, the display animals give guests the opportunity to see the inside and outside of the sea creatures' bodies. Called "sea monsters" by early oceanic explorers centuries ago, the aquatic life forms show how they were designed for the deep.
The largest exhibit in the world of plastinated sea creatures, the display also includes more than 150 individual organs and smaller animals that inhabit the ocean. In addition, living examples of many of the sea monsters, including the ray and the whale shark, can be found in the aquarium's permanent habitats.

"The oceans are Earth's last frontier. Scientists have explored only 5 percent of its mysteries, leaving the remaining 95 percent to the imagination. This exhibition takes visitors on a journey of exploration in search of animals once considered to be sea monsters," says the exhibition's creator John Zaller. "The creatures in this exhibition are so massive, so impressive, and so magical, that you truly have to experience it to grasp its impact and importance."
If You Go
What: Sea Monsters Revealed: Aquatic Bodies
Where: Georgia Aquarium, Atlanta
When: Through December
How Much: Admission to exhibit is included in price of total ticket, which starts at $31.95 (ages 13 – 64), $25.95 (ages 3 – 12) and $27.95 (ages 65 and older)
More Info: georgiaaquarium.org