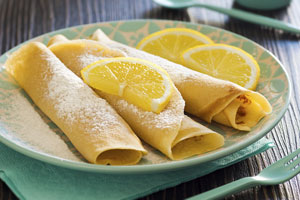 Crêpes:

1 large egg
6 tablespoons milk
1/4 cup water
1/2 cup flour
1 1/2 tablespoons butter, melted
Melted butter for crêpe pan
Filling:

2 cups sour cream
1/2 cup milk
1 tablespoon lemon zest
Juice of 2 lemons
1 box (4-serving size) vanilla instant pudding mix
Powdered sugar for garnish
Lemon slices for garnish
Place crêpe ingredients (excluding melted butter for crêpe pan) in a blender and pulse about 10 seconds. Refrigerate at least 2 hours. (You can make batter ahead of time and refrigerate up to 48 hours.) Heat a nine-inch crêpe pan on medium-high heat and brush with melted butter. Pour about an ounce of batter into center of pan and immediately swirl batter so it covers bottom of pan in a thin layer. Cook about 30 seconds until bubbles appear and bottom of crêpe is golden brown. Flip and cook another 10 seconds until blonde but not as dark as the first side. Remove to a sheet of parchment paper and repeat with rest of batter. In small bowl, beat sour cream, milk, lemon zest, lemon juice and pudding mix with whisk or fork until blended. Spoon filling down middle of crêpes and roll up. Garnish with powdered sugar and lemon slices. Makes 10-12 crepes.